(Formerly Upcountry Beverages)
Disney's Animal Kingdom | Asia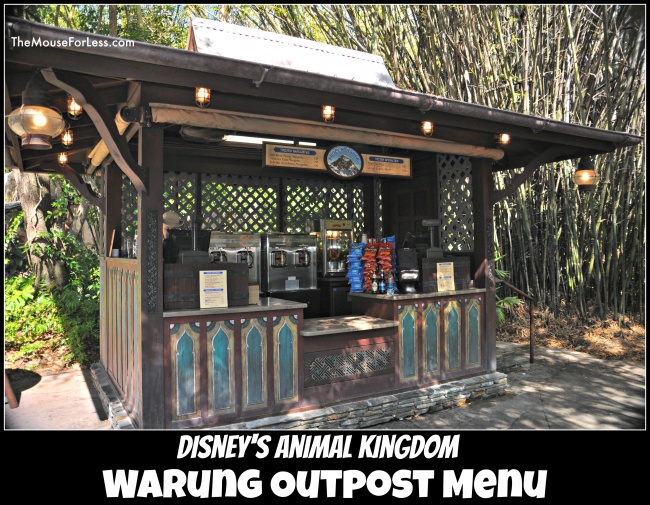 Stop by Warung Outpost for a variety of ice cold Margaritas. Open seasonally.
Restaurant Info: American, Snack, $ – under $14.99 per adult
Find out how you can save money on dining at Walt Disney World by using one of Disney's Dining Plans.
Warung Outpost Menu
Menu Date: 9/2016
Warung Outpost Snacks
Assorted Chips – $2.99

Mickey Pretzel – $4.69

Cheese Dip – $1.00

Warung Outpost Frozen Margaritas
Served in a Souvenir Mask Mug – $15.25
Frozen Margarites without Mug – $9.25
Kali River Mango Margarita – Sauza Gold Tequila, Lime Juice, and Mango Puree
Maharaja Lime Margarita – Sauza Gold Tequila, Triple Sec, Agave Nectar and Lime Juice
Bali Hai Strawberry Margarita – Sauza Gold Tequila, Lime Juice and Strawberry Puree
Triple Yeti Blast – A layer of all 3 margaritas
Frozen Non Alcoholic
Served in a Musical Tumbler. The handle of the tumbler is an Ocarina which comes with instructions to help you play the classic Disney songs "I Just Can't Wait to be King" and "It's a small world"! – $11.99
Without Tumbler – $3.99

Shangri-La Berry Freeze – Strawberry Purée
Other Beverages
Dasani Bottle Water – $2.75

Kingfisher Premium Lager – $7.00
Bud Light – $6.50

= Snack on the Disney Dining Plan
** Menu and Prices are Subject to Change Without Notice **