Resort Restaurants | Animal Kingdom Lodge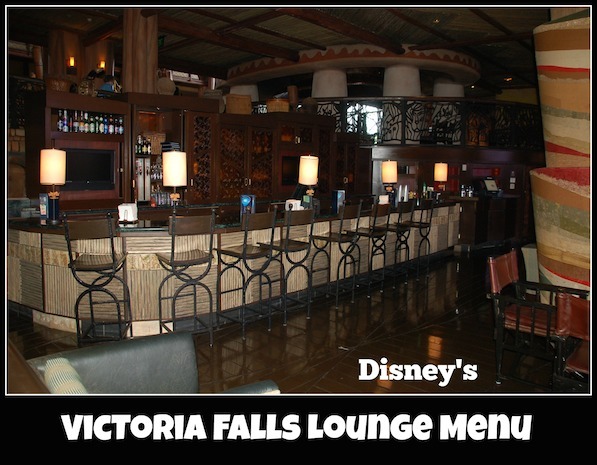 Sample suds from South Africa before or after dinner inside this intimate bar overlooking Boma restaurant. At Victoria Falls Lounge, a host of South African wines are also featured, all of which can be enjoyed in the flickering ambience of the fire pit outside.
Restaurant Info: American, Snack and Beverage, $ – $14.99 and under per adult
Find out how you can save money on dining at Walt Disney World by using one of Disney's Dining Plans.
Menu
Menu Date: 02/2017
Food Menu
Hot food selections available 4:00 p.m. – 10:00 p.m.
Artisanal Cheeses – Valdeon Blue Cheese, Petit Agour Cheese, Cabot Clothbound Cheddar Cheese, Marcona Almonds, Honeycomb, Egyptian Flowers, and Wild Strawberry Gastrique – $15.00
African Inspired Tapas – Dates, Cumin Green Olives, Sambal Kalamata Olives, Bresaola, Sea Salt Pistachios, spiced Honey-roasted Peanuts, Dried Banana Chips, Black Mission Figs, and Pumpkin Seed Crisp- $12.00
Breads and Spreads – Oak-grilled Pappadam, South African Sea Salt Crisps, Wheat Pitas, House-made Lavosh, Lentil Spinach Spread, Kalamata Olive Hummus, Sun-dried Tomato Hummus, and Mango Chutney- $9.00
Non-Alcoholic Specialties
All-Natural Lemonade – Odwalla Lemonade topped with Wildberry Foam
Wild Strawberry Lemonade – Odwalla Lemonade and Wild Strawberry topped with Lemon-Lime Foam
Coconut Elixir – ZICO Coconut Water with Pineapple and Cranberry Juices
Pomegranate Splash – Pomegranate with Orange and Cranberry Juices topped with Soda Water
Specialty Beers
Casa Premium Lager (Morocco)
Tusker Premium Lager (Kenya)
Victoria Falls features a full bar menu including beers, wines and specialty cocktails.
** Victoria Falls Lounge Menu and Prices are Subject to Change Without Notice **
Save