Resort Restaurants | Disney's Grand Floridian Resort & Spa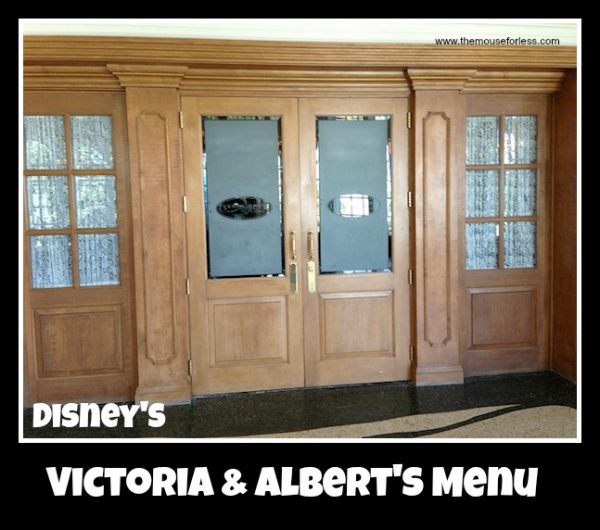 Main Dining Room Menu  Queen Victoria's Room and the Chef's Table Info  Reviews

Indulge your discriminating culinary tastes at this elite, intimate and elegant eatery recognized by the nation's top food critics. This very-special-occasion romantic Victorian retreat offers nightly harpists, lavish decor, fresh cut flowers, personalized menus, Italian Sambonet silver, fine Royal Doulton and Wedgwood china, and Italian Frette tablecloths (hung, not folded, to avoid creases). Women get a small stool for handbags and a rose to carry home. An exceptional prix fixe menu paired with world-class wines is prepared daily. Luxury ingredients and sheer artistry make any meal here a memory to cherish.
Guests ages 10 and above are invited to dine at this establishment, but they are expected to be well behaved and there is no children's menu to choose from. This is definitely an experience for a more mature child.
Dinner jacket is required for gentlemen (tie optional) and dress or pants ensemble for ladies. Reservations required. Plan for 2 to 2-1/2 hours dining time. There are 14 tables available for this experience and the meal is 6 courses. For reservations, call 407-WDW-DVNA (939-3862).
TheMouseForLess Tip: Men who would like to attend this meal but don't want to pack a bulky jacket, may call the restaurant ahead of time and ask for a jacket upon arrival. Just let them know the size you need, and you will be greeted at the door with Jacket in hand! And Women…if you're chilly while dining, mention it to your servers; you'll be offered a cashmere wrap.
Restaurant Info: American, Dinner, $$$$ (over $100 per person)
Victoria & Albert's Main Dining Room Menus
Menu Date: 08/2017
7-Course Chef's Tasting Menu – $185.00* per guest, plus tax and gratuity
With Wine Pairings – Add $65.00 per guest, plus tax and gratuity
10-Course Chef's Degustation Menu – $235.00* per guest, plus tax and gratuity
With Wine Pairings – Add $105.00 per guest, plus tax and gratuity
Sample Seven-course Chef's Tasting Menu – Changes Daily
* Priced items below are at an additional charge
The White Truffle
The most prized luxury ingredient in the food market today. This rare ingredient is harvested from the Piedmont Region of Italy. The ripened fungus has an earthy/garlicky flavor and aroma, meant to be shaved at the last moment – $45.00
---
Course I
Amuse Bouche
Tattinger Brut "La Francaise"

---
Course II Choices
Galilee Osetra Caviar – with Traditional Garnishes – $105 half ounce | $210 1 ounce
Gulf Shrimp with Hearts of Palm and Pistachios
Poet's Leap Riesling, Columbia Valley 2014
Seared Tuna with Mango and Avocado

Cadaretta SBS, Columbia Valley 2013

---
Course III Choices
Seared Maine Diver Scallop – with Roasted Cauliflower
Rainer Wess Gruner Veltliner, Niedeösterreich 2014

Virginia Black Bass – with Petite French Lentils and Roasted Carrots
San Salvatore Falanghina Campania 2013

Wild Turbot – with Toasted Capers and Preserved Lemon – $35
Cristom Vienyards Viongnier, Eola-Amity Hills 2013

---
Course IV Choices
Long Island Duck with Turnip Kraut
Franz Keller Spätburgunder, kaiserstuhl Baden 2011

Mojo Berkshire Pork – with Chipotle Black Bean Soup
La Spinetta Chianti Riserva 2009
---
Course V Choices
Veal – with Mushroom Lasagna and Sauce Périgord
Vajra "Albe" Barolo, Italy 2010

Lamb Loin and Belly – with Cannellini Beans
Numanthia "Numanthia" Tinta de Toro, Spain 2010
Australian Kobe-Style Beef Tenderloin with Bordelaise Sauce – with Belly and Baby Beets
Il Fauno di Arcanum Super Tuscan, Tuscany 2011

Miyazaki Japanese Beef – $110
Château Rauzan-Ségla, "Ségla," Margaux 2008

---
Course VI Choices
Selection of Cheese from the Market

Quinta do Crasto Late Bottled Vintage Porto 2010
Roasted White Chocolate Gelato with Asian Pear

Cascinetta Vietti Moscato D'Asti, Piedmont 2014

---
Course VII (Desert) Choices
Tanzanian Chocolate Mousse – with Orange Scented Milk Chocolate Gelato
Green Apple Mousse with Sour Cream Ice Cream

Caramelized Banana Gâteau
Grand Marnier Soufflé
Hawaiian Kona Chocolate Soufflé
"Celebes" Coffee, Tea, and Friandises
Scott Hunnel, Chef de Cuisine ~ Erich Herbitschek, Pastry Chef ~ Israel Pérez, Maître d'Hôtel
For additional sample menus, visit www.victoria-alberts.com
Queen Victoria's Room and the Chef's Table Info
The Chef's Table
Victoria & Albert's offers you a unique "in kitchen" experience with Chef Scott Hunnel and his culinary team. Your dining accommodations are at the preferred Chef's Table, located in the kitchen of Victoria & Albert's. You and your guests will have an opportunity to observe and interact with Chef Scott and his team, while partaking in the creative and exciting culinary selections offered exclusively to the Chef's Table. Plan to be a part of this innovating 10-course dining experience (possibly up to 13 courses), and indulge in a special evening that will create lasting memories. Priced per person.
Pricing for the Chef's Table is $250 per person plus tax and gratuity. Add The Royal Pairing, which includes specially selected wine, for an additional $105 per person plus tax.
The Chef's Table is limited to parties of 10 or less. For reservations call 407-939-3862 between 8am and 10pm daily up to 180 days in advance.
Queen Victoria Room
This dining experience is the most exclusive at Victoria & Albert's – an elegant, intimate setting behind closed doors where French gueridon service – tableside finishes for diners' pleasure and entertainment – is making a comeback. Four tables and rich décor inspired by Old World dining rooms of London and Paris set the tone for a luxurious, leisurely evening. The sublime experience includes ten courses (possibly up to 13 courses).
Pricing for a 10-course meal in Victoria & Albert's Queen Victoria Room is $235.00 per person plus tax and gratuity. The Royal Pairing, which includes specially selected wine, can be added for an additional $150 per person plus tax.
For reservations call 407-939-3862 between 8:00 a.m. and 10:00 p.m. daily up to 180 days in advance.
** Victoria & Albert's Menu and Prices are Subject to Change Without Notice **