Disney's Hollywood Studios | Echo Lake Area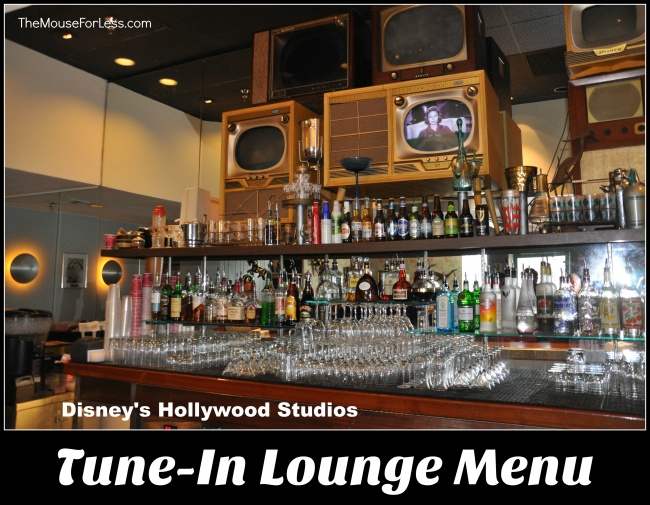 Lunch/Dinner Menu   Drink Menu   Reviews
At Tune-In Lounge you can sip specialty cocktails while watching 50's TV at this retro hot spot located in the 50's Prime Time Café! Add some thrills 'n' chills to your lemonade with experimental "electric ice cubes" that light up the room!
Restaurant Info: American, Drinks, A la carte, $ – $14.99 and under per adult
Find out how you can save money on dining at Walt Disney World by using one of Disney's Dining Plans.
Tune-In Lounge Lunch and Dinner Menu
Menu Date: 02/2017
50's Prime Time Café Menu from the adjacent restaurant are served in the Tune-In Lounge for both lunch and dinner.
Tune-In Lounge Drink Menu
Menu Date: 02/2017
Specialty Cocktails
Dad's Electric Lemonade – Dad whips up an electrifying blue drink with Bacardi Rum, Skyy Vodka, Blue Curaçao, Sweet & Sour Mix, and Sprite… it is to die for! – $11.75
Magical Star Cocktail – X-fusion Organic Mango and Passion Fruit Liqueur, Parrot Bay Coconut Rum, Pineapple Juice, and a souvenir Glow Cube – $12.00
Patrón Platinum Margarita – Patrón Silver Tequila, Cointreau, Lime Juice, and Sweet-and-Sour – $11.25
Ultimate Long Island Iced Tea – Bacardi Superior Rum, Tito's Handmade Vodka, Hendrick's Gin, Cointreau, and Sweet-and-Sour with a splash of Coca-Cola – $10.75
Craft and Draft Beers
Yuengling Draft – $7.00
Samuel Adams Seasonal Draft – $8.25 Serving
Kona Longboard Island Lager Draft – $8.25 Bottle
Bud Light Draft – $6.25 Bottle
Full Sail Session Lager – $8.00 Bottle
Blue Moon Belgian White (Witbier) – $6.75 Bottle
Sweet Water 420 Extra Pale Ale – $8.00 Bottle
Cigar City Jai Alai IPA – $8.00 Bottle
Stella Artois – $8.00 Bottle
Angry Orchard Crisp Apple Hard Cider – $7.50 Bottle
Sparkling, Whites, Blush, and Red Wines
Paul Cheneau Lady of Spain Cuvée, Cava, Spain – delicate mousse, hints of apple and apricot and crème with toastiness on the finish – $10.00 Glass, $45.00 Bottle
Batasiolo Moscato d'Asti Bosc, Piedmont – refreshing aromas and flavors of tropical fruit and sugar cane with a wonderful acidity on the finish – $9.00 Glass, $39.00 Bottle
Infamous Goose Sauvignon Blanc, Marlborough – intense aromatics of lime, grapefruit, herbs, fresh apples with racing acidity on the palate – $9.00 Glass, $39.00 Bottle
Benziger Chardonnay, Carneros – crisp acidity, fresh citrus flavors, and a touch of oak and butterscotch cookie – $9.00 Glass, $39.00 Bottle
MacMurray Estate Vinyards Pinot Noir, Russian River Valley – Raspberry and cherry cola aromas and flavors are balanced in a silky and long, elegant finish – $13.00 Glass, $55.00 Bottle
Rosenblum Vintner's Cuvee Zinfandel, California – juicy with raspberry, cherry, and blackberry aromas with vanilla nuances – $9.00 Glass
Once Upon a Vine Red Blend, California – Leads with berries, dark black plum, and root beer flavors, framed by toasted spices – $8.00 Glass, $35.00 Bottle
Dr. Loosen, Dr. L. Riesling, Mosel – crisp flavors of white peaches and green apples, bright and refreshing clean finish – $10.00 Bottle, $45.00 Glass
Placido Pinot Grigio, Veneto – light, fresh floral and mineral aromas with refreshing flavors of citrus and green apple, and a clean fresh lemon zest finish -$9.00 Glass, $39.00 Bottle
Fess Parker Chardonnay, Santa Barbara County – typical apple and pear aromas with notes of orange blossom and vanilla mingle well with hints of oak -$9.00 Glass, $39.00 Bottle
Kenwood Vineyards Yupula White Zinfandel, California – fresh red berry, citrus, and melon flavors and aromas rounded out with subtle hints of nutmeg and clove – $8.00, $35.00 Glass
Canyon Road Merlot, California – black cherry and juicy plum notes, balanced with a round velvety texture – $9.00 Glass
Francis Ford Coppola, Rosso Shiraz, California – ripe and lush berry fruit flavors and medium tannins, rich concentration, yet balanced by a spicy finish – $8.00 Glass
Louis M. Martini Cabernet Sauvignon, Central Coast – layers of red cherry, blackberry, and fresh sage with notes of chocolate and vanilla – $11.00 Glass, $49.00 Bottle
Non-Alcoholic Specialty Drinks
Ariel or Buzz Lightyear Punch – Minute Maid Light Lemonade Punch served in a souvenir cup with a glowing Disney Character Light – $7.00
Flavored Sodas – Coke blended with Vanilla or Cherry flavors (Unlimited Refills!) – $4.00
Mickey's Bee Bop Drink – Delicious Cherry-flavored Sprite with Dad's Glowing Electric Ice Cubes served in a souvenir cup – $6.50
Root Beer or Coke Float – $5.50
Milk Shakes – vanilla, chocolate, or strawberry – $6.00
Peanut Butter and Jelly Milk Shake – $6.00
Odwalla All-Natural Lemonade – topped with a Wildberry Foam – $4.50
A full bar is also available.
** Tune-In Lounge Menu and Prices are Subject to Change Without Notice **
Save