Disney's Hollywood Studios | Echo Lake Area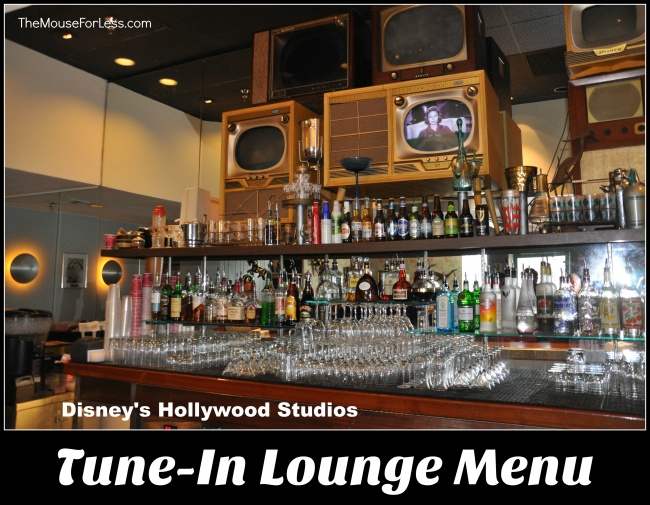 At Tune-In Lounge you can sip specialty cocktails while watching 50's TV at this retro hot spot located in the 50's Prime Time Café! Add some thrills 'n' chills to your lemonade with experimental "electric ice cubes" that light up the room!
Restaurant Info: American, Drinks, A la carte, $ – $14.99 and under per adult
Find out how you can save money on dining at Walt Disney World by using one of Disney's Dining Plans.
Tune-In Lounge Lunch and Dinner Menu
Menu Date: 05/2016
50's Prime Time Café Menu from the adjacent restaurant are served in the Tune-In Lounge for both lunch and dinner.
Tune-In Lounge Drink Menu
Menu Date: 05/2016
Specialty Cocktails
Dad's Electric Lemonade – Dad whips up an electrifying blue drink with Bacardi Rum, Skyy Vodka, Blue Curaçao, Sweet & Sour Mix, and Sprite… it is to die for! – $11.75
Magical Star Cocktail – X-fusion Organic Mango and Passion Fruit Liqueur, Parrot Bay Coconut Rum, Pineapple Juice, and a souvenir Glow Cube – $12.00
Patrón Platinum Margarita – Patrón Silver Tequila, Cointreau, Lime Juice, and Sweet-and-Sour – $11.25
Ultimate Long Island Iced Tea – Bacardi Superior Rum, Tito's Handmade Vodka, Hendrick's Gin, Cointreau, and Sweet-and-Sour with a splash of Coca-Cola – $10.75
Craft and Draft Beers
Yuengling Draft – $7.00
Samuel Adams Seasonal Draft – $8.25 Serving
Kona Longboard Island Lager Draft – $8.25 Bottle
Bud Light Draft – $6.25 Bottle
New Belgium Fat Tire – $8.00 Bottle
Blue Moon Belgian White (Witbier) – $6.75 Bottle
Sierra Nevada Pale Ale – $8.00 Bottle
Cigar City Jai Alai IPA – $8.00 Bottle
Stella Artois – $8.00 Bottle
Angry Orchard Crisp Apple Hard Cider – $7.50 Bottle
A full bar featuring most cocktails, sparkling, Whites, Blush, and Red Wines is also available.
** Menu and Prices are Subject to Change Without Notice **