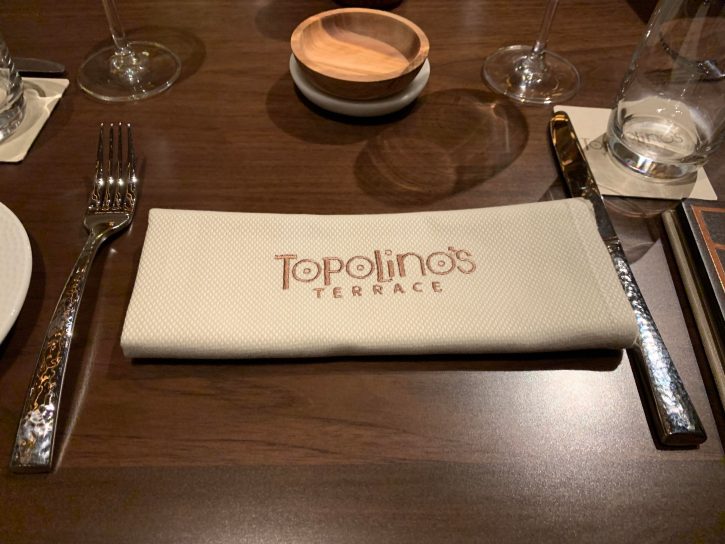 Topolino's Terrace Menu – Flavors of the Riviera offers French and Italian cuisine, along with sweeping rooftop views.
Start your morning with breakfast on this beautiful indoor rooftop terrace offering exclusive Disney Character Dining experiences. The prix fixe menu offers delicious choices to please everyone in the family.
For dinner, get ready to indulge in fresh, delicious seafood and meat dishes, handmade pasta and decadent desserts infused with French and Italian flavors at this signature rooftop dining experience straight from the Riviera. Inspired by the cliffside restaurants of France and Italy, Topolino's Terrace – Flavors of the Riviera takes its name from the Italian name for Mickey Mouse.
Topolino's Terrace is located in Disney's Riviera Resort. Find more Walt Disney World dining locations on our Walt Disney World menus page.
Restaurant Info: French, Italian Cuisine, Character Breakfast and Dinner, $$$ ($35 – $59.99 per adult) to $$$$ (over $60.00 per adult)
Breakfast Menu Kids Breakfast Menu

Planning a Walt Disney World Vacation?
For a Free no-obligation quote, contact our sponsor
The Magic For Less Travel
. The Magic For Less Travel is an Authorized Disney Vacation Planner and has been helping guests plan magical vacations since 2002. Receive the best prices and free travel planning services. Their fee-free services will help you save time, money, and stress while planning a vacation designed around you and your needs!
Topolino's Terrace Menu – Character Breakfast
Menu Date: 2023
Adults: $45.00 / Children $29.00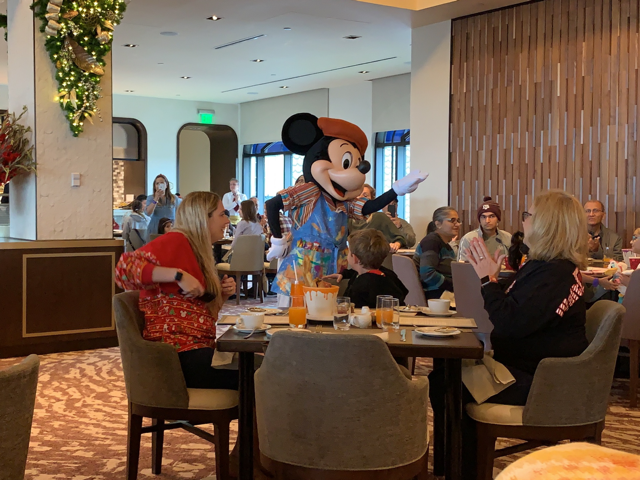 Adult Entrees
Quiche Gruyère – House-made Pancetta, Roasted Potatoes, Field Greens, Lemon Vinaigrette
Sour Cream Waffles – Roasted Apples, Chantilly, Orange-Maple Syrup, choice of Smoked Bacon, Ham, Sausage, or Plant-based Sausage
Two Eggs Any Style – Roasted Potatoes, choice of Smoked Bacon, Ham, Sausage, or Plant-based Sausage
Wild Mushroom Scramble  – Spinach, plant-based Eggs, plant-based Sausage, tomatoes
Smoked Salmon – Everything Bagel, Tomato, Red Onion, Cream Cheese, Capers
Fruit Plate – Seasonal fruits, Honey Yogurt, Seed Granola, Seed Granola
Wood – Fired Butcher Steak* –  Polenta  Pomodoraccio Tomatoes, Roasted Onions, Wild Mushrooms Conserva , Watercress
French Toast Brulee
with Seasonal Compote and a choice of Smoked Bacon, Ham, Sausage, or Plant-based Sausage
Avocado Toast 
Prosciutto, Smoked Egg, Toy Box Tomatoes, Fennel, Harisaa Vinaigrette, Ciabatta
Non-Alcoholic Beverages

Press Pot Riveria Resort Blend – $6.00
Double Espresso – $3.29
Macchiato – Espresso, dollop of frothed Milk – $3.99
Caffé Latte – Espresso, Steamed Milk – $4.79
Cappuccino – Espresso, steamed, frothed Milk – $4.79
Café Mocha – Espresso, steamed Milk, Chocolate syrup, House-made Whipped Cream – $4.79
Peche Repose – Peach, Mint, Lemon, Soda Water – $5.99
Riviera Spicy Bloody Mary – Seedlip Garden 108, Spicy Bloody Mary Mix (non-alcoholic) – $13.50
Pineapple-Jalapeno Margarita – Seedlip Garden 108, Pineapple Juice, Lime, Agave (non-alcoholic) – $13.50
Specialty Breakfast Cocktails

Classic Mimosa – Charles de Fere Cuvee Jean Louis Blanc de Blancs Brut, Orange Juice – $14.50
Riviera Bloody Mary – Ketel One Citroen Vodka, Spicy Bloody Mary Mix – $15.50
Classic Bellini – Charles de Fere Cuvee Jean Louis Blanc de Blancs Brut, Peach Puree – $14.50
Topolino's Terrace Menu – Kids Breakfast
Breakfast Entrees – Choose 1
Served with 2 Side Selections and a choice of small lowfat Milk, small Dasani Water, or a small Minute Maid Apple Juice
Scrambled Egg 
Fruit & Yogurt
Mickey Waffle Dippers
Kids' Side Selections (Choose 2)
Roasted Potatoes
Fruit Cup
Sausage
Bacon
Topolino's Terrace Menu – Dinner
Starters
Olive Marineés – Plant-based Lemon, Garlic, Marjoram, Bay Leaf – $9.00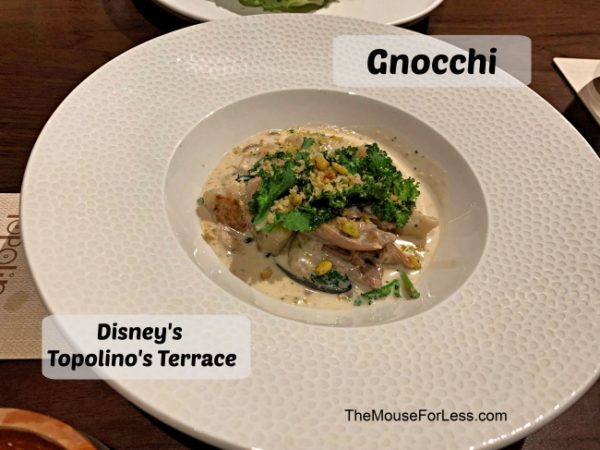 Ricotta – Tomato, Aged Balsamic, Cracked Pepper, Basil, Epi – $16.00
Gnocchi – Braised Lamb Shoulder, Mushroom, Red Wine Jus, Carrots – $18.00
Escargot en Gougeres  – savory Pate a Chox, Butter, Garlic, Lemon, parsley  – $18.00
Romaine Insalata – Pesto Bianco, Watercress, Acciuga, Lemon, Italian Olive Oil – $15.00
Duck Confit Caramelle – Leek Cream, Sherry Reduction, Pickled Onions, Red Ribbon Sorrel – $17.00
Grilled Octopus – Poblano Romesco, Black Garlic Aioli, Harissa, Spiced Potatoes – $19.00
Burrata – Heirloom Tomato, Peach, Prosciutto, Basil – $19.00
Ratatouille Fritter – Eggplant, Carrot, Summer Squash, Piperade – $12.00
Entrees
Rigatoni – Braised Chicken Sugo, Broccolini, Pancetta, Wild Mushrooms, Black Truffle – $38.00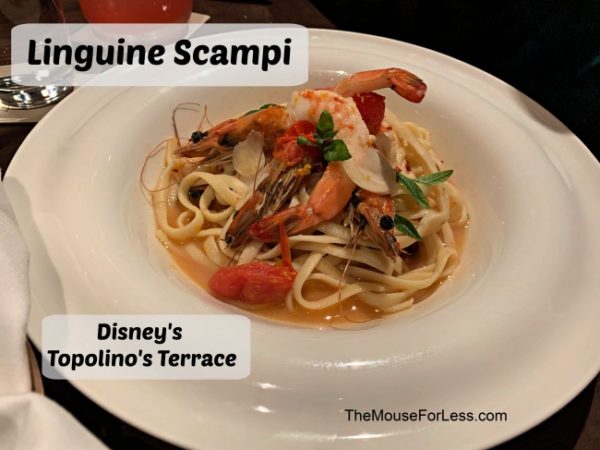 Classic Sole Meunière – Sea Beans, Capers, Baby Squash, Asparagus, Petite Potatoes – $50.00
Branzino – Fingerling Potatoes, Olives, Tomato Coulis, Scallions, Panisse, Fine Herbs – $48.00
Sea Scallops  – English Pea Risotto, Zucchini, Pickled Vegetables, Scallop Nage – $52.00
Bouillabaisse – Provencal Fish Stew, Red Snapper, Branzino, Clams, Shrimp, Squid, Mussels, Fennel and Saffron Rouille – $48.00
Filet Mignon  – Pommes Fondantes, Asparagus, Carrot Puree, Chanterelles, Bordelaise – $56.00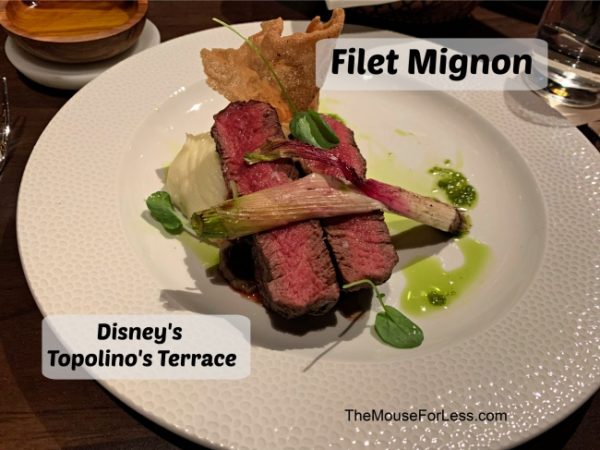 Roasted Cauliflower Steak – Farro, Fava Beans, Arugula, Radish, Green Peppercorn Dressing – $36.00
Langoustine Agnoloti – Fennel Saffron Beurre Blanc, Fava Beans, Peas, Kaluga Cavier – $52.00
Enchancements
Roasted Mushrooms – Garum, Italian Chili Crisp – $12.00
Asparagus Gratinee – Tomato Cream, Pancetta, Parmesan – $12.00
Grilled Shrimp – Sicilian Salsa Verde, Lemon – $14.00
Seared Scallops – Black Truffle Jam – $24.00
Desserts
Vanilla and Citrus Creme Brulee – Morello Cherry Compote, Strawberry Foam, Sugared Beignets, Chocolate Meringues, 50th Anniversary chocolate Stamp – $14.00
Warm Chocolate Cake – Caramel Center, Chantilly, Raspberries – $15.00
Vanilla Bean Ice Cream, No Sugar Added – $7.00
Fruits of the Forest – Black Currant Mousse, Blueberry Sorbet, Macerated Berries, Hibiscus Cake – $14.00
Beverages
Twinings of London Hot Tea – $3.99
Press Pot Riviera Resort Blend – $6.00
Double Espresso – $3.29
Macchiato – Espresso, dollop of frothed Milk – $3.99
Caffé Latte – Espresso, Steamed Milk – $4.79
Cappuccino – Espresso, steamed, frothed Milk – $4.79
Café Mocha – Espresso, steamed Milk, Chocolate syrup, House-made Whipped Cream – $4.79
Assorted Cocktails, Wine, and Beer available 
Topolino's Terrace Menu – Kids' Dinner
Kids' Appetizers
Soup of the Day – $5.00
Petite Romaine Salad – $5.00
Kids' Entrees – Choose 1
Rigtoni with Tomato Sauce – Served with 2 side selections, and choice of small Lowfat Milk, small Dasani Water, or small Minute Maid Apple Juice – $11.00
Petit Beef Filet – Served with 2 side selections, and choice of small Lowfat Milk, small Dasani Water, or small Minute Maid Apple Juice – $18.00
Grilled Chicken Breast – Served with 2 side selections, and choice of small Lowfat Milk, small Dasani Water, or small Minute Maid Apple Juice – $13.00
Kids' Side Selections – Choose 2
Roasted Carrots
Mashed Potatoes
Fruit Salad
Gelato – Vanilla, Pistachio, or Chocolate
                                                           ** Topolino's Terrace Menu and Prices are Subject to Change Without Notice **