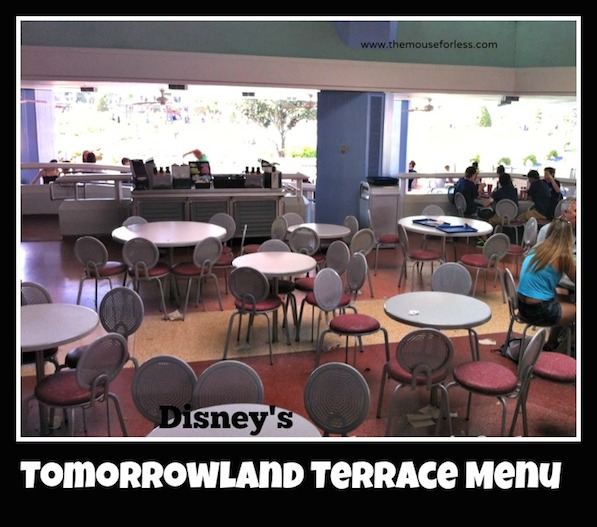 Currently, Tomorrowland Terrace Restaurant is not open for quick-service dining. The location is being used for Magic Kingdom Fireworks Dessert Parties only. 
There's food in your future at Tomorrowland Terrace – from Angus burgers to Lobster rolls, you'll be glad you visited.
Tomorrowland Terrace is located in Disney's Magic Kingdom theme park.  Find more Walt Disney World dining locations on our Walt Disney World Resort menus page.
Restaurant Info: American, Lunch/Dinner/Snack, $ $14.99 and under per adult
Find out how you can save money on dining at Walt Disney World by using one of Disney's Dining Plans.

Planning a Walt Disney World Vacation?
For a Free no-obligation quote, contact our sponsor
The Magic For Less Travel
. The Magic For Less Travel is an Authorized Disney Vacation Planner and has been helping guests plan magical vacations since 2002. Receive the best prices and free travel planning services. Their fee-free services will help you save time, money, and stress while planning a vacation designed around you and your needs!
Tomorrowland Terrace Lunch and Dinner Menu
Menu Date: 12/2020
Combo Platters
Trio Platter – A combination Fried Shrimp, Fried Fish, and Chicken Breast Nuggets served with Hushpuppies and choice of French Fries or a Cuties® Mandarin – $13.99
Chicken and Fish Platter – Served with Hushpuppies and a choice of French Fries or a Cuties® Mandarin – $12.49
Chicken and Shrimp Platter – Served with Hushpuppies and a choice of French Fries or a Cuties® Mandarin – $12.49
Fish and Shrimp Platter – Served with Hushpuppies and a choice of French Fries or a Cuties® Mandarin – $12.49
Entreés
Lobster Roll – Chilled Lobster with a touch of Mayonnaise on a New England-style Bun served with French Fries – $15.99
Chicken Breast Nuggets Platter – Served with Hushpuppies and a choice of French Fries or a Cuties® Mandarin – $12.49
Fried Fish Platter – Served with Hushpuppies and a choice of French Fries or a Cuties® Mandarin – $12.49
Fried Shrimp Platter – Served with Hushpuppies and a choice of French Fries or a Cuties® Mandarin – $12.49
Plant Based
Harbour Salad – Mixed Greens, Chickpeas, Apples, Candied Walnuts, Onions, and Vinaigrette – $9.99
Sides
French Fries – $4.49
Hushpuppies – $4.49
Side Salad with Ranch – Mixed Greens and Apples served with your choice of Dressing – $4.49
Side Salad with Vinaigrette – Mixed Greens and Apples served with your choice of Dressing – $4.49
Cuties® Mandarin – 3-Pack – $1.99
Desserts
Dannon® Light & Fit® Greek Yogurt – $3.19
Chocolate Ice Cream – Single-scoop of Chocolate Ice Cream – $4.99
Soy-based Chocolate Frozen Dessert – Single-scoop of Soy-based Chocolate Frozen Dessert (Plant-based) – $4.99
Soy-based Vanilla Frozen Dessert – Single-scoop of Soy-based Vanilla Frozen Dessert (Plant-based) – $4.99
Vanilla Ice Cream – Single-scoop of Vanilla Ice Cream – $4.99
Minnie Mouse Chocolate Chip Lava Cookie – $4.49
Kids Mickey Check Meal
For Guests 9 & Under
Harbour Salad – Mixed Greens, Chickpeas, Apples, Candied Walnuts, Onions, and Vinaigrette served with GoGo squeeZ® Applesauce and a Cuties® Mandarin with choice of Small Lowfat Milk or Small DASANI® Bottled Water. – $6.99
PB&J Uncrustable – Served with GoGo squeeZ® Applesauce and a Cuties® Mandarin with choice of Small Lowfat Milk or Small DASANI® Bottled Water. – $6.49
= Meets Disney Nutrition Guidelines for Complete Meals without substitutions
Kids Meals
For Guests 9 & Under
Chicken Breast Nuggets – Served with GoGo squeeZ® Applesauce and a Cuties® Mandarin with choice of Small Lowfat Milk or Small DASANI® Bottled Water – $7.49
Fried Shrimp – Served with GoGo squeeZ® Applesauce and a Cuties® Mandarin with choice of Small Lowfat Milk or Small DASANI® Bottled Water – $7.69
Minute Maid Juice Box, small Nesquik Chocolate Milk, Applesauce, French Fries or Cookie Available Upon Request
Beverages
Frozen Minute Maid® Lemonade – $5.99
Assorted Fountain Beverages – Assorted Coca-Cola® Offerings – $3.99
DASANI® Bottled Water – $3.50
Simply® Orange – $4.99
Lowfat Milk – $2.99
NESQUIK® Chocolate Milk – $4.19
Minute Maid® Apple Juice – $1.99
Hot Beverages
Freshly Brewed Joffrey's Coffee™ Decaf – $3.29
Freshly Brewed Joffrey's Coffee™ Regular – $3.29
Hot Cocoa – $3.29
Twinings of London® Hot Tea – $3.29
** Tomorrowland Terrace Menu and Prices are Subject to Change Without Notice **