Disney's Hollywood Studios | Sunset Blvd. Area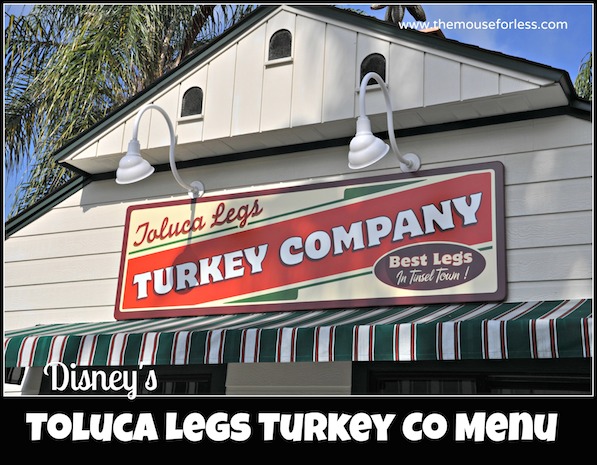 Get a load of the hot legs at Toluca Legs Turkey Company — hot turkey legs that is! Taste a legend when you bite into these jumbo drumsticks that are big enough to share!
Restaurant Info: American, Snack, $ – under $14.99 per adult
Find out how you can save money on dining at Walt Disney World by using one of Disney's Dining Plans.
Toluca Legs Turkey Company Menu
Menu Date: 02/2016
Jumbo Turkey Leg – with Chips – $12.49
Jumbo Turkey Leg – with Baked Beans and Corn – $13.99
Assorted Fountain Beverages – Coke, Diet Coke, Coke Zero, Sprite, Fanta Orange Soda, Minute Maid Light Lemonade, Gold Peak Sweetened and Unsweetened Tea – $2.99 Regular | $3.29 Large

Smartwater – $4.25

Dasani Bottled Water – $2.75

Budweiser or Bud Light Bottle – $6.00

= Snack on the Disney Dining Plan
** Menu and Prices are Subject to Change Without Notice **