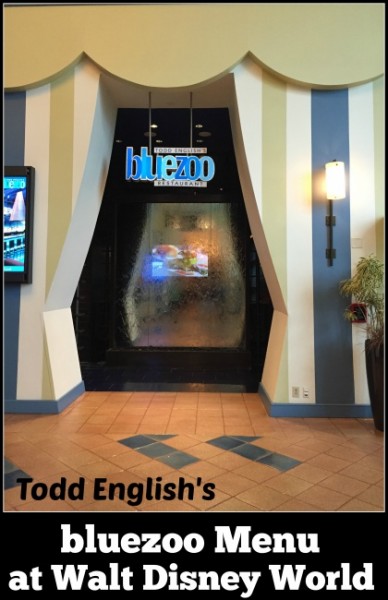 Renowned celebrity chef Todd English has created his unique interpretation of coastal cuisine in his restaurant, Todd English's bluezoo.
Todd English's bluezoo is located in the Walt Disney World Dolphin Hotel.  Find more Walt Disney World dining locations on our Walt Disney World menus page.
Restaurant Info: Seafood, Dinner A la carte, $$$

Planning a Walt Disney World Vacation?
For a Free no-obligation quote, contact our sponsor
The Magic For Less Travel
. The Magic For Less Travel is an Authorized Disney Vacation Planner and has been helping guests plan magical vacations since 2002. Receive the best prices and free travel planning services. Their fee-free services will help you save time, money, and stress while planning a vacation designed around you and your needs!
Todd English's bluezoo Dinner Menu
Menu Date: 07/2023
Starters
shrimp cocktail
poached jumbo shrimp, avocado puree, bloody mary cocktail sauce – $21.00
tuna poke tacos
marinated sushi grade tuna, avocado puree, wasabi aioli, tobiko, crispy wonton – $22.00
teppan seared sea scallops
braised beef short rib, cauliflower silk – $24.00
crab nachos
crab, black beans, pico de gallo, cherry peppers, white cheddar – $26.00
crab cause
tarragon crab salad, crispy potato croquette, avocado puree, sweet drop peppers – $23.00
bbq pork pot stickers
smoked pork shoulder dumplings, mustard bbq sauce – $20.00
Flatbreads
olive's classico
roasted tomato sauce, fresh mozzarella, torn basil – $17.00
mushroom maddness
mixed woodland mushrooms, fresh thyme, fontina cheese, roasted garlic, calabrian chile – $19.00
clam casino
baby clams, arugula, fresh buffalo mozzarella, dijon cream, crispy potato shards – $19.00
Soup/Salad
bluezoo's signature clam chowder
light and brothy with salt cured bacon, house-made oyster crackers – $15.00
crab corn chowder
breaded blue crab cake, creamy broth, sweet corn succotash – $22.00
caesar salad
little gem romaine lettuce, parmesan cheese, house dressing,  crouton, crispy egg yolk – $15.00
tuscan kale salad
toasted sunflower seeds, marcona almonds, blistered grapes, whipped ricotta cheese, warm black pepper, honey vinaigrette – $16.00
Entrees
bluezoo's simply fish
please select from our nightly choice of fish (tuna, mahi mahi, salmon, snapper, swordfish)…accompanied by – creamy risotto and seasonal vegetables, served with your selection of sauce below – warm crabmeat dijon, salsa verde, white wine sauce, charred tomato sauce. – $39.00
add a lobster claw (sauce supplement) – $9.00
asian prime skirt steak
chinese style sausage, fried rice, egg, pickled fresno chili – $46.00
butler steak
grilled angus beef "butler" steak, black bean puree, chimichurri, sunchoke chips – $40.00
angus beef
angus beef filet, roasted potatoes, field mushrooms, sautéed onion, truffle porcini sauce – $57.00
linguine con vongole
linguine pasta, littleneck clams, chorizo, sweet basil, tomato sauce, calabrian chile – $32.00
lobster bucatini
chervil butter, ricotta cheese, calabrian chili flakes – $42.00
za'atar roasted squash
charred squash, lions mane mushrooms, onion, labneh, pomegranate, toasted walnuts, spiced serrano salsa, sesame tuile, mint – $30.00
crispy skinned chicken
roasted chicken breast, confit thigh, warm bread and arugula salad, currants, roasted chicken jus – $33.00
add a shrimp – $7.00
add a scallop – $10.00
add a lobster tail – market price
Sides
mac & cheese – $12.00
shake & bake fries
roasted garlic, rosemary, grated parmesan cheese – $12.00
tempura green beans
truffle aïoli – $12.00
risotto 'tots'
rosotto, white truffle, sassy romesco – $12.00
roasted brussel sprouts
bacon, balsamic – $12.00
corn
sweet corn with lime, crema, cotija cheese – $12.00
Desserts
molten chocolate cake
vanilla ice cream, chocolate streusel – $15.00
strawberry angel food cake
marinated strawberries, crispy tuile – $15.00
banana split
neapolitan ice cream, strawberry and pineapple compote, caramelized nuts, vanilla cream, maraschino "cherry" – $15.00
chocolate chip cookie s'more
caramel fudge filling, toasted marshmallow ice cream, caramel sauce – $15.00
root beer float
vanilla bean ice cream, boylan's root beer, bourbon vanilla whipped cream, chocolate shavings – $11.00
Specialty Cocktails
zooberry
blueberry infused vodka, fresh lemon juice, rock candy syrup – $17.00
serenity
a masterful combination of cucumber vodka, st. germain elderflower liqueur, muddled strawberries, rosemary, lime, pineapple juice – $18.00
millions of peaches, peaches for me
peach infused, selbach-oster kabinett riesling, peach liqueur, fresh lemon, new amsterdam vodka served smoking – $17.00
hello brother
brown butter washed brother's bourbon, old forester hummingbird bitters, woodford reserve chocolate bitters, vampire sphere – $19.00
barrel aged manhattan
four roses small batch bourbon, dolin rouge vermouth, angostura bitters aged in house in oak barrels, garnished with filthy cherries – $19.00
burnt orange
herradura blanco tequila infused with brûléed oranges combined with agave, grand marnier, orange juice – $18.00
la vie en rose
hendrick's gin, muddled raspberries, st germain elderflower liqueur, bouvet sparkling rose – $16.00
my my my my shigroni
four pillars bloody shiraz gin, campari, carpano antica formula sweet vermouth, bouvet sparkling rose – $16.00
hemingway guava daiquiri
flor de cana 4 year rum, fresh lime, guave, key lime foam – $16.00
Todd English's bluezoo Kids' Menu
Menu Date: 07/2023
For Guests Ages 3 – 9
Kiddie Cocktails
Zoobie – blueberry infused lemonade – $5.00
No-Jito – a no alcohol version of the adult classic with your choice of strawberry or raspberry – $6.00
Swedish Fish Soda – a blast form the past for the young and old with swedish fish candy syrup and soda – $6.00
Appetizers
Chilled Jumbo Shrimp – honey dijon mustard – $13.00
Entrees
chargrilled kid's burger
4 oz all beef patty, toasted roll, american cheese – $12.00
chargrilled chicken breast
grilled chicken breast, french fries and green beans – $12.00
fish & chips
hand-battered corvina, french fries and green beans – $12.00
pasta
butter or tomato sauce – $10.00
classic cheese pizza – $10.00
Desserts
ice sandwich
vanilla ice cream; choice of chocolate chip cookie or traditional sugar cookie – $9.00
** Todd English's bluezoo Menu and Prices are Subject to Change Without Notice **