Resort Restaurants | Walt Disney World Dolphin Hotel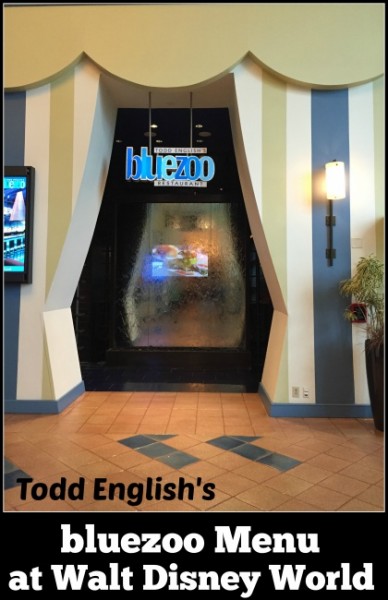 Dinner Menu   Kid's Dinner Menu  Reviews

Renowned celebrity chef Todd English has created his own unique interpretation of coastal cuisine in his newest restaurant.
Restaurant Info: Seafood, Dinner A la carte, $$$
Todd English's bluezoo Dinner Menu
Menu Date: 03/2017
Appetizers and Salads
bluezoo's New England Style Clam Chowder – light and brothy with salt cured bacon, house-made oyster crackers – $12.00
Crispy Asian Pork Ribs – spring peas, sweet thai chili sauce, prosciutto di parma, beach mushroom – $18.00
Yellowfin Tuna Tartare – miso caviar, scallion cream, nitro siracha aïoli – $18.00
Teppan Seared Jumbo Sea Scallops – braised beef short rib, silky cauliflower purée – $18.00
Grilled Kale Salad – hummus, squash, pomegranate, chorizo chips, white balsamic vinaigrette – $15.00
Low Country Jumbo Shrimp – White cheddar grits, okra, smoked bacon butter – $16.00
"Olive's" Classico Flatbread – roasted tomato sauce, fresh mozzarella, torn basil – $14.00
Beet Salad – basil seeds, burrata mousse, brioche croutons, navel orange jel, champagne vinaigrette – $16.00
Chilled Poached Jumbo Shrimp – avocado puree, bloody mary sauce, fennel salt – $18.00
Radish Salad – greek yogurt espuma, fresh mint, goat feta cheese, cucumber dill vinaigrette – $14.00
Blue Raw Bar
We pride ourselves on sourcing the freshest oysters daily with selections from up and down the east and west coast. We also serve freshly harvested Key West Middleneck Clams.
Raw Bar Selection Platter – maine loster tail, oysters, clams, jumbo shrimp, day's ceviche, tuna cruda, dipping sauces – $55.00
Middleneck Clams – $1.75 per piece
Daily Harvest Oysters – $3.00 per piece
Entrees
Simply Fish our daily selection of finest fresh fish selected from coastal waters around the world, simply grilled on our teppanyaki grill, served with your selection of sauce – warm crabmeat with dijon mustard and chives or sauce of the day – $36.00
This Evening's Dancing Fish – marscapone, enriched polenta, sustainable mushroom, tempura rock shrimp, spanish caper emulsion – $42.00
Gulf Grouper – rock shrimp risotto, romanesco, smoked paprika butter, pipperade relish – $37.00
Cast Iron Seared Filet Mignon – fork crushed fingerling potatoes. slow-cooked broccoli creamy heirloom tomato – $42.00
Rustic Chicken Breast – braised dark meat, carrot purée, forest mushrooms, cannellini beans, orange-thyme jus – $28.00
Miso Glazed Mero – hawaiian sea bass, shiitake-ginger rice, black garlic, sticky soy – $42.00
King Salmon – le puy green lentils, carrots, parsnips, leek fondue, caramelized fennel, beurre rouge sauce – $42.00
Veal Tenderloin – carolina gold rice, green and white asparagus, madeira jus – $44.00
Asian BBQ Tuna – asian bbq rub, crispy cabbage slaw, pea purée, english peas, crispy shiitake, red sorrel-miso broth – $44.00
Lamb Bolognese – house made rigatoni, roasted mushroom ragout, cherry peppers – $28.00
Two-pound Maine "Cantonese Lobster" – fried and tossed in sticky soy glaze – $60.00
Side Dishes
Lobster Broccoli Stuffed Cheddar Potato – $10.00
Shake & Bake Fries – grated parmesan and crushed garlic – $8.00
Tempura Haricot Vert – truffle aioli – $9.00
Cast Iron Broccolini – sriracha sauce, fresh garlic and ginger – $9.00
Desserts
Chocorange – chocolate fondant cake, chocolate orange cream, marshmallow, chocolate sorbet, orange vanilla sauce – $13.50
Twisted Raspberry Cheesecake – cream cheese panna cotta, raspberry sorbet, meringue house made graham cracker, dehydrated cream cheese mousse – $13.50
Warm Chocolate Banana Molten Cake – chocolate cream pudding, chocolate sauce, caramelized banana, banana ice cream – $13.50
Passion Orange Tart – tart shell, orange zest vanilla bean diplomat cream, almond passion fruit air sponge, mango passion fruit caviar, sautéed tropical fruit and rum sorbet, mango sauce – $13.50
Truffles – our two time world champion pastry chef, laurent branlard's, signature truffles are a selection of his seasonally inspired favorites – $12.00
Cherry Clafoutis – cherry clafoutis tart, pistachio mousse, cherry confit, cherry sorbet – $13.50
Seasonal Sorbet – a trio of refreshing sorbets inspired by the season – $11.00
Chef's Trio of Artisanal Cheese – daily selection of artisanal cheeses and accoutrements – $16.00
A full bar featuring beers, wines and cocktails is available
Todd English's bluezoo Kids' Menu
Menu Date: 03/2017
For Guests Ages 3 through 12
Kiddie Cocktails
Zoobie – blueberry infused lemonade – $5.00
No-Jito – a no alcohol version of the adult classic with your choice of strawberry or raspberry – $6.00
Swedish Fish Soda – a blast form the past for the young and old with swedish fish candy syrup and soda – $6.00
Appetizers
Clam Chowder – light and brothy with salt cured bacon and house-made oyster crackers – $5.00
Chilled Jumbo Shrimp – honey dijon mustard – $8.00
Entrees
Grilled Beef Tenderloin – steamed vegetable, choice of fries or mashed potato – $19.00
Chargrilled Breast of Chicken – steamed vegetable, choice of fries or mashed potato – $12.00
Crisp Fried Fish Fillets – steamed vegetable, choice of fries or mashed potato – $12.00
Spaghetti – butter or tomato sauce – $10
Classic Cheese Pizza – $10
Desserts
"Dessert"ed Island – a chocolate boat filled with vanilla ice cream sailing the jello seas to explore chocolate island – $9.00
** Todd English's bluezoo Menu and Prices are Subject to Change Without Notice **
Save