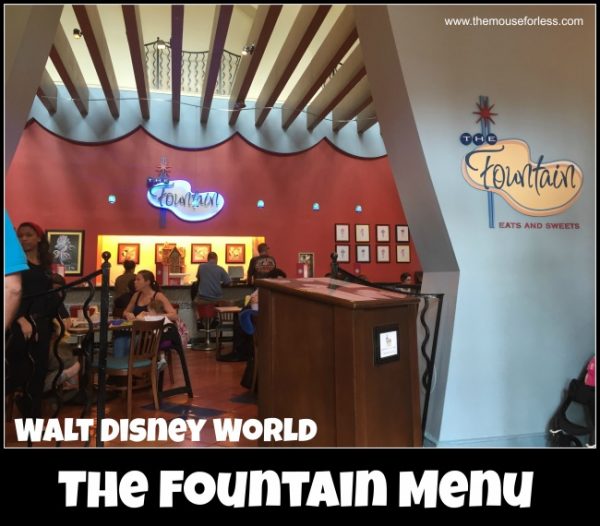 The Fountain is an All-American venue with an array of family favorites like salads, burgers, and sandwiches for lunch and dinner. After the main course, treat yourself to homemade or soft-serve ice cream at the dessert counter.
The Fountain is located in the Walt Disney World Dolphin Hotel.  Find more Walt Disney World dining locations on our Walt Disney World menus page.
Restaurant Info: American, Casual Dining, Lunch/Dinner A la carte, $ – $14.99 and under per adult
Lunch/Dinner Menu  Kids Menu  Ice Cream Treats

Planning a Walt Disney World Vacation?
For a Free no-obligation quote, contact our sponsor
The Magic For Less Travel
. The Magic For Less Travel is an Authorized Disney Vacation Planner and has been helping guests plan magical vacations since 2002. Receive the best prices and free travel planning services. Their fee-free services will help you save time, money, and stress while planning a vacation designed around you and your needs!
The Fountain Lunch & Dinner Menu
2023
Soups
Chicken Noodle Soup – $5.00 cup | $9.00 bowl
Chili with Cheese – $5.00 cup | $9.00 bowl
Salads
Chicken Caesar Salad
Romaine Lettuce, Grilled Chicken, Parmigiano-Reggiano Cheese, Croutons and Caesar Dressing – $20.00
Spicy Buffalo Chicken Salad
Romaine Lettuce, Roma Tomato, Shredded Cheddar, English Cucumber and Buttermilk Ranch Dressing – $21.00
Asian Salmon Salad
Sesame-Soy Seared Salmon, Organic Mixed Greens, Shredded Carrots, Florida Orange, English Cucumber, Sugar Snap Peas, Guacamole, Rice Noodles and Sesame-Citrus Vinaigrette – $22.00
Starters & Shareables
Tortilla Chips & Homemade Salsa – $8.00
Soft Pretzel Bites
served with Cheese Sauce – $8.00
American Fries – $6.50
Sweet Potato Fries – $7.50
Chili Cheese Fries – $9.50
Cheese Fries – $8.50
Onion Rings
served with Remoulade Sauce – $8.00
½ Rings, ½ Fries – $7.50
Burgers & Sandwiches
All Burgers and Sandwiches served with Fries. Substitute for Sweet Potato Fries – $3.00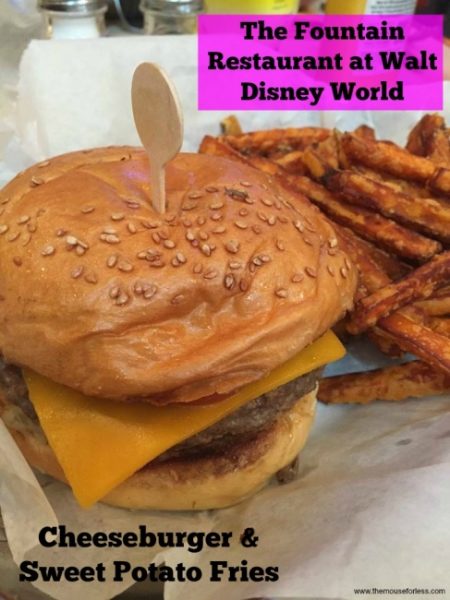 The Original Burger
Angus Burger, choice of Cheese, Lettuce, Roma Tomato and Onion served on a Sesame Brioche Bun – $19.00
Fountain Signature Burger
Two 4 oz. Angus Burgers, Smoked Bacon, Avocado-Bacon Spread, Caramelized Onion, Roma Tomato and American Cheese served on a Sesame Brioche Bun – $20.00
Turkey Burger
Hand-formed Turkey Burger, Nashville Barbecue Mustard, Avocado Spread, Lettuce, Roma Tomato, Red Onion and Pepper Jack Cheese served on a Sesame Brioche Bun – $19.00
Veggie Patty Melt
Grilled "Beyond Burger" Patty, Handcrafted 1000 Island Dressing, American Cheese, Caramelized Onion, Avocado Aioli, Lettuce and Roma Tomato served on "San Francisco" Sourdough – $17.00
Grilled Chicken BLT
Seared Marinated Chicken Breast, Hellman's Mayo, Smoked Bacon, Crisp Iceberg Lettuce and Roma Tomato served on a Ciabatta Bun – $16.50
Low-n-Slow Brisket Sandwich
House-smoked Angus Beef Brisket, Vermont White Cheddar Cheese Sauce, Charred Tomato Barbecue, Wickles Pickles, Sautéed Onions and Mushrooms served on a Garlic Toasted Amoroso Roll – $18.00
Classic Hot Dog
Vienna All-Beef Hot Dog, choice of Toppings served on a Potato Bun – $12.00
Buffalo Chicken Grilled Cheese
Braised Buffalo Chicken, Colby Cheese and Blue Cheese Crumbles served on Toasted French Country Bread – $17.00
Ice Cream
Hand Scooped Ice Cream 
Banana Walnut, Minty Chip, Caramel Cappuccino, Peanut Butter, Cheesecake, Rocky Road, Raspberry Sorbet, Rainbow Sherbet, Hazelnut Gelato, Cookies & Cream, Strawberry Patch , Cookie Dough, Dutch Chocolate, Vanilla, Seasonal, Vanilla Yogurt, Chocolate Yogurt – Small $8.00 – Large $9.00
Soft-serve Ice Cream
Vanilla, Chocolate, Vanilla/Chocolate Twist – Small $7.00 – Large $8.00
Upgrade to Home-made Waffle Cone – $1
Sauces
Hot Fudge, Chocolate, Strawberry, Marshmallow, Pineapple, Caramel – $.75
Toppings
Rainbow Sprinkles, Chocolate Sprinkles, M&Ms, Chocolate Chips, Peanuts, Oreo Crumbles, Reese's Peanut Butter Cups, Brownie Pieces, Walnuts, Reese's Pieces, Cherries, Peppermint Cookies, Malted Milk Balls, Whipped Cream
Sweet Selections
Vanilla Cupcake – $6.00
Chocolate Cupcake – $6.00
Brownie – $4.00
Rice Crispy Treat – $4.00
Chocolate Chip Cookie – $4.00
Peanut Butter Cookie – $.00
Chef's Specialty Cake Slice – $9.00
Assorted Specialty Milkshakes & Fountain Specialties – $8.00 – $14.00
Also, see Ice Cream Treats
Beverages
Craft Sodas
Root Beer, Cream Soda, Black Cherry, Orange, Crape – $5.00
Fountain Soda 
Coke, Diet Coke, Coke Zero, Sprite, Hi-C Pink Lemonade, Ginger Ale – $4.50
Iced Tea – $4.00
Milk – $4.00
Juice – $5.00
Perrier – $4.50
Evian – $4.50
Alcoholic Beverages
Assorted Beer – $8.50 – $11.00
Assorted Wine Served in Half Bottle – $13.25
The Fountain Kids' Menu
Entrées
All served with choice of Fries, Sweet Potato Fries, or Fruit Salad and fountain soda, milk, chocolate milk, apple juice, or orange juice
Chicken Fingers – $12.50
Hamburger – $12.50
Cheeseburger – $12.50
Hot Dog – $12.50
Grilled Cheese – $12.50
Whole-Wheat Spaghetti with Meatballs – with a choice of Tomato Basil or Bolognese – $12.50
Mac & Cheese – $11.50
PB&J – Organic Peanut Butter, Grape Jelly served on White or Wheat Bread – $11.50
Pressed Turkey Patty Melt – $11.00
** The Fountain Menu and Prices are Subject to Change Without Notice **