Epcot | World Showcase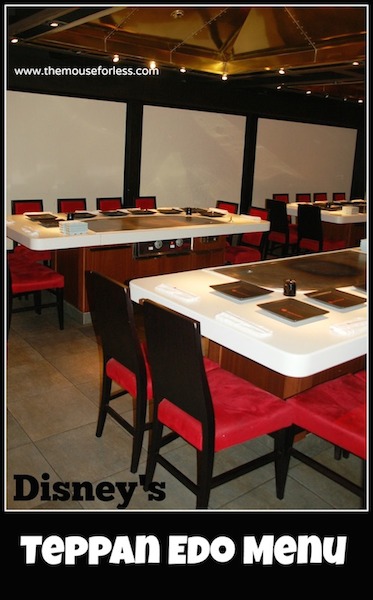 Mitsukoshi proudly presents Teppan Edo, where the spirit of Japanese cuisine is demonstrated through the culinary feats of Teppan Chefs, reflecting the vivacious festivity of the Edo period, which began in 1603. Guests will enjoy a dining experience featuring Teppan-yaki style cuisine and time-honored Japanese hospitality in an atmosphere of traditional majesty.
Restaurant Info: Japanese, Lunch/Dinner, $$ – $15 to $29.99 per adult
Find out how you can save money on dining at Walt Disney World by using one of Disney's Dining Plans.
All-Day Menu
Menu Date: 03/2016
Appetizers
Atsu Age Tofu – Deep Fried Soya Curd with Butter, Soy and Scallions – $4
Wafu Ribs – Sake, Soy, and Ginger Braised Pork Ribs – $10
Assorted Tempura – Shrimp, Chicken and Vegetables – $9
Garden Salad – Mixed Greens, Tomato, and Vegetables – $6
Edamama – Young Soybean Pods served chilled – $5
Miso Soup – Soybean Soup with Wakame and Green Onion – $4
Sushi
Volcano Roll – Grilled California Roll Topped with Shrimp, Scallops and Volcano Sauce – $18.00
Spicy Salmon Tartar Roll – 8 pieces with Cucumber, Avocado and Seaweed Wrap – $16.00
Sushi Sampler – 2 pieces Spicy Roll, 2 pieces of California Roll, 3 pieces Nigiri – $14.00
Shrimp Tempura Roll – 8 pieces with Cucumber and Seaweed Wrap – $14
Single Teppan Entrees
Includes Seasonal Vegetables with Udon Noodles and Sukiyaki Beef Rice.
Filet Mignon – 6 oz. Beef Tenderloin Steak – $34.00
Strip Steak – 7 oz NY Cut Strip Loin – $29.00
Asakusa – Steak and Shrimp – $35.00
Nihonbashi – Steak and Chicken Breast – $33.00
Ueno – Chicken Breast and Shrimp – $32.00
Ebi – 10 Grilled Shrimp – $27.00
Julienne Beef – 8 oz. Thin Sliced Beef topped with Teriyaki Sauce – $32.00
Salmon – 6 oz. Fresh Scottish Filet served with Spicy Yuzu Sauce – $27
Tori – 8 oz Boneless Chicken Breast – $26.00
Yasai – Seasonal Vegetables – $22.00
Side Dishes
Asparagus – Grilled, served with Spicy Cod Roe Sauce – $8.00
Ebi – 5 pieces Grilled Shrimp $14.00
Lobster Tail – 4-6 oz Northeaster Cold Water Tail – $28.00
Mixed Mushrooms – Oyster, White and Shiitake in Butter, Soy and Simmered in Kami Nabe – $12.00
Tori – 4 oz. Boneless Chicken Breast $13.00
Tuna Tataki – 4 oz Seared Tuna Loin topped with Scallions and Tempura Crunch $16.00
Wagyu Steak – 3 oz Thin Sliced Sukiyaki Style – $56
For Our Guests 9 & Under
Includes Seasonal Vegetables with Udon Noodles and Sukiyaki Beef Rice
Ebi – 5 Grilled Shrimp – $14.50
Tori – 4 oz Chicken Breast – $14.00
Julienne Steak – 4 oz. Sliced Beef topped with TeriYaki sauce – $14.50
Dessert
Green Tea Cheese Cake with Raspberry Sauce – $6.95
Chocolate Ginger Cake – $6.95
Soft-Serve Ice Cream Green Tea or Vanilla – $4.95
Beverages
Coca-Cola – $2.95
Diet Coke – $2.95
Sprite – $2.95
Lemonade – $2.95
Orange Soda – $2.95
Iced Green Tea – $2.95
Hot Green Tea – $2.95
Low Fat Milk – $2.95
** Menu and Prices are Subject to Change Without Notice **