Resort Restaurants | Polynesian Village Resort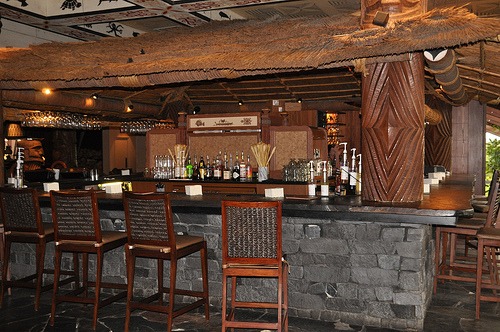 Located in 'Ohana restaurant, this lounge serves snacks and beverages with an island flare.
Restaurant Info: American, Appetizers and Beverages, $
Find out how you can save money on dining at Walt Disney World by using one of Disney's Dining Plans.
Tambu Lounge Menu
Menu Date: 09/2016
Appetizers
Appetizers – served 5 p.m. to 10 p.m.
Crisp Breads and Dips – Assorted Breads served with Sun-dried Tomato Pesto, Roasted Red Pepper Hummus and Baba Ghanoush – $6.00
Pulled Pork Nachos – Polynesian Chips topped with Pork, Cheese, Pineapple Salsa, and Spicy Mayonnaise – $9.00
Pork Sliders – Mini Sandwiches with Kona Coffee Barbecued Pork topped with Slaw – $9.00
Beef Satay – Mini Skewers of Grilled Beef served with a Chimichurri Sauce – $9.00
Chicken Wings – Choice of Honey-Coriander Wings or Spicy Wings served with Blue Cheese and Celery – $9.00
Dessert
'Ohana Bread Pudding – A single serving of our classic 'Ohana Bread Pudding served with a scoop of Vanilla Ice Cream and a side of Banana-Caramel Sauce – $6.00
Beverages
Assorted Fountain Beverages – $3.29
Tinker Bell and Buzz Lightyear Punch– Minute Maid® Light Lemonade Punch served in a souvenir Fairies or Toy Story 3 Cup with a glowing Tinker Bell or Buzz Lightyear Clip-on Light – $7
All-Natural Lemonade– Odwalla® Lemonade topped with Wildberry Foam – $4.49
Coconut Elixir– Zico® Coconut Water with Pineapple and Cranberry Juice
Sparkling No-Jito– Fresh Lime Juice, Agave Nectar, and Mint topped with Soda Water
Wild Strawberry Lemonade – Odwalla® Lemonade and Wild Strawberry topped with Lemon-Lime Foam – $4.49
Specialty Drinks
Full Bar Available, including the following Specialty Drinks
The Godiva Liqueur Flight – Three half-ounce pours of Godiva Liqueur: Chocolate, White
Chocolate and Caramel topped with Godiva liqueur-infused strawberries – $9
Island Sunset – Seven Tiki Spiced Rum, Parrot Bay Coconut Rum, Melon, and Peach combined with our Guava Passion Fruit Juice
Lapu Lapu – Myers's Original Dark Rum and Tropical Fruit Juices served in a fresh Pineapple topped with Bacardi 151 Rum
Backscratcher – Bacardi Superior Rum, Myers's Original Dark Rum, and Passion Fruit Juice topped with Jack Daniel's Tennessee Whiskey and a Bamboo Backscratcher
Tropical Macaw – Parrot Bay Coconut Rum, Midori Melon Liqueur, Pineapple Juice, and Cranberry Juice
** Menu and Prices are Subject to Change Without Notice **