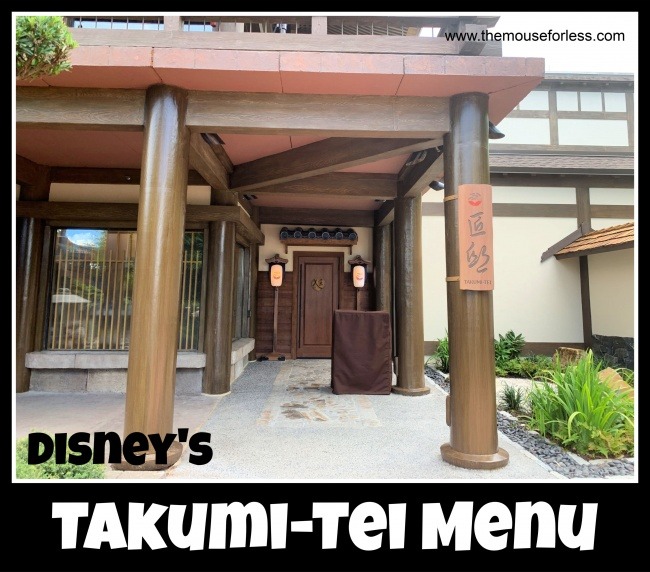 Immerse yourself in a truly creative dining experience in a sublime setting at Takumi-Tei—Japanese for "house of the artisan."
At Takumi-Tei, the beauty of Japan is in its cuisine. Multicourse omakase tasting menus offer creatively prepared, Japanese-inspired dishes. Omakase—or "leave it up to the chef"—is a special gastronomical experience during which the chef curates the meal.Guests may also enjoy signature cocktails, premium sake, wine and craft beer.
Takumi-Tei is located in Disney's Epcot theme park. Find more Walt Disney World dining locations on our Walt Disney World Resort menus page.
Restaurant Info: Asian, Japanese, Seafood, Sushi Dinner, $$$$ – over $60.00 per adult
Takumi-Tei Dress Code:
In order to preserve the atmosphere of this dining experience, Guests are asked to adhere to the dress code. The minimum dress code is required—and dressier attire is also welcome. Please review the minimum dress code requirements:
Men must wear khakis, slacks or dress shorts and collared shirts. Jeans may be worn if in good condition. Sport coats are optional.
Women must wear Capri pants, skirts, dresses or dress shorts. Jeans may be worn if in good condition.
Not permitted are tank tops, flip-flops, swimsuits, swimsuit cover-ups, hats for gentlemen, cut-offs, torn clothing and t-shirts with offensive language and/or graphics.
Find out how you can save money on dining at Walt Disney World by using one of Disney's Dining Plans.

Planning a Walt Disney World Vacation?
For a Free no-obligation quote, contact our sponsor
The Magic For Less Travel
. The Magic For Less Travel is an Authorized Disney Vacation Planner and has been helping guests plan magical vacations since 2002. Receive the best prices and free travel planning services. Their fee-free services will help you save time, money, and stress while planning a vacation designed around you and your needs!
Takumi-Tei Dinner Menu
Menu Date: 07/2023
Kiku – The Omnivorous Course (starting at $250, tax and gratuity not included)
Haus – The Plant-based Course (starting at $150, tax and gratuity not included)
Child (ages 8 – 12) – starting at $100 per child, tax and gratuity not included
Omakase Menu – Kiku
Zensai Moriawase
Chef's selection of five seasonal appetizers
Sushi*
Nigiri and roll
Agemono
Lobster tempura served with creamy ponzu sauce and matcha salt
Sashimi*
Seasonal fish
Yakimono
Your choice of: 3 oz Japanese A5 wagyu steak, curry-roasted potatoes, roasted seasonal mushrooms, or Roasted duck, garlic sautéed spinach, pumpkin puree, black grape reduction, or Grilled Chilean seabass served over rice with bonito and kelp broth
Shirumono
Seasonal broth
Ocha to Kanmi
Green tea accompanied by your choice of: Chestnut crème brûlée, or Strawberry yuzu sorbet served over plant-based shiso jelly, or Monaka daifuku with ice cream and kinako crumble
Omakase Menu – Haus

Zensai Moriawase
Chef's selection of three seasonal appetizers
Sushi
Nigiri and roll made with seasonal vegetables
Shusai
Deep-fired tofu, black rice, carrots, seasonal mushrooms, tsuyu dressing
Yuba Roll
Beancurd skin rolled with daikon, cucumber, yuzu koshō dressing
Yasai Tempura
Seasonal vegetable tempura served with warm soba noodles
Ocha to Kanmi
Green tea accompanied by your choice of: Strawberry yuzu sorbet served over plant-based shiso jelly, or Monaka daifuku with dairy-free ice cream and kinako crumble
Children's Omakase Menu – Himawari

Zensai Moriawase
Chef's selection of three seasonal appetizers
Sushi*
Nigiri and roll
Yakimono
Your choice of: Mishima Reserve Wagyu steak, curry-roasted potatoes, roasted seasonal mushrooms, or Roasted chicken, garlic sautéed spinach, pumpkin puree, black grape reduction, or Seasonal fish served over rice with bonito and kelp broth, or Lobster tempura served with creamy ponzu sauce and matcha salt
Soba
Warm soba noodles in seasonal broth
Ocha to Kanmi
Green tea accompanied by your choice of: Chestnut crème brûlée, or Strawberry yuzu sorbet served over plant-based shiso jelly, or Monaka daifuku with ice cream and kinako crumble
Sake
IWA – Toyama, Japam
Dassai 23 – Yamaguchi, Japan
Kubota – Yamaguchi, Japan
Hakkaisan 45 – Niigata, Japan
Dassai 39 – Yamaguchi, Japan
KEN – Fukushima, Japan
Tomoju – Ibaragi, Japan
Fukuju – Hyogo, Japan
Kuroushi – Wakayama, Japan
Moon on the Water – Hiroshima, Japan
Suijin – Iwate, Japan
Shichida – Saga, Japan
DAN – Yamanashi, Japan
Seaside Sparkling Sake – Hiroshima, Japan
Nigori – Okayama, Japan
Plum Liqueur Mito no Kairaku Enultra premium 5 year – Ibaragi, Japan
Japanese Whiskies (Single)
Hakushu 12 Single Malt
Yamazaki 12 Single Malt
Ichiro Malt and Grain
Hibiki Harmony
Nikka Coffey
Kaiyo The Single 96
Non Alcoholic Cocktails
Blood Orange Spritzer – Blood Orange Monin, Falernum, Sparkling Water – $8.00
Ginger Mimosa – Orange Juice, Falernum, Ginger Ale – $8.00
Okinawa Sunshine – Calpico, Pineapple Juice, Orange Juice, Yuzu Juice, Sprite – $8.00
Specialty Cocktails
Kochi – Suijin Sake, Rum, Fresh Mint, Orange, Yuzu Liqueur, Yuzu Juice – $18.00
Yogan – Haku Japanese Vodka, Lime Juice, Ginger Beer, Lime – $15.00
Sakurajima – Kaiyo Whisky, Lemon Juice, Smoked Cherrywood – $16.00
Kami – KI NO BI Gin, Nigori "Sacred Mist" Sake, Lychee Calpico, Lychee – $15.00
Japanese Beer
Coedo Ruri Draft
Koshihikari Rice Beer
Wine
Piper Heidsieck Brut Sparkling – Champagne, France
2017 Emmolo Sauvignon Blanc – Napa Valley, California
2017 Raeburn Chardonnay – Sonoma, Californa 
2017 Jean Claude Boisset Les Ursulines Pinot Noir – Burgandy, France
2015 E. Guigal Red Blend – Rhone Valley, France
2016 Donnafugata Etna Rosso Nerello – Etna, Italy
2016 Scattered Peaks Cabernet Sauvignon – Napa Valley, California
2015 Stag's Leap Cabernet Sauvignon – Napa Valley, California
** Takumi-Tei Menu and Prices are Subject to Change Without Notice **