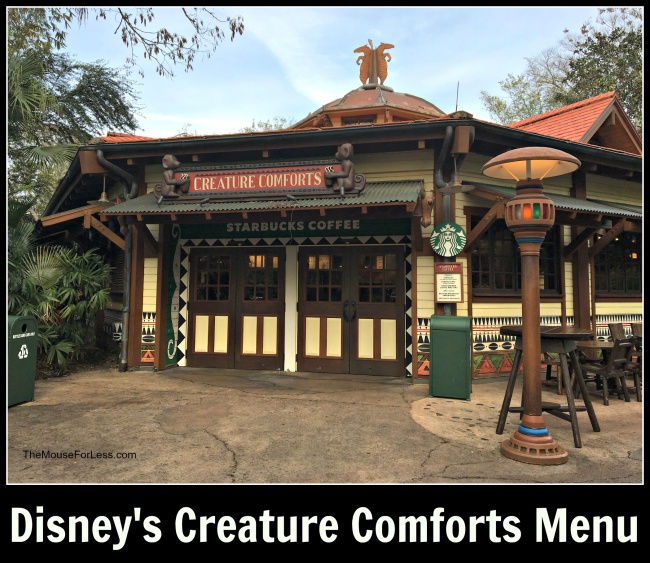 At Creature Comforts' Starbucks location, breakfast and bakery items are sold until 11:00 a.m. After 11:00 a.m., both Starbucks and Disney treats, such as cupcakes, cookies, and brownies, are offered. There is also a Grab 'n' Go section with cold sandwiches, yogurt, whole fruit, bottled beverages, and more available. All Starbucks beverages can be purchased as a snack credit on the Disney Dining Plan. While Starbucks gift cards and mobile apps can be used to make purchases, My Starbucks Rewards are not honored at this location. Purchases at Creature Comforts will earn My Starbucks Rewards, however.
Creature Comforts' Starbucks is located in Disney's Animal Kingdom theme park. Find more Walt Disney World dining locations on our Walt Disney World Resort menus page.
Restaurant Info: American, Breakfast/Snack, $ – under $14.99 per adult
Find out how you can save money on dining at Walt Disney World by using one of Disney's Dining Plans.

Planning a Walt Disney World Vacation?
For a Free no-obligation quote, contact our sponsor,
The Magic For Less Travel
. The Magic For Less Travel is an Authorized Disney Vacation Planner and has been helping guests plan magical vacations since 2002. Receive the best prices and free travel planning services. Their fee-free services will help you save time, money, and stress while planning a vacation designed around you and your needs!
Creature Comforts Menu
Menu Date: 2023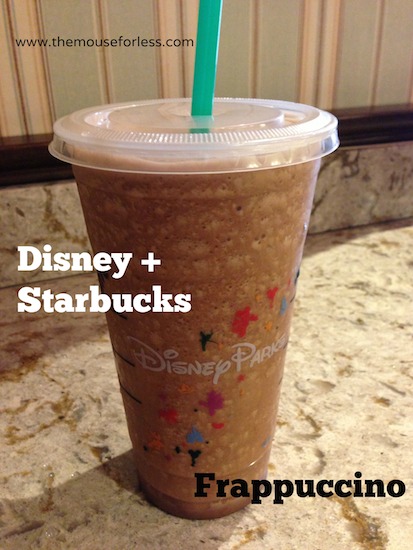 Frappuccino
Caramel Frappuccino – Grande – $5.79
Caramel Ribbon Crunch Frappuccino – Grande – $5.99
Mocha Frappuccino Grande – $5.79
Coffee Frappuccino Grande – $5.49
Vanilla Bean Creme Frappuccino Grande – $5.49
Strawberry Creme Frappuccino Grande – $5.79
Double Chocolaty Chip Creme Frappuccino Grande – $5.79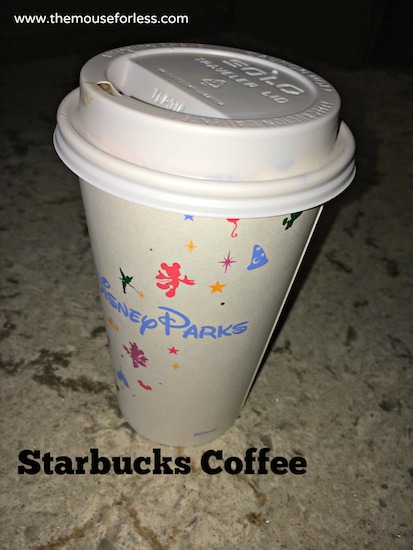 Espresso and Coffee
Caramel Macchiato – Grande – $5.69
Iced White Chocolate Mocha- Grande -$5.69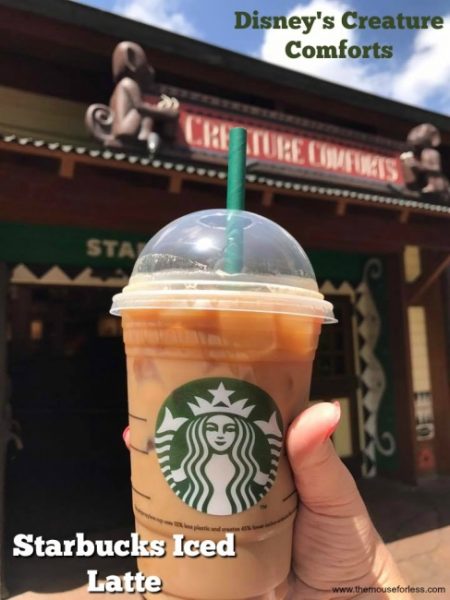 Caffe Latte – Grande – $4.69
Caffe Mocha Grande – $5.29
Iced Chocolate Almondmilk Shaken Expresso – Grande – $5.99
Iced Brown Sugar Oatmeal Shaken Expresso – Grande – $5.99
Freshly Brewed Coffee – Grande  – Regular or Decaf – $3.49
Cold Brew
Starbucks Cold Brew – Grande – $4.49
Chocolate Cream Cold Brew – Grande – $4.99
Salted Caramel Cold Cream Brew – Grande – $4.99
Vanilla Sweet Cream Cold Brew – Grande – $4.99
Starbucks Refreshers
Pink Drink – Grande – $5.49
Frozen Starbucks Refreshers with Lemonade – Grande –Strawberry Açai, Mango Dragonfruit, or Pineapple Passionfruit – $5.29
Starbucks Refreshers – Grande– Strawberry Acai or Mango Dragonfruit – $4.79
Pineapple Passionfruit Starbucks Refreshers – Grande – $4.79
Tea & Refreshment
Teavana Shaken Iced Tea – Grande – Black, Green or Passion Tango – $3.29
Teavana Shaken Iced Tea Lemonade – Grande – Black, Green or Passion Tango – $4.69
Lemonade – Grande –  $4.29
Teavana Chai Tea Latte – Grande– $4.99 
Teavana Iced Matcha  Green Tea Latte – Grande – $4.99
Seasonal Offerings
Iced Toasted Vanilla Oatmeal Shaken Expresso – Grande – $5.99
Dragon Drink – $5.49
Breakfast Sandwiches
Sausage, Cheddar & Egg Sandwich – $5.29
Bacon, Gouda & Egg Sandwich – $5.79
Slow-Roasted Egg, Swiss & Ham Sandwich – $6.59
Double-Smoked Bacon, Cheddar & Egg Sandwich – $6.29
Spinach, Feta, and Cage-Free Egg White Breakfast Wrap – $5.79
Ham & Swiss Croissant – $4.99
Pastries
50th Anniversary Celebration Cupcake
Lemon Cake, Lemon Chiffon Filling, and Vanilla Frosting with Celebration Sprinkles, Splatter-coated Chocolate Mickey, and a Gold-dusted 50th Anniversary Medallion – $6.29
50th Celebration Mickey Mousse Dome
Chocolate Brownie Base with Gold-dusted Chocolate Sprinkles, and Birthday Cake-flavored Mousse with Gold-dusted Mickey Ears and a Gold-dusted 50th Anniversary Medallion – $6.29
Mickey Colossal Cinnamon Roll – A larger than life Cinnamon Bun in the shape of Mickey Mouse featuring Royal Blue Icing – $7.49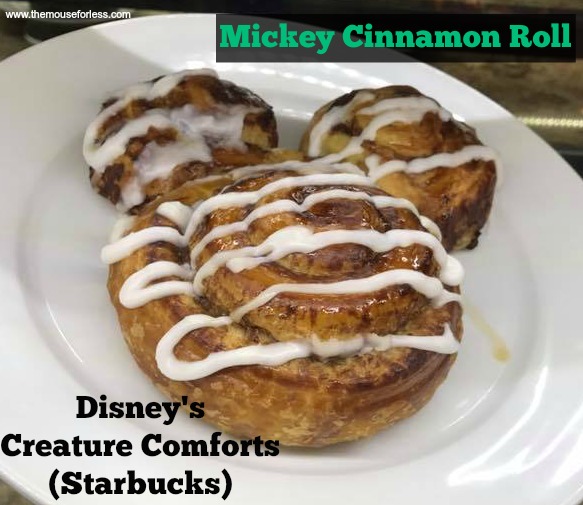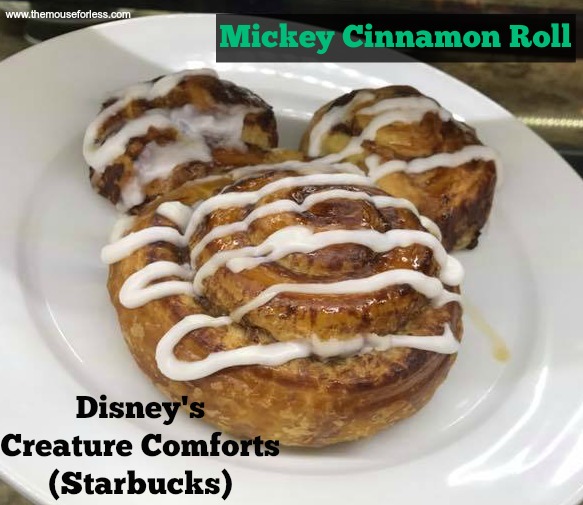 Assorted Pastries – $1.79 – $7.49
Sandwiches
Turkey and Mozzarella on Focaccia Sandwich – $8.99
Roast Beef Sandwich – $8.99
** Creature Comforts Menu and Prices are Subject to Change Without Notice **