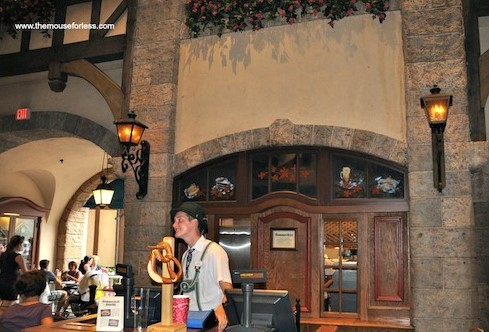 Cozy up to this comfy corner of the German pavilion for a sensational sampling of sausage, snacks, and suds. You can't beat the bratwurst and German beer at Sommerfest!
Sommerfest is located in Disney's Epcot theme park.  Find more Walt Disney World dining locations on our Walt Disney World Resort menus page.
Restaurant Info: German, Lunch/Dinner/Snack, $ – $14.99 and under per adult
Find out how you can save money on dining at Walt Disney World by using one of Disney's Dining Plans.

Planning a Walt Disney World Vacation?
For a Free no-obligation quote, contact our sponsor
The Magic For Less Travel
. The Magic For Less Travel is an Authorized Disney Vacation Planner and has been helping guests plan magical vacations since 2002. Receive the best prices and free travel planning services. Their fee-free services will help you save time, money, and stress while planning a vacation designed around you and your needs!
Sommerfest Lunch/Dinner Menu
Menu Date: 07/2023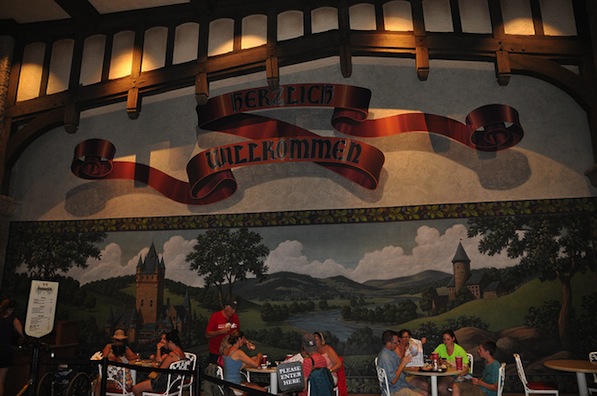 Souvenir Specialties with Alcohol
Beck's Pilsner Germany with Souvenir Stein – 16-oz Draft – German Pilsner-style Lager, with a full bodied taste, fresh hoppy bouquet, golden color, and full rich foam head – $15.75
Schofferhofer Pink Grapefruit Hefeweizen Germany with Souvenir Stein – 16-oz Draft – Easy and refreshing with light notes of Citrus and Spice with low bitterness – $15.75
Warsteiner Dunkel Germany with Souvenir Stein – 16-oz Draft – Classic German-style dark pilsner that has a deep chestnut brown hue with a smooth, toasty malt flavor and mocha aromas – $15.75
Entrées
Bratwurst – Served on a Freshly Baked Roll with Sauerkraut and House-made Paprika Chips – $10.99
Desserts
Pretzel Bread Pudding – $4.79
Snacks
Jumbo Pretzel (plant based) – $10.79
Beverages
Assorted Fountain Beverage – Assorted Coca-Cola® Offerings – $4.99
Dasani Bottled Water – $3.75
Beer
Schofferhofer Pink Grapefruit Hefeweizen  Germany – 20-oz Draft – Easy and refreshing with light notes of citrus and spice with low bitterness – $10.75
Beck's Pilsner- Germany – 20-oz Draft – German Pilsner-style Lager with a full-bodied taste, fresh hoppy bouquet, golden color, and full rich foam head – $10.75
Warsteiner Dunkel – Germany– 20-oz Draft – Classic German-style Dark Pilsner that has a deep chestnut brown hue with a smooth, toasty malt flavor, and mocha aromas – $10.75
Redbridge Lager – St. Louis, MO – 12-oz Bottle – Redbridge is a Sorghum/Gluten-friendly Beer with a distinctively fruity hop aroma, a sweet toasted grain flavor, and a well-balanced moderately-hopped finish – $9.50
Wine
August Kesseler Pinot Noir, Spatburgunder, Rheingau– 5-oz Pour – Delicate, fine, light in style, and well-structured with nice cherry flavors, a hint of black currant, and plenty of spice – $13.00
J&H Selbock-Oster 'Red Label' Riesling, Mosel – 5-oz Pour – Crisp aromas of lemon, white peach, and melon with a hint of mineral on the palate – $13.00
** Sommerfest Menu and Prices are Subject to Change Without Notice **