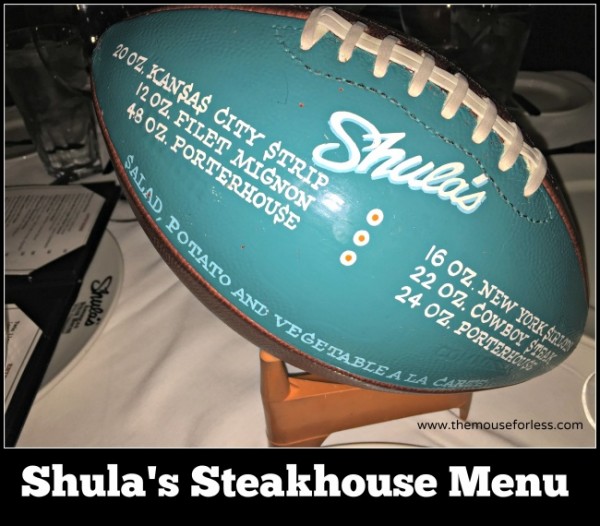 At Shula's Steak House, enjoy great food at the critic's choice of Orlando's Best High-End Steak House. Each restaurant is themed after the 1972 Miami Dolphins' "Perfect Season" – the only team in NFL history to finish a season undefeated. The menus are hand painted on an official NFL game football. At Shula's Steak Houses, one of the featured entrees is the 48-Ounce Porterhouse. Those who finish it join Shula's 48-Ounce Club, which currently has more than 26,000 members.
Shula's Steak House is located in the Walt Disney World Dolphin Hotel.  Find more Walt Disney World dining locations on our Walt Disney World menus page.
Restaurant Info: Steakhouse, Dinner A la carte, $$$

Planning a Walt Disney World Vacation?
For a Free no-obligation quote, contact our sponsor
The Magic For Less Travel
. The Magic For Less Travel is an Authorized Disney Vacation Planner and has been helping guests plan magical vacations since 2002. Receive the best prices and free travel planning services. Their fee-free services will help you save time, money, and stress while planning a vacation designed around you and your needs!
Shula's Steak House Dinner Menu
Menu Date: 11/2022
Starters
New Orleans Style Shrimp
Cajun Spiced Shrimp, Lemon, Garlic Butter and Toasted Crostinis – $22.00
Colossal Shrimp Cocktail
Poached Colossal Shrimp with Classic Cocktail Sauce, Rémoulade, and Mustard Aïoli – $21.00
Tuna Tartare
Diced Ahi Tuna, Red Chili, Sesame Vinaigrette, Avocado Cream, and Crispy Wontons – $22.00
Maryland Style Crab Cake
Jumbo Lump Crab, Mustard, and Old Bay Seasoning with Rémoulade Sauce – $23.00
Thick Cut Nueske's Bacon
Bourbon-Honey Glaze, Tomato Jam, Cheddar Grits, White Cabbage & Fennel Slaw – $21.00
Soups and Salads
French Onion Soup
Caramelized Onions and Croutons in a Rich Beef Broth with Gruyere and Provolone Cheese – $14.00
Tomato Burrata Salad
Basil Pesto, Extra Virgin Olive Oil, Balsamic Vinaigrette – $16.00
The Wedge Salad
Iceberg Lettuce, Tomatoes, Bacon Jam, and Blue Cheese Dressing – $15.00
Shula's House Salad
Tomatoes, Bacon, Ricotta Salata, Carrots, Scallions, Apple Cider Vinaigrette – $15.00
Traditional Caesar Salad
Little Gem Romaine Lettuce, Croutons, Parmesan Cheese, House-Made Caesar Dressing – $15.00
From the Grill
Oscar-Style add $14
10-ounce Filet Mignon – $68.00
12-ounce Filet Mignon – $74.00
16-ounce New York Strip – $72.00
22-ounce Cowboy Ribeye – $75.00
24-ounce Black Angus Porterhouse – $70.00
42-ounce Prime Toahawk – $155.00
22-ounce Dry Aged Prime Cowboy – $72.00
Sauces – $5.00
Béarnaise Sauce, Hollandaise Sauce, Horseradish Cream, Beurre Blanc
Entrées
Roasted Brick Chicken
Sautéed Mushrooms and Sherry Jus – $38.00
Coaches-cut Prime Rib
Herb-crusted and served with Yorkshire Pudding and Au Jus – $54.00
Maryland-style Crab Cakes
Jumbo Lump Crab, Mustard, and Old Bay Seasoning with Rémoulade Sauce – $46.00
Norwegian Salmon
Sautéed, Grilled, or Blackened with choice of Beurre Blanc or Hollandaise – $39.00
Miso-glazed Halibut
Ginger Vinaigrette – $40.00
Daily Market Fish
Sautéed, Grilled or Blackened with Choice of Beurre Blanc or Hollandaise – Market Price
Sides
Fresh Jumbo Asparagus Spears
Grilled with Meyer Lemon or Steamed with Hollandaise Sauce – $14.00
Broccoli
Steamed Crowns with House Cheese Sauce – $13.00
Baked Potato
Cheddar Cheese, Sour Cream, Bacon, Butter, Chives – $12.00
Macaroni & Cheese
Cavatappi Pasta, Gouda & Cheddar Cheese Sauce, Bread Crumbs – $14.00
Mashed Potatoes
Roasted Garlic and Butter – $13.00
Spinach
Sautéed or Creamed – $14.00
Caramelized Brussels Sprouts
Bacon, Onions, Lemon Juice – $14.00
Sautéed Mushrooms
Seasonal Organic Mushrooms, Garlic-Thyme Oil – $14.00
Desserts
Apple Crisp – $13.00
Molten Chocolate Lava Cake – $15.00
Vanilla Crème Brûlée – $13.00
Häagen-Dazs Ice Cream – $13.00
Key Lime Pie – $14.00
Seven Layer Chocolate Cake – $15.00
Seasonal Berries – $9.00
Chocolate Soufflé – $14.00
Vanilla Cheesecake – $13.00
Handcrafted Cocktails
Dark Cherry Smoked Manhattan
Bulliet Rye Whiskey, Cherry Herring, Lillet Blanc, Angostura Bitters, Smoked with Applewood Chips – $16.00
Blueberry Martini
Pearl Blueberry Vodka, Cranberry, House Sour, Sweet Blueberries – $15.00
Cucumber Collins
Hendrick's Gin, Cucumber, Mint, Fresh Lemon – $16.00
New Fashioned
Knob Creek Single Barrel Bourbon, Amaro Montenegro, Brown Sugar, Angostura Bitters, Orange Bitters, Cherry Bitters – $18.00
Daiquiri
Cruzan Light Aged Rum, Demerara, Fresh Lime – $15.00
French 75
Ford's Gin, Mionetto Prosecco, Fresh Lemon, Simple Syrup – $16.00
Effen Mule
Fresh Lime, Ginger Beer, and Your Selection of a Spirit – Effen Vodka, Jim Beam Black Bourbon, or Maestro Dobel Tequila – $14.00
Boulevardier
Maker's Mark Bourbon, Campari, Carpapno Antica – $17.00
Gimlet
Stoli Vodka, Demerara Syrup, Fresh Lime Juice – $15.00
Tito's Dirty Martini
Tito's Vodka, Cinzano Dry Vermouth, Olive Juice – $19.00
Paloma
Maestro Dobel Diamante Tequila, Fever-Tree Grapefruit Soda, Fresh Lime – $14.00
Wine and Beer
Assorted Wine by the Glass – $10.00 – $58.00
Domestic Beer – $7.50
Import Beer – $8.50
Cider and Specialty Beer – $8.50 – $9.50
Shula's Steak House Kids Menu
Menu Date: 11/2022
Kids' Appetizers
Chicken Noodle Soup – $8.00
Kids' Entrées
French-cut Chicken Breast – $14.00
Cheeseburger – $9.00
Kids' Sides
Mashed Potatoes – $8.00
Macaroni & Cheese – $8.00
Kids' Desserts
Häagen-Dazs – Chocolate or Vanilla – $5.00
** Shula's Steak House Menu and Prices are Subject to Change Without Notice **