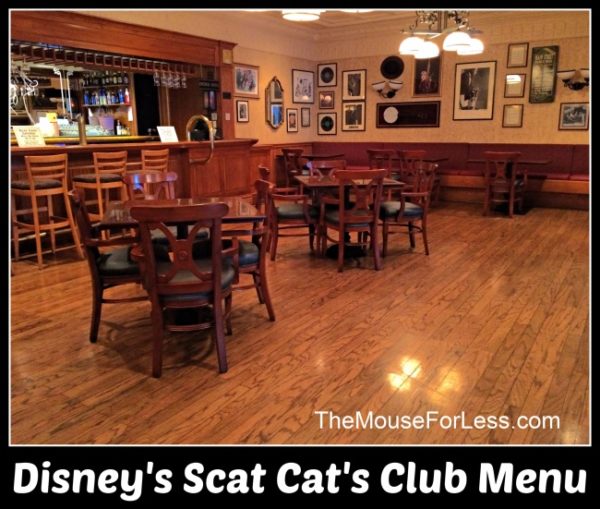 At Scat Cat's Club, unwind in this New Orleans-style lounge with some jazz music true to the great sounds of the French Quarter!
Tap your toes to some swingin' jazz and enjoy a full service bar featuring Southern-inspired specialty cocktails, craft beer and appetizers.
Get a taste for life in the "Big Easy" with delicacies like Mardi Gras Mac & Cheese, Crawfish Étouffée and Bayou Brisket Sliders. Also, just outside the club, come get your fill of beignets from 6am until midnight.
Scat Cat's Club is located in Disney's Port Orleans French Quarter Resort. Find more Walt Disney World dining locations on our Walt Disney World menus page.
Restaurant Info: American, Lounge, $
Find out how you can save money on dining at Walt Disney World by using one of Disney's Dining Plans.

Planning a Walt Disney World Vacation?
For a Free no-obligation quote, contact our sponsor
The Magic For Less Travel
. The Magic For Less Travel is an Authorized Disney Vacation Planner and has been helping guests plan magical vacations since 2002. Receive the best prices and free travel planning services. Their fee-free services will help you save time, money, and stress while planning a vacation designed around you and your needs!
Scat Cat's Club Menu
Menu Date: 2023
Appetizers (Available 5-10pm)
Loaded Potato Puffs – $11.00
Crispy Potato Barrels with Pulled Pork and Beer-Cheese Sauce
Mardi Gras Fritters – $12.00
House-made Pimento Cheese Fritters with Pepper Jelly
Bayou Wings – $16.00
Smoked Chicken Wings tossed in a Sweet-and-Spicy Barbecue Sauce served with Cajun Fries
Baton Rouge Beignets* – $11.99
Two-Beignets jazzed up with your choice of Baileys Irish Cream Liqueur, Kahlúa Liqueur, or RumChata Liqueur (Contains Alcohol)
Scat Cats Beignets – $10.00
Trio of Mickey-shaped Beignets served with Red Pepper Jelly, Pimento Cheese, Green Goddess Dressing, and Dusted with Powdered Sugar
Oyster Beignet Po'Boy – $15.00
Mickey-shaped Beignet with Fried Oysters, Lettuce, Tomato, Cajun Rémoulade, and House-made Pickles served with Potato Chips
Sassy Sassagoula Sliders – A Trio of Sliders – $14.00
Fried Green Tomatoes with Giardiniera and Pepper Jelly BBQ Jack Fruit with Slaw and Fried Pickles "Fish" Cake with Spicy Rémoulade and Arugula (Plant-based)
Non-Alcoholic Specialty Offerings
Pomegranate Lemonade – $5.49
Minute Maid® Premium Lemonade with Pomegranate and Lime Juices
Pink London Spritzer – $11.00
Lyre's Pink London Spirit, Grapefruit Soda, Pomegranate Green Tea, Lime and Mint
Agave Garden – $11.00
Lyre's Agave Reserva Spirit, Cold-pressed Lime Juice, Passionfruit Papaya Green Tea, and Cucumber
Watermelon Lemonade – $5.49
Minute Maid® Premium Lemonade and Watermelon
Specialty Cocktails
Sazerac – $15.50
Knob Creek Rye Whiskey, Agave Nectar, and Peychaud's Bitters with a splash of Pernod
Southern Hurricane – $14.50
Plantation Original Dark Rum, Bayou Silver Rum, and Tropical Juices topped with a float of Southern Comfort
Syncopation Shift – $15.50
Tito's Handmade Vodka, Bayou Silver Rum, Cruzan Mango Rum, and Midori Melon Liqueur with Pineapple Juice and a souvenir Glow Cube. Served in a Souvenir Cup 18.00
Bonfamilles Bourbon Peach Tea – $16.50
Woodford Reserve Bourbon and Bols Peach Schnapps with Fresh-brewed Sweet Tea
Bebop Bloody Mary – $15.50
Absolut Vodka, Spicy Bloody Mary Mix, Shrimp, Andouille Sausage, and Celery
Cocktails
Blood Orange Margarita – $15.50
Sauza Conmemorativo Añejo Tequila, Cointreau, Lime Juice, and Blood Orange Sour
Spicy Poblano Margarita – $16.50
Patrón Silver Tequila, Ancho Reyes Verde Liqueur, Lime Juice, and Pure Cane Sugar
Golden Haze Margarita – $16.50
Teremana Blanco Tequila, Grand Marnier Liqueur, Smoked Chili Bitters, Lime, Agave
Paloma – $14.50
Don Julio Blanco Tequila with juices of Ruby Red Grapefruit and Lime topped with Soda Water
Rum Swizzle – $14.50
Mount Gay Eclipse Rum with Tropical Juices and flavors of Guava and Mango
Raspberry Mojito – $14.50
Bacardi Raspberry Rum, Mount Gay Eclipse Rum, Lime Juice, Mint, and Raspberry Purée topped with Soda Water
Bacardi Mojito – $14.50
Bacardi Superior Rum, Lime Juice, Pure Cane Sugar, and Mint topped with Soda Water
Antioxidant Lemonade – $14.50
Van Gogh Açaí-Blueberry Vodka, Minute Maid® Premium Lemonade, and Pomegranate Juice topped with Sprite
Walk the Plank – $16.50
Old Forester Bourbon, Orange Juice, Orgeat (Almond), and Lemon Juice garnished with Luxardo Gourmet Maraschino Cherries
Smoked Turkey – $16.50
Wild Turkey 101 Bourbon, Red Stag Black Cherry Bourbon, Grenadine, and Minute Maid® Premium Lemonade with a hint of Hickory Smoke, garnished with Luxardo Gourmet Maraschino Cherries
Negroni – $16.50
Bombay Sapphire Gin, Campari, and Carpano Antica Sweet Vermouth
Whiskey Breeze – $16.50
Old Forester Bourbon, Cointreau, and Lime Juice with flavors of Guava and Mango
Moscow Mule – $15.50
Russian Standard Vodka, Lime Juice, and Pure Cane Sugar topped with Fever Tree Ginger Beer
Kentucky Mule – $16.50
Buffalo Trace Kentucky Straight Bourbon, Lime Juice, and Pure Cane Sugar topped with Fever Tree Ginger Beer
Bahama Mama – $14.50
Parrot Bay Coconut Rum, Plantation Original Dark Rum, Bols Crème de Banana, and Tropical Juices
Magical Star Cocktail – $17.50
X-Fusion Organic Mango and Passion Fruit Liqueur, Parrot Bay Coconut Rum, Pineapple Juice, and a souvenir multicolored Glow Cube
Piña Colada – $16.00
SelvaRey Coconut Rum, Pineapple, Agave, Orange Bitters served over ice
Ultimate Long Island Iced Tea – $16.50
Bacardi Superior Rum, Tito's Handmade Vodka, Hendrick's Gin, Corazón Blanco Tequila, Cointreau, and Sweet-and-Sour with a splash of Coca-Cola®
Captain's Mai Tai – $14.50
Captain Morgan Original Spiced Rum, Bols Amaretto, and Tropical Juices topped with a float of Myer's Original Dark Rum
Chocolate Martini – $15.50
Mozart Chocolate Liqueur, Stoli Vanil Vodka, Bols White Crème de Cacao, and Frangelico
Red Sangria – $12.00
Opici Family Red Sangria is made in La Mancha, Spain from Tempranillo grapes and has flavors of raspberry, apple, and blackberry with succulent aromas of natural Valencia oranges and cinnamon
White Sangria – $12.00
Opici Family White Sangria is made in La Mancha, Spain from Airén grapes and has flavors of banana, pineapple, and grapefruit with a hint of ginger
Beer and Wine
Assorted Beer (Bottle, Can or Draft) – $8.50 – $12.75
Assorted Wines
Bourbon
Bourbon Flight – $17.50
Three selections of contrasting styles. 3/4 oz pour
Maker's Mark – $15.50
Larceny Kentucky Straight – $15.50
Knob Creek Disney Select Single Barrel – $16.60
Angel's Envy Kentucky Straight – $16.50
Woodford Reserve – $16.50
Buffalo Trace Kentucky Straight – $15.50
** Scat Cat's Club Menu and Prices are Subject to Change Without Notice **