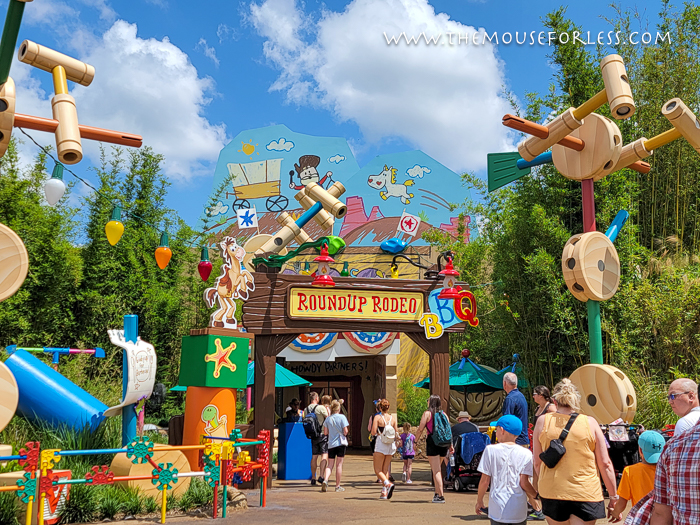 At Roundup Rodeo BBQ, you are in the middle of the wild west action as one of Any's honorary toys. Enjoy family-style BBQ while taking in larger than life renditions of some of your favorite Toy Story friends.
Roundup Rodeo BBQ is located in Disney's Hollywood Studios theme park.  Find more Walt Disney World dining locations on our Walt Disney World Resort menus page.
Current Pricing: $45.00 Adult plus tax and gratuity, $25.00 Child (3-9) plus tax and gratuity
Find out how you can save money on dining at Walt Disney World by using one of Disney's Dining Plans.

Planning a Walt Disney World Vacation?
For a Free no-obligation quote, contact our sponsor
The Magic For Less Travel
. The Magic For Less Travel is an Authorized Disney Vacation Planner and has been helping guests plan magical vacations since 2002. Receive the best prices and free travel planning services. Their fee-free services will help you save time, money, and stress while planning a vacation designed around you and your needs!
Roundup Rodeo BBQ Lunch/Dinner Menu
Menu Date: 02/2023
Bread Service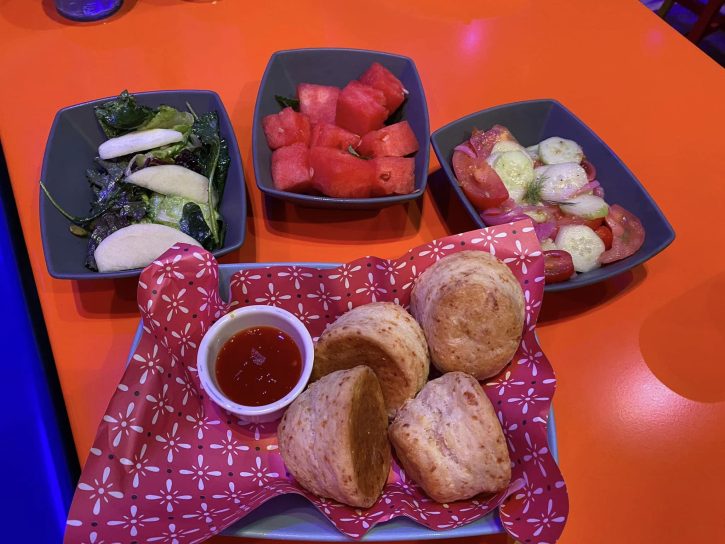 The Prospector's Homemade Cheddar Biscuits with Sweet Pepper Jelly
Get a Wiggle on Your Greens! (Enjoy All Three)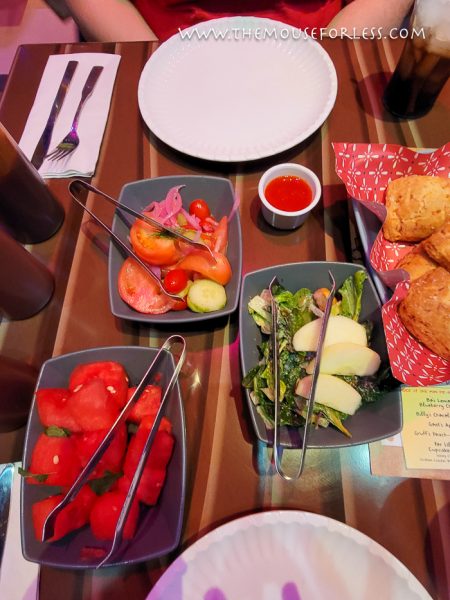 Rootin' Tootin Tomato Salad
Cucumbers, Pickled Red Onion, White Balsamic Vinaigrette (Plant-based)
Rex's Romaine and Kale Salad
Apples, Dried Cranberries, Pumpkin Seeds, Green Goddess Dressing
Wheezy's Watermelon Salad
Fresh-torn Mint (Plant-based)
Round Up Some Chow (choose one)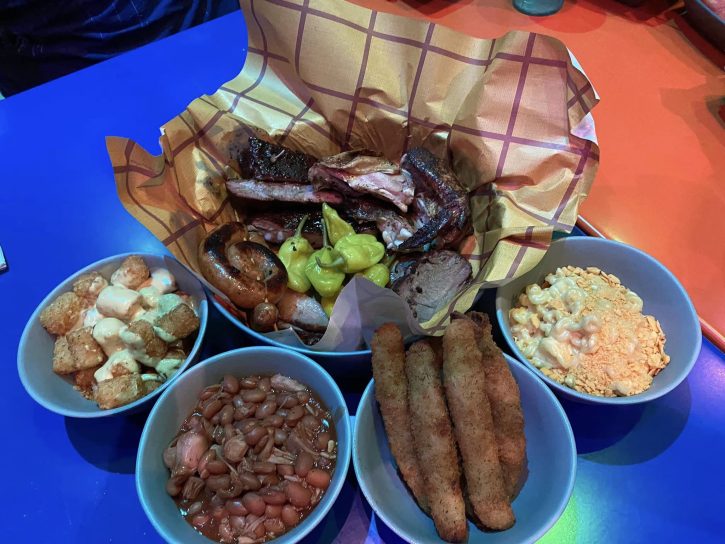 Enjoy a Platter of all the Following House-Smoked Items
Evil Dr. Smoked Ribs | Buttercup's Beef Brisket | There's a Sausage in my Boot – Fire-grilled Pork Sausage | BBQ Chicken – with Style!
Trixie's Plant-based Trio
Combat Carloflower with Harissa Drizzle and Walnut Gremolata | Scrumptious Bratwurst | Rip Roarin' Rib Chop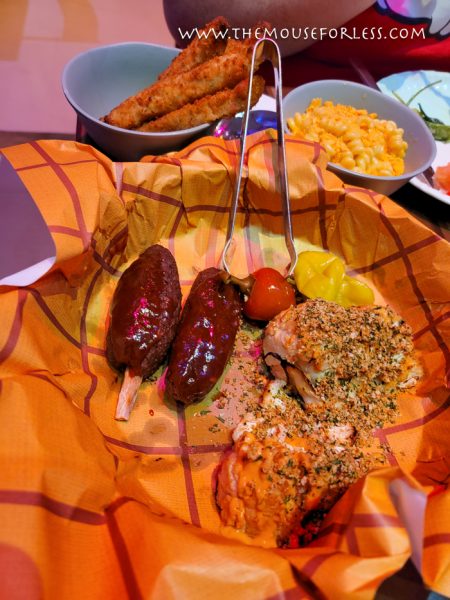 Reach for the Sides (choose four for the table)
Mean Old Potato Salad
Homestyle Red-skinned Potatoes
The Married Spuds
Loaded Potato Barrels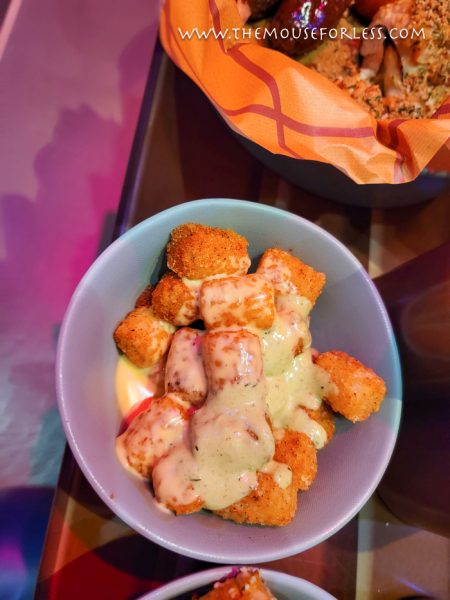 Veggie Slaw
(Plant-based)
Force Field Fried Pickles
Campfire-roasted Vegetables
(Plant-based)
Slinky Doooooooooog's Mac & Cheese
Buckin' Baked Beans
(Plant-based)
Cowpoke Corn on the Cob
Grilled Street Corn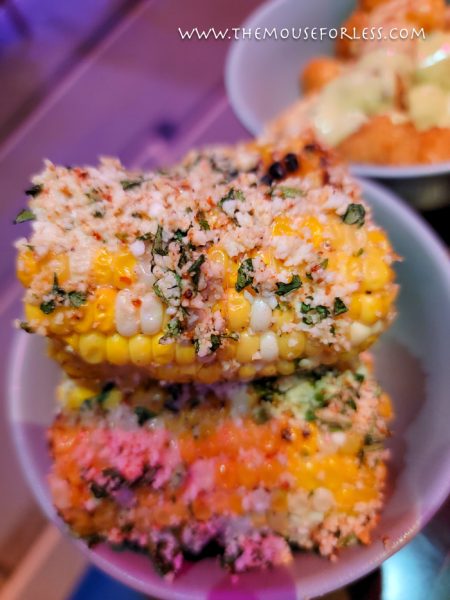 Chuckwagon Desserts (select one per guest)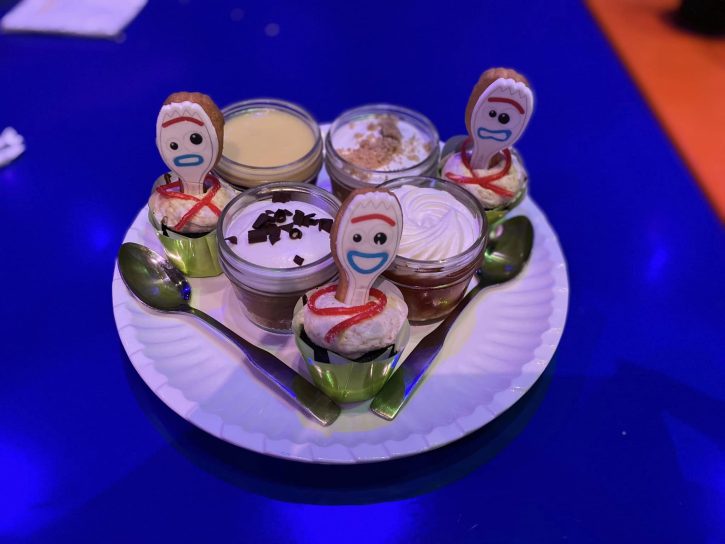 Bo's Lemon and Blueberry Cheesecake
Billy's Chocolate Silk Pie
Goat's Apple Pie
Gruff's Peach-Strawberry Pie
(Plant-based)
Cupcake à la Forky
For Lil' Riders, Gooey Chocolate Cake, Graham Cracker, Buttercream, Sugar Cookie

Beverages
Assorted Fountain Beverages
Coca-Cola®, Diet Coca-Cola®, Coca-Cola Zero®, Sprite®, Fanta Orange®, Minute Maid Zero Sugar Lemonade®, Powerade Mountain Blast®, Barq's Root Beer®
Freshly Brewed Iced Tea
Unsweetened Iced Tea, Sweet Iced Tea, Peach Iced Tea
Kids' Picks
Small Lowfat Milk, Small DASANI® Bottled Water
Lil' Rider Refreshments
Molly's Frozen Iced Tea
Frosty blend of Iced Tea and Citrus flavors – $6.50
Frozen Cowpoke Cocoa
Frozen Cocoa and Minute Maid® Vanilla Smoothie topped with Mini Marshmallows – $6.50
Partysaurus Tex
Minute Maid® Premium Lemonade and Strawberry Puree, garnished with Gummy Worms – $6.50
Grown-up Drinks with Alcohol
Grown-up's Peanut Butter & Jelly
Frozen Skrewball Peanut Butter Whiskey, Minute Maid® Vanilla Smoothie Mix, Grape Jelly – $16.50
Snake Eye Margarita
Teremana Blanco Tequila, Watermelon Juice, Lime Juice, Agave, Smoked Chili Bitters – $14.50
The Rodeo Mule
Tito's Handmade Vodka, Lime Juice, Cane Sugar, Fever-Tree Ginger Beer – $15.50
Grownup Iced Chocolate & Rum
SelvaRey Chocolate Rum, RumChata Liqueur, Chocolate, Toasted Marshmallow – $15.50
Whinnyin' Whiskey Lemonade
Jack Daniel's Tennessee Whiskey, Aperol Liqueur, Strawberry Puree, Lemonade, Basil – $15.50
Rattler Rum Punch
Bacardi Superior Rum, Orange-Pineapple Juice, Lime, and Passionfruit, garnished with a Sweet-and-Spicy Rim – $14.50
Beer
Bud Light Lager – St. Louis, MO
DRAFT 16-oz, (4.2%, 6) – $8.00
Yuengling Lager – Pottsville, PA
DRAFT 16-oz, (4.5%, 12) – $9.00
Shiner Ruby Redbird Grapefruit Lager – Shiner, TX
DRAFT 16-oz, (4.0%, 13) – $9.75
Cigar City Jai Alai IPA – Tampa, FL
DRAFT 16-oz, (7.5%, 65) – $9.75
Bell's Seasonal Wheat Beer – Comstock, MI
CAN 16-oz – $10.50
Sierra Nevada Pale Ale – Chico, CA
CAN 16-oz, (5.6%, 38) – $10.50
Angry Orchard Crisp Apple Hard Cider – Cincinnati, OH
CAN 16-oz, (5.0%, 0) – $9.25
Wine
Nino Franco Prosecco – Veneto, Italy – $13.00
Pacific Rim Riesling – Columbia Valley, WA – $12.00
Hess Shirtail Creek Chardonnay – Monterey, CA – $12.00
Imagery Pinot Noir – Sonoma, CA – $11.00
Line 39 Cabernet Sauvignon – Central Coast, CA – $11.00
** Artist Point Menu and Prices are Subject to Change Without Notice **