Resort Restaurants | Port Orleans Riverside Resort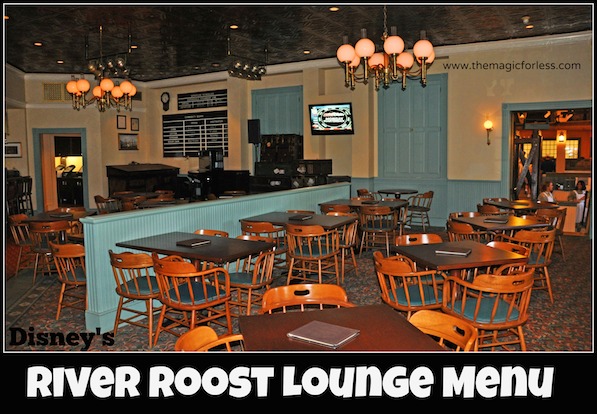 After your meal at Boatwright's, stop by River Roost Lounge next door for some lively entertainment by Yehaa Bob, beginning at 8 p.m.!
Restaurant Info: Southern and American, Dinner, $
Find out how you can save money on dining at Walt Disney World by using one of Disney's Dining Plans.
River Roost Lounge Menu
Menu Date: 10/2016
Appetizers
Available from 5:00 p.m. – 10:00 p.m.
N'Orleans Nachos – topped with Chili and Cheddar accompanied with Jalapenos, Sour Cream and Salsa – $10.00
Bayou Buffalo Wings – served with Celery Sticks and Blue Cheese Dressing – $13.00
Pirogue Platter – Chef's Selection of Meats and Cheeses with House-made Accompaniments – $11.00
Mardi Gras Fritters – House-made Pimiento Cheese Fritters with Pepper Jelly – $9.00
Crescent City Gumbo – Chicken and Andouille Gumbo slow-cooked in a Cajun-spiced Broth – $8.00
Pulled Pork Sliders – Barbecue Pulled Pork, Pickled Red Onions, served with House-made Potato Chips – $12.00
Specialty Cocktails
Sazerac – Bulleit Rye Small Batch American Whiskey, Agave Nectar, and Peychaud's Bitters with a splash of Pernod – $10.75
Ramos Fizz – Hendrick's Gin, fresh Lemon and Lime Juice, and Agave Nectar topped with Soda Water – $10.75
Southern Hurricane – Meyer's Platinum and Original Dark Rums with Tropical Juices topped with a float of Southern Comfort – $9.75
Draft Beer
Abita Amber – is a Munich-style lager brewed with crystal malt and perle hops. It has a smooth, malty slightly caramel flavor, and a rich amber color – $8.25
Abita Purple Haze – is a crisp, American-style wheat beer with raspberries, which provide the lager with a subtle purple coloration and haze, a fruity aroma, and a tartly sweet taste – $8.25
Abita Turbodog – is a dark brown ale brewed with Willamette hops and a combination of British pale, crystal, and chocolate malts, giving it a rich body and a sweet chocolate-toffee-like flavor – $8.25
Abita Beer Flight – Sample all three – Ask about the current seasonal selection of bottled Abita Harvest Series – $8.25
** Menu and Prices are Subject to Change Without Notice **