Disney's Animal Kingdom | DinoLand, U.S.A.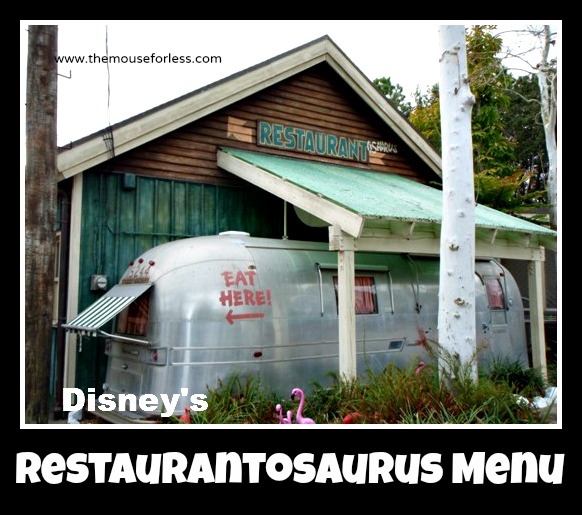 Drop by Restaurantosaurus. This dinosaur-dig-adjacent restaurant is a great place to enjoy some truly "dig"-licious hamburgers and french fries.
Restaurant Info: American, Lunch/Dinner/Snack A la carte, $ – under $14.99 per adult
Find out how you can save money on dining at Walt Disney World by using one of Disney's Dining Plans.
Restaurantosaurus Lunch & Dinner Menu
Menu Date: 03/2016
For the Carnivores
1/3 lb Angus Bacon Cheeseburger – Flame-broiled Angus Burger topped with Bacon, melted American Cheese and choice of Apple Slices or French Fries – $13.29
Black Bean Burger – a spicy Southwestern-flavored Patty on a Toasted Bun with Cheddar and House-made Avocado Spread served with choice of Apple Slices or French Fries – $12.49
Chili Cheese Hot Dog – $10.69
Chicken Offerings
Grilled Chicken Sandwich – Grilled Breast of Chicken topped with Remoulade, Tomatoes, Basil and American served on a Toasted Bun with choice of Apple Slices or French Fries – $11.99
Chicken Breast Nuggets – Freshly Fried White Meat Chicken Breast Nuggets served with choice of Apple Slices or French Fries – $9.49
Condiments Available at our Topping Bar: Arugula, Blue Cheese, Olive Tapenade, Pepperoncini, Sliced Red Onion, Diced Tomatoes, Dill Pickles, Dill Relish, Guacamole, Bread & Butter Pickles, Lettuce, Jalapenos, Sauteed Onions, Sauteed Mushrooms, Sauteed Red & Green Peppers, Vegetarian Chili
Roasted Chicken with Mixed Green Salad – $10.49
Side Items
Chili Cheese Fries – $4.99
New England Clam Chowder – $4.19
Restaurantosaurus Kids' Meals
For Guests Ages 9 and Under
All meal served with Two Selections: Grapes, GoGo Squeeze Applesauce or Fresh Steamed Broccoli and choice of small Lowfat Milk or small Dasani Water
Served with your own Sand Pail and Shovel

Turkey Wrap – $7.49

Smucker's Uncrustables – $6.99
Cheeseburger – $7.99
Corn Dog Nuggets – $7.49

Meets Disney Nutrition Guidelines for Complete Meals without substitutions.
Minute Maid Apple Juice, Small Nesquik Chocolate Milk, Dannon Danimals Yogurt, or Cookie Substituted Upon Request
Restaurantosaurus Desserts
Warm Chocolate Turtle Brownie – $4.59

Cheesecake Topped with Strawberries – $4.59

Restaurantosaurus Beverages
Wild Berry Lemonade – $3.99

Fountain Beverages – Coke, Diet Coke, Coke Zero, Sprite, Sprite Zero, Barq's Root Beer, Fanta Orange Minute Maid Light Lemonade, Minute Maid Light Pomegranate Lemonade, Powerade – $2.99

Dasani Bottled Water – $2.75

Coffee – Regular or Decaf – $2.49

Iced Coffee – French Vanilla or Mocha – $4.19

Hot Tea – $2.49

Hot Cocoa – $2.49

Chocolate Milk – $2.79

Minute Maid Apple Juice – $2.79

Bud Light – $7.00
Safari Amber – $9.00
Cretaceous Cooler – Parrot Bay Coconut Rum, Midori, and Pineapple Juice – $9.75

= Snack on the Disney Dining Plan
** Menu and Prices are Subject to Change Without Notice **