Disney's Animal Kingdom | Discovery Island
Round out your day at Pizzafari counter-service restaurant featuring individual pizzas fresh from the oven. It's a taste trek to savor. For some mealtime entertainment, search for the animals hiding in the murals on the walls in these themed rooms: Home Room, Nocturnal Room, Upside Down Room, Camouflage Room, Four Seasons Room, Bug Room.
Restaurant Info: American, Lunch/Dinner/Snack, $ – under $14.99 per adult
Find out how you can save money on dining at Walt Disney World by using one of Disney's Dining Plans.
Pizzafari Lunch & Dinner Menu
Menu Date: 03/2018
Entrées
Shrimp Flatbread – Roasted Shrimp, Tomato, Red Pepper, Alfredo Sauce, savory Pesto topped with Arugula served with Antipasto Salad – $13.49
Cheese Pizza – served with Tomato and Cucumber Salad – $9.99
Pepperoni Pizza -Flatbread topped with tangy Tomato Sauce, Mozzarella and spicy Pepperoni Slices served with Tomato and Cucumber Salad – $10.49
Sausage & Pepperoni Pizza – y-baked Pizza topped with Tomato Sauce, Sausage and Pepperoni served with a small Caesar Salad – $10.99
Vegetable Pizza – Freshly-baked Pizza with Red Peppers, Green Peppers, Onions and Kalamata Olives served with a small Caesar Salad – $10.49
Caesar Salad – chopped Romaine, Croutons, Parmesan Cheese and Caesar Dressing – $7.99
Caesar Salad With Chicken – fresh Heart of Romaine with Herb-Marinated Chicken Breast, crunchy Croutons, and tangy Caesar Dressing – $9.99
Accompaniments
Garlic Knots – Basket of Fresh-baked Garlic Knots topped with Cheese and served with Marinara Sauce – 6 pieces – $6.99
Tomato Basil Soup – $3.69
Small Caesar Salad – $3.49
Kids' Meals
For Guests Ages 9 and Under
All meals include two selections: Grapes, Carrot Sticks or Fresh Steamed Broccoli and choice of small lowfat Milk or small Dasani Water

Mickey Pasta with Turkey Marinara Sauces – $6.49

Smucker's Uncrustables – $5.99
Macaroni & Cheese – $6.29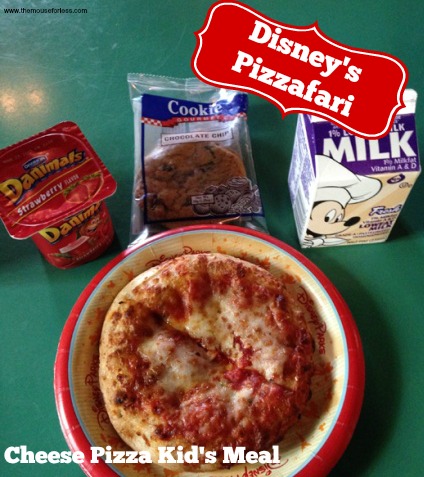 Child's Cheese Pizza – $6.99

Mickey Check Meals meet Disney nutrition guidelines for complete meals without substitutions
Desserts
Cannoli Cake – Chocolate Cake with Chocolate-Chip Cannoli filling topped with Chocolate Ganache and garnished with a mini Cannoli filled with Sweet Ricotta Cheese with Chocolate Chips – $4.99
Beverages
Mandarin Orange Lemonade – $4.29
Assorted Fountain Beverages – $3.29 Regular | $3.69 Large
Assorted Beverage with Souvenir Mug – $7.99
Dasani Bottled Water – $3.00
Smartwater – $4.50
NesQuik Chocolate Milk – $3.29
Coffee – Regular or Decaf – $2.79
Hot Tea – $2.79
Hot Cocoa – $2.79
Alcoholic Beverages
Bud Light – $7.25
Safari Amber – $9.25
Mandarin Orange Vodka Lemonade – featuring Skyy Mandarin Orange Vodka with ripe flavors of Tangerine and Lemon Zest – $8.50
** Pizzafari Menu and Prices are Subject to Change Without Notice **