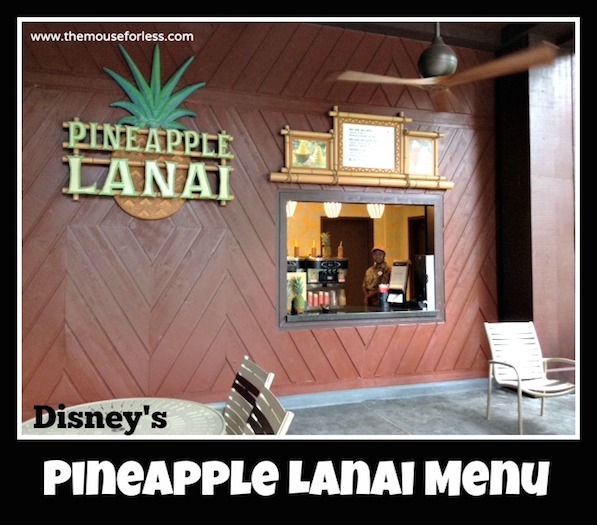 Make time for a stop by this quick service window; Pineapple Lanai is the newest home to Dole Whip at the Polynesian Village Resort!  It is located in the main outdoor courtyard area of the Polynesian Village Resort, right outside of Captain Cook's Quick Service Restaurant.
If you don't know what this Disney favorite the Dole Whip is, you are in for a treat.   And if you do, of course, you KNOW you are in for a treat.  It can be a quick and easy pick up for your favorite, refreshing pineapple treat.  Nothing cools you off like a Dole Whip on a hot Florida day or evening. The pineapple treats are so popular that the Polynesian Village had to open a separate location just to serve them; they used to be available at Captain Cook's.  And if it happens to be a nonpark day for you, grab a Dole Whip and sit down to enjoy the fireworks from the Magic Kingdom in the evening.  It's a great option on a nonpark day to take care of that Dole Whip craving, come on and admit you love these!
Pineapple Lanai is located in Disney's Polynesian Village Resort.  Find more Walt Disney World dining locations on our Walt Disney World menus page.
Restaurant Info: Snack, $
Find out how you can save money on dining at Walt Disney World by using one of Disney's Dining Plans.

Planning a Walt Disney World Vacation?
For a Free no-obligation quote, contact our sponsor
The Magic For Less Travel
. The Magic For Less Travel is an Authorized Disney Vacation Planner and has been helping guests plan magical vacations since 2002. Receive the best prices and free travel planning services. Their fee-free services will help you save time, money, and stress while planning a vacation designed around you and your needs!
Pineapple Lanai Menu
Menu Date: 11/2022
Desserts
50th Celebration DOLE Whip® Pineapple
DOLE Whip® Pineapple, 50th White Chocolate Medallion, Yellow Umbrella, Yellow Sparkles – $5.79
50th Celebration DOLE Whip® Lime
DOLE Whip® Lime, 50th White Chocolate Medallion, Green Umbrella – $5.79
DOLE Whip® Soft-serve
DOLE Whip® Pineapple, Vanilla or Swirl – $4.99
DOLE Whip® with Rum Floater
DOLE Whip® Pineapple with Parrot Bay Coconut Rum – $13.50
Pineapple Float
Pineapple Juice served with choice of DOLE Whip® Pineapple, Vanilla or Swirl – $5.99
Pineapple Float – Souvenir Tiki Sipper
Pineapple Juice served with choice of DOLE Whip® Pineapple, Vanilla or Swirl – $10.99
Beverages
Dasani Bottled Water – $3.75
** Pineapple Lanai Menu and Prices are Subject to Change Without Notice **