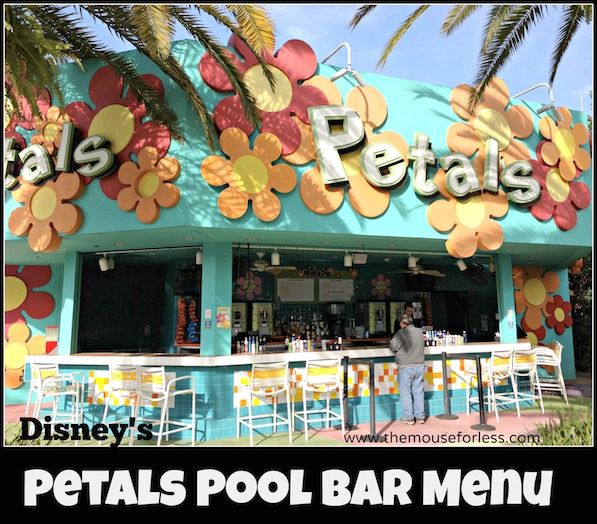 At Petals Pool Bar, find your inner flower power at this groovy bar located near the Hippy Dippy pool. Try house specialties like the tropical Banana Cabana or Big Island Iced Tea! Cocktails, draft beer, sangria, and wine are also available.
Petal's Pool Bar is located in Disney's Pop Century Resort.  Find more Walt Disney World dining locations on our Walt Disney World menus page.

Planning a Walt Disney World Vacation?
For a Free no-obligation quote, contact our sponsor
The Magic For Less Travel
. The Magic For Less Travel is an Authorized Disney Vacation Planner and has been helping guests plan magical vacations since 2002. Receive the best prices and free travel planning services. Their fee-free services will help you save time, money, and stress while planning a vacation designed around you and your needs!
Petals Pool Bar Menu
Menu Date: 11/2022
Groovy Grub
Greek Salad – $9.29
Ham and Cheddar Sandwich – $10.29
Turkey and Provolone Sandwich – $10.29
Out of Site Snacks
Assorted Chips – $2.99
Soft Pretzel – with Cheese Sauce – $7.49
Far Out Frozen Treats
Frozen Strawberry Bar – Plant-based – $5.69
Nestle Mickey's Premium Ice Cream Bar – $6.29
Nestle Mickey's Premium Ice Cream Sandwich – $6.29
Specialty Drinks
Magical Beacon Cocktail – Empress 1908 Gin, Bols Blue Curaçao, Minute Maid® Premium Lemonade, Orgeat (Almond), Lemon, Hibiscus Grenadine and a souvenir Glow Cube – $17.50
Bourbon Breeze – Old Forester Bourbon with Cranberry, Lime and Pomegranate juices topped with Fever-Tree Ginger Beer – $16.50
Poolside Iced Tea – Absolut Vodka, Bacardi Superior Rum, Beefeater Gin,Corazón BlancoTequila, Cointreau, and Sweet-and-Sour topped with Coca-Cola® – $16.50
Captain's Mai Tai – Captain Morgan Original Spiced Rum, Bols Amaretto, and Tropical Juices topped with a float of Myer's Original Dark Rum – $14.50
Banana Cabana – Cruzan Mango Rum, Parrot Bay Coconut Rum, Bols Crème de Banana, and Orange and Pineapple Juice with a float of Grenadine – $15.50
Sunshine Margarita – Lunazul Reposado Tequila, Cointreau, and Sweet-and-Sour with Juices of Orange and Lime – $16.50
Blueberry Lemonade – Three Olives Blueberry Vodka, Bols Blue Curaçao, and Minute Maid® Premium Lemonade with Juices of Lemon and Pomegranate topped with Sprite® – $15.50
Piña CoLAVA – Bacardi Black Razz Rum blended with Piña Colada Mix and Raspberry Purée – $15.50
Strawberry Margarita – Lunazul Reposado Tequila and Lime Juice blended with Strawberry Purée – $16.50
Cucumber & Mint Vojito – Ketel One Botanical Cucumber & Mint Vodka, Lime Juice and Pure Cane Sugar topped with Soda Water – $15.50
Wine and Sangria
Copa Di Vino – Pinot Grigio, Chardonnay or Cabernet Sauvignon – $10.00
Opici Family Sangria – Red or White – $12.00
Beer | Bottle, Can, or Draft
$8.50 – $10.75
Pale Lager – Bud Light • Corona Extra • Michelob Ultra • Miller Lite • Stella Artois
Amber Lager – Yuengling Traditional Lager
Wheat & Wit – Blue Moon Melgian White • Schöfferhofer Pink Grapefruit Hefeweizen
India Pale Ale – Cigar City Jai Alai IPA
Hard Cider & Hard Seltzer – Angry Orchard Crisp Apple Hard Cider • Truly Wild Berry Hard Seltzer
Non-Alcoholic Beverages
EARidescent Sip-a-bration – Minute Maid® Premium Lemonade and Fruity Strawberry Punch, served in a souvenir 50th Celebration Cup with a surprise Character and a little bit of magic! – $10.00
Minute Maid Premium Lemonade  – $4.99
also available in Strawberry or Raspberry for $5.49
Strawberry Smoothie – Strawberry Purée blended with Nonfat Yogurt – $5.99
Lava Smoothie – Raspberry Purée blended with flavors of Coconut and Pineapple – $5.99
DASANI Bottled Water – $3.75
smartwater – $5.75
** Petals Pool Bar Menu and Prices are Subject to Change Without Notice **