At 'Ohana, you can start your day with a bountiful breakfast or sit down to a Polynesian-themed dinner—both served family-style.
At Breakfast, Lilo and Stitch, along with other friends, invite you and your ʻohana to an American breakfast influenced by Polynesian flavors. Feast family-style as Disney Friends visit with Guests, sign autographs and pose for photos. Breakfast selections include scrambled eggs, breakfast potatoes, Stitch and Mickey waffles, ham with pineapple, a variety of fresh fruits and assorted breads.
At dinner, unwind in a dining room brimming with tikis and tropical greenery as you savor delicious dishes like grilled teriyaki beef, spicy peel-n-eat shrimp, grilled chicken and ʻOhana Noodles. Plus, you can satisfy your sweet tooth with pineapple coconut bread pudding and vanilla ice cream. It's a tantalizing taste of the South Pacific!
Ohana is located in Disney's Polynesian Village Resort. Find more Walt Disney World dining locations on our Walt Disney World menus page.
Restaurant Info: American, Family Style, $$$
Current Pricing: $45 for Adult Breakfast, $29 for Child's Breakfast; $59 for Adult Dinner, $38 for Child's Dinner
Find out how you can save money on dining at Walt Disney World by using one of Disney's Dining Plans.

Planning a Walt Disney World Vacation?
For a Free no-obligation quote, contact our sponsor
The Magic For Less Travel
. The Magic For Less Travel is an Authorized Disney Vacation Planner and has been helping guests plan magical vacations since 2002. Receive the best prices and free travel planning services. Their fee-free services will help you save time, money, and stress while planning a vacation designed around you and your needs!
'Ohana Best Friends Breakfast Menu
Menu Date: 10/2022
Breakfast 7:30 – 12:00 p.m.
Adult Price: $45
Child Price (ages 3 – 9): $29
Prices vary by season and include tax, but not gratuity.
All-You-Care-to-Enjoy 'Ohana Breakfast
Freshly made Pineapple-Coconut Breakfast Bread

Seasonal Fruit (plant based)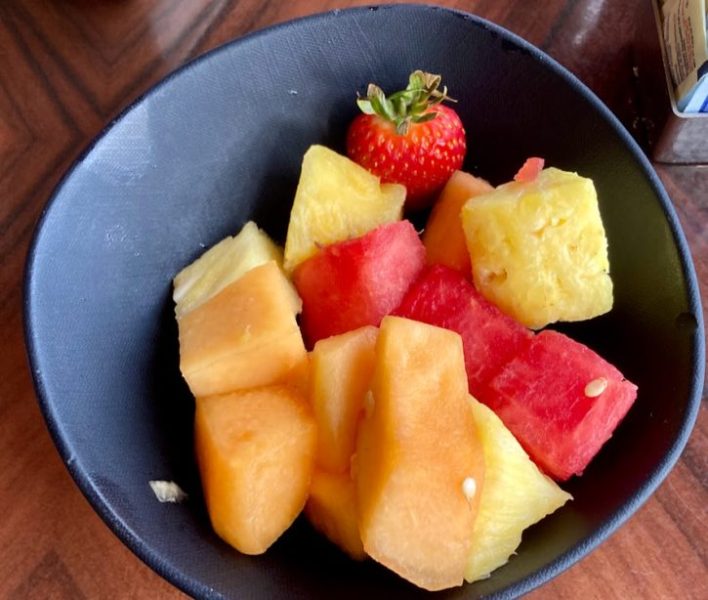 Breakfast Skillet – Scrambled Eggs, Pork Breakfast Sausage Links, Hawaiian-style Ham topped with Pineapple Compote, Fried Island-style Potatoes, Mickey-shaped Waffles, Biscuits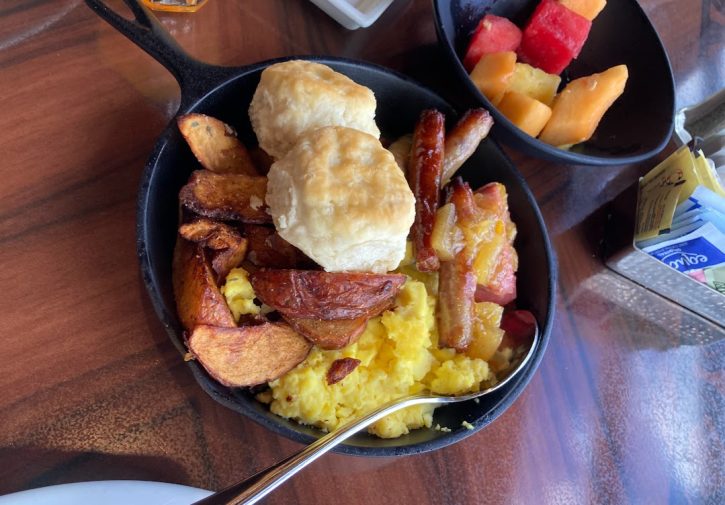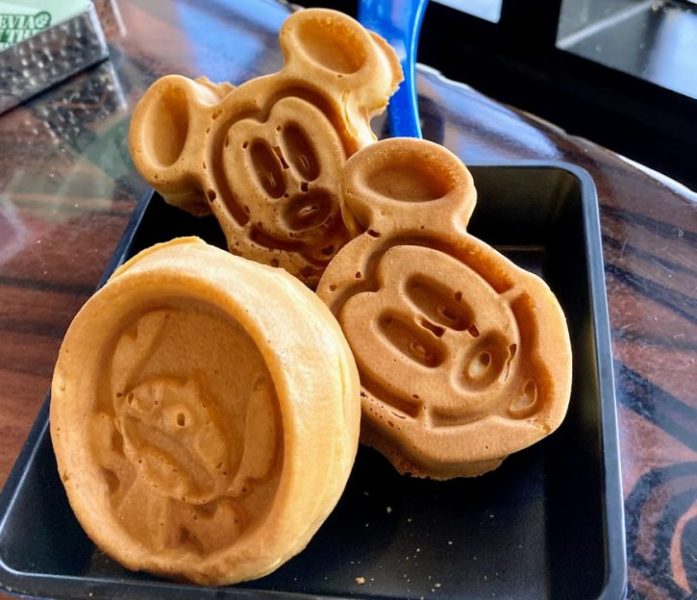 All-You-Care-to-Enjoy Plant Based Breakfast
Seasonal Fruit (plant based)
Cinnamon Sugar Doughnut
'Ohana Plant-based Breakfast Skillet – Scrambled "Eggs", "Sausage", Fried Island-style Potatoes, Character-shaped Waffle
Non-Alcoholic Specialties
Kona Sourced Coffee – Kona, Hawaii, is one of the most fertile coffee-growing regions. The combination of fertile soil and mild mountain climate produces one of the richest coffees in the world. 100% Kona Coffee by Joffrey's Coffee™ French Press Pot (serves two) – $9.00
Moana Smoothie – Vanilla Smoothie with flavors of Watermelon, Mango, Guava, and Ginger topped with Whipped Cream, Edible Flowers, and a Moana Chocolate Disc – $6.49
Lilo Smoothie – Decadent blend of Vanilla Smoothie, Fresh Strawberries and Chocolate Syrup served with Whipped Cream and an Edible Orchid – $6.49
Stitch Smoothie – Sweet Flavors of Coconut and Pineapple combined in a Vanilla Smoothie topped with Whipped Cream and Stitch Ears – $6.49
Specialty Character Drink – Minute Maid Lemonade Zero Sugar®served in a souvenir Character Cup with a glowing Character Clip-on Light – $8.00
Specialty Beverages
Mimosa-Your-Way – Domaine Ste. Michelle Brut Sparkling Wine with choice of Juice – $14.50
Wasabi Bloody Mary – Absolut Peppar Vodka with our House-made Wasabi Bloody Mary Mix – $14.50
Polynesian Red Eye – Parrot Bay Coconut Rum, Passion-Orange-Guava Juices,and Grenadine – $11.50
Warped Hula Hoop – Sailor Jerry Spiced Rum, Pineapple,and Passion-Orange-Guava Juices topped with Melon Liqueur – $12.50
Lapu Lapu – Plantation Original Dark Rum and TropicalFruit Juices served in a fresh Pineappleand topped with Gosling's 151 Rum  – $19.50
'Ohana Dinner Menu
Menu Date: 10/2022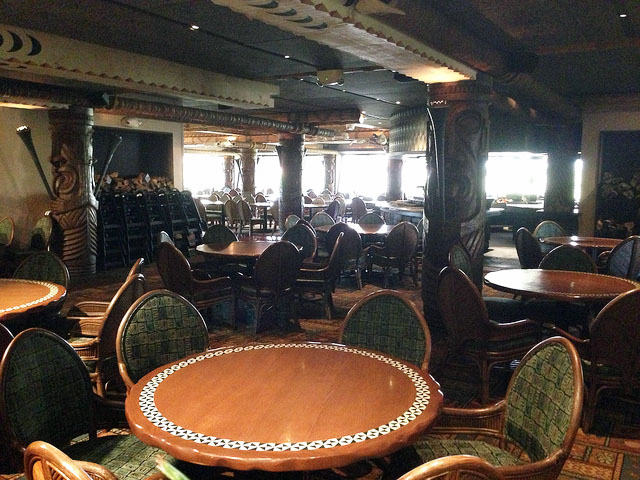 All-you-care-to-enjoy family-style feast served right to your table. The call of a conch shell welcomes you to an evening of Hawaiian-flavored specialties, storytelling, and games.
Dinner is served from 3:30 p.m. to 10:00 p.m.
Adult Price: $59
Child Price (ages 3 – 9): $38
Prices vary by season and include tax, but not gratuity.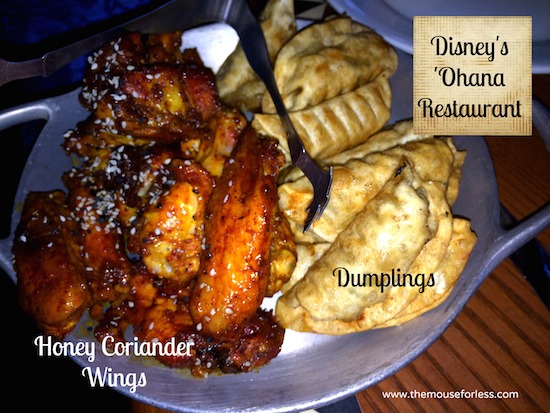 All-You-Care-to-Enjoy 'Ohana Dinner
Mixed Greens Salad – with Citrus Vinaigrette
Signature 'Ohana Bread – with Honey Butter
Honey-Coriander Chicken Wings
Pork Dumplings Tossed in Garlic-Chili Sauce
'Ohana Dinner Skillet – Wood-fire Grilled Teriyaki Beef*, Spicy Peel-n-Eat Shrimp, Grilled Chicken with Polynesian-inspired Chimichurri Sauce, 'Ohana Noodles, Roasted Broccolini
'Ohana Bread Pudding – À la mode with Homemade Caramel Sauce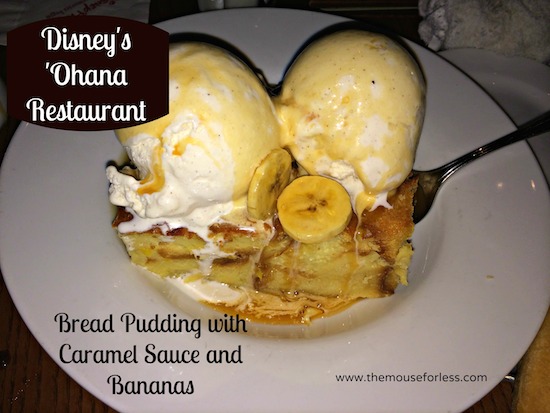 All-You-Care-to-Enjoy Plant-based Dinner
Rolls
Mixed Greens Salad – with Local Citrus Dressing
Hummus with Chips
'Ohana Plant-based Dinner Skillet – 'Ohana Noodles, Roasted Broccolini, Pineapple-Barbecued Jack Fruit, Polynesian-inspired Chimichurri "Chicken", "Sausage"
Doughnut with Soy-based Frozen Dessert
Non-Alcoholic Specialties
Kona Source Coffee – Kona, Hawaii, is one of the most fertile coffee-growing regions. The combination of fertile soil and mild mountain climate produces one of the richest coffees in the world. 100% Kona Coffee by Joffrey's Coffee™ French Press Pot (serves two) – $9.00
Moana Smoothie – Vanilla Smoothie with flavors of Watermelon, Mango, Guava, and Ginger topped with Whipped Cream, Edible Flowers, and a Moana Chocolate Disc – $6.49
Lilo Smoothie – Decadent blend of Vanilla Smoothie, Fresh Strawberries and Chocolate Syrup served with Whipped Cream and an Edible Orchid – $6.49
Stitch Smoothie – Sweet Flavors of Coconut and Pineapple combined in a Vanilla Smoothie topped with Whipped Cream and Stitch Ears – $6.49
Specialty Character Drink – Minute Maid Lemonade Zero Sugar®served in a souvenir Character Cup with a glowing Character Clip-on Light – $8.00
Non-Alcoholic Mocktails
EARiDescent  – Minute Maid® Premium Lemonade and Fruity Strawberry Punch, served in a souvenir 50th Celebration Cup with a surprise Character and a little bit of magic! – $10.00
Keiki Lemonade – Minute Maid® Premium Lemonade, Pineapple, Passion Fruit, and Citrus – $5.49
Pomegranate Lemonade – Minute Maid® Premium Lemonade with Pomegranate and Lime Juices – $5.49
Watermelon Lemonade – Minute Maid® Premium Lemonade and Watermelon – $5.49
Grapefruit Spritzer – Ruby Red Grapefruit and Lime Juices topped with Soda Water – $5.49
Sparkling No-Jito – Lime Juice, Pure Can Sugar, and Mint topped with Soda Water – $4.99
Signature Cocktails
Magical Beacon Cocktail – Empress 1908 Gin, Bols Blue Curaçao, Minute Maid® Premium Lemonade, Orgeat (Almond), Lemon, Hibiscus Grenadine and a souvenir Glow Cube – $17.50
Backscratcher – Bacardí Superior Rum, Plantation Original Dark Rum, and Guava-Passion Fruit Juice topped with Jack Daniel's Tennessee Whiskey and a Bamboo Backscratcher – $14.50
Polynesian Mai Tai – Plantation Original Dark Rum, Bacardí Superior Rum, Bols Orange Curaçao, Lime Juice, Orgeat (Almond), and Pure Cane Sugar – $15.50
Ultimate Long Island Iced Tea – Bacardí Superior Rum, Tito's Handmade Vodka, Hendrick's Gin, Corazón Blanco Tequila, Cointreau, and Sweet-and-Sour with a splash of Coca-Cola® – $16.50
Puka Punch – The Real McCoy 5 yr Rum, Bacardí Superior Rum, John D. Taylor's Velvet Falernum, Tropical Juices, Passion Fruit, and Angostura Bitters – $15.50
Lapu Lapu – Plantation Original Dark Rum and TropicalFruit Juices served in a fresh Pineappleand topped with Gosling's 151 Rum – $19.50

Hawaiian Mule – Pau Maui Handmade Vodka, Lychee-Citrus Reduction, and Fever-Tree Ginger Beer – $14.50
Dragon Iced Tea – Hendrick's Gin, Lemon and Ginger Herbal Tea, Tropical Juices, and Blood Orange – $15.50

Whiskey Breeze – Jim Bean Black Extra-aged Bourbon, Cointreau, and Lime Juice with flavors of Guava and Mango – $16.50
Rum Swizzle – Mount Gay Eclipse Rum with Tropical Juices and flavors of Guava and Mango – $14.50
Raspberry Mojito – Bacardí Raspberry Rum, Mount Gay Eclipse Rum, Lime Juice, Mint, and Raspberry Purée topped with Soda Water – $14.50
Magical Star Cocktail – X-Fusion organic Mango and Passion Fruit Liqueur, Parrot Bay Coconut Rum, Pineapple Juice, and a souvenir multicolored Glow Cube – $17.50
Bahama Mama – Parrot Bay Coconut Rum, Plantation Original Dark Rum, Bols Crème de Banana, and Tropical Juices – $14.50
Pina CoLAVA – Bacardi Raspberry Rum blended with flavors of Coconut, Pineapple, and Raspberry Purée – $15.50
Red Sangria – Opici Family Red Sangria is made in La Mancha, Spain from Tempranillo grapes and has flavors of raspberry, apple, and blackberry with succulent aromas of natural Valencia oranges and cinnamon – $12.00
White Sangria – Opici Family White Sangria is made in La Mancha, Spain from Airén grapes and has flavors of banana, pineapple, and grapefruit with a hint of ginger – $12.00
Beer
Assorted Bottles and Cans – $8.50 – $12.75
Wines
Assorted Wines – glass $11.00-$17.00; $49.00-$70.00 bottle
** Ohana Menu and Prices are Subject to Change Without Notice **