Epcot | World Showcase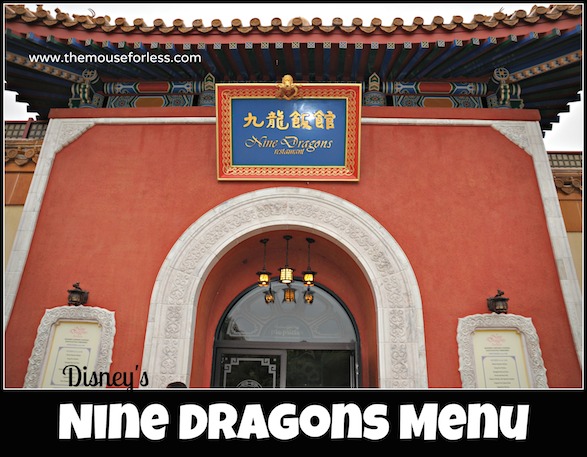 Lunch Menu   Dinner Menu   Kids' Menu
Reviews

Dine in a Chinese palace on a spectacular meal fit for Chinese royalty at Nine Dragons Restaurant in World Showcase restaurant.
Restaurant Info: Asian/Chinese, Lunch/Dinner A la carte, $$ – $15 to $29.99 per adult
Find out how you can save money on dining at Walt Disney World by using one of Disney's Dining Plans.
Nine Dragons Lunch Menu
Menu Date: 03/2016
Special Notice: Starting February 8, 2016 and continuing through January 29 2017, Nine Dragons will celebrate the Chinese "Year of the Monkey" with a new lunch special for $17.98. The 3-course meal includes a choice of appetizers (spring rolls or pot stickers), a choice of entrees (Happily Family, Moo Goo Gai Pan, or General Tso's Chicken Buns Lunch Box) and a choice of desserts (strawberry-red bean or ginger-caramel ice creams).
Appetizers
Cucumber Salad – Lightly spiced and refreshingly sweet and sour. Served chilled – $6.98
Pot Stickers – Pan-fried Chicken and Vegetable dumplings served with Soy Dipping Sauce – $6.98
Shanghai Spring Rolls – Two hand-crafted Spring Rolls filled with Chicken, Shrimp, and Fish – $8.98
Vegetable Spring Rolls – Crispy Spring Rolls filled with fresh vegetables – $4.98
Shrimp and Taro Lollipops – Playful take on a traditional dim sum favorite served with special Wu Xiang dipping sauce – $9.98
Dumplings in Chili Sauce – Classical Sichuan Chicken Dumplings in a spicy chili sauce with a bouquet of fresh vegetable topping. Tell us your choice of spiciness – $12.98
Soups and Side
Hot-and-Sour Soup – $3.98
Vegetable and Egg Fried Rice – $3.98
Chinese Burgers-Buns
Braised Pork Belly Steamed Buns – Steamed Chinese Buns filled with braised pork belly served with our original chili aioli – $8.98
Fragrant Chicken – Seasoned Chinese Bun with Battered Fried White Fish topped with Pork Floss and Sweet-and-Sour Sauce – $8.98
General Tso's Chicken Buns – Steamed Chinese Buns with Battered Fried Chicken Breast topped with Pork Floss and General Tso's Sauce – $8.98
Shanghai Xiaolongbao – Steamed Shanghai-style pork soup dumplings served with our house dipping sauce – $8.98
Nine Dragons Lunch Box Set
$18.98 per person
Served with a light and tasty Beef Soup and Chinese Coleslaw, Handcrafted Fresh-Baked Sesame Bread and your choice of:
Mongolian Spiced Chicken
Or
Canton Pepper Beef
Entrées
Honey Sesame Chicken – $16.98
Sweet-and-Sour Pork – with Lightly Spiced Spinach Noodles – $15.68
Peppery Shrimp – with Lightly spiced spinach Noodles – $17.98
Canton Pepper Beef – Stir Fried Beef with Onions, and Bell Peppers in a classic savory sauce – $15.98
Fragrant Five-Spiced Fish – light but flavorful sauteed whitefish fillets with a classic Chinese five-spice sauce – $22.98
Nine Dragons Fried Rice – Stir-Fried with Chicken, Ham, Eggs, and Vegetables, topped with Grilled Shrimps – $15.98
Bejing Roast Duck Salad – Lettuce, Cucumbers, Tomatoes, Golden Raisins, Walnuts, Boneless Beijing Roast Duck Leg, Fried Egg Roll Skin, shredded Scallion, and served with our Hoisin Sauce Dressing – $15.98
Nine Dragons Lo Mein – Egg noodles stir fried with barbeque pork, beef, shrimp and vegetables – $17.98
Vegetarian and Tofu Stir-Fry – $14.68
Desserts
Coconut Rice Pudding – Nutty and Creamy – Sticky Red Rice Pudding infused with Coconut Milk and touch of Cinnamon served with Wonton Crisps – $7.98
Chinese Ginger Cake – $6.68
Ice Cream – Strawberry-Red Bean or Caramel-Ginger- $3.98
Hot Beverages
Coffee – Regular of Decaf – $2.95
Traditional Jasmine Tea – $1.68
Selection of Gourmets Teas – $3.68
Hot Chia Milk Tea – $2.98
Hot Chocolate – $2.95
Soft Drinks and More
Soda – Coca-Cola, Diet Coke, Caffeine-Free Diet Coke, Sprite, Lemonade – $2.95
Blackberry Jasmine Iced Tea – unsweetened – $2.95
Raspberry Iced Tea – sweetened – $2.95
Iced Coffee – Regular of Decaf – $2.95
Iced Chai Tea – $2.98
Variety of Fruit Juices – $2.95
Milk – Low-fat or chocolate – $2.95
Dasani Still Bottle Water – $2.75
Perrier Sparkling Bottled Water – $3.68
Non-Alcoholic Specialties
Strawberry Smoothie – $4.68
Mango Smoothie – $4.68
Shangri-La Smoothie – Exotically fruity and tangy fusion of Strawberry and Mango – 4.68
Hainan Sunrise – Orange juice, seltzer with a hint of mango – $4.68
Nine Dragons Dinner Menu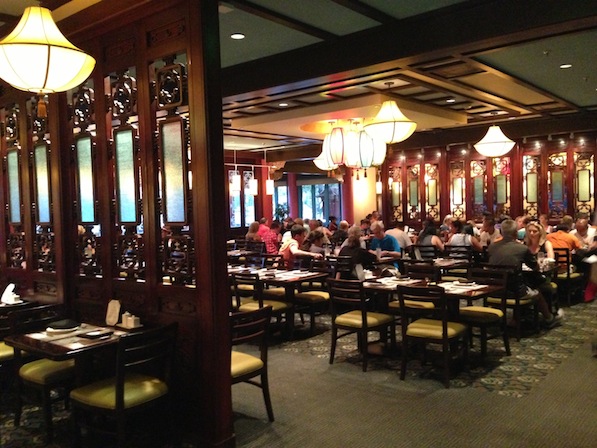 Menu Date: 03/2016
Appetizers
Cucumber Salad – Lightly spiced and refreshingly sweet and sour. Served chilled – $6.98
Pot Stickers – Pan-fried Chicken and Vegetable dumplings served with Soy Dipping Sauce – $6.98
Shanghai Spring Rolls – Two hand-crafted Spring Rolls filled with Chicken, Shrimp, and Fish – $8.98
Vegetable Spring Rolls – Crispy Spring Rolls filled with fresh vegetables – $4.98
Shrimp and Taro Lollipops – Playful take on a traditional dim sum favorite served with special Wu Xiang dipping sauce – $9.98
Dumplings in Chili Sauce – Classical Sichuan Chicken Dumplings in a spicy chili sauce with a bouquet of fresh vegetable topping. Tell us your choice of spiciness – $12.98
Soups and Side
Hot-and-Sour Soup – $3.98
Vegetable and Egg Fried Rice – $3.98
Chinese Burgers-Buns
Braised Pork Belly Steamed Buns – Steamed Chinese Buns filled with braised pork belly served with our original chili aioli – $8.98
Fragrant Chicken – Seasoned Chinese Bun with Battered Fried White Fish topped with Pork Floss and Sweet-and-Sour Sauce – $8.98
General Tso's Chicken Buns – Steamed Chinese Buns with Battered Fried Chicken Breast topped with Pork Floss and General Tso's Sauce – $8.98
Shanghai Xiaolongbao – Steamed Shanghai-style pork soup dumplings served with our house dipping sauce – $8.98
Nine Dragons Family Dinner Set
$24.98 per Guest
For each Guest, please choose any one Soup, one Entree, and one Dessert:
Hot-and-Sour Soup
Chicken Consomme – with Pork Dumplings
——————-
Honey-Sesame Chicken
Canton Pepper Beef
Sweet-and-Sour Pork
——————-
Strawberry-Red Bean Ice Cream
Caramel-Ginger Ice Cream
Entrees
Nine Dragons Lunch Box Set – Mongolian Spiced Chicken served with Fresh-Baked Sesame Bread, a light and tasty Beef Soup, and Chinese Coleslaw – $18.98
Honey-Sesame Chicken – Chef Wei's Specialty served with Asparagus – $18.98
Barbecue Pork – wChinese Barbecue Pork Loin served with a side of Broccoli, Vegetables and Egg Fried Rice – $18.98
Sweet-and-Sour Pork – An all-time favorite served with a side of Broccoli – $17.98
Canton Pepper Beef – Stir-fried beef with onions, red and green peppers in a classic, savory sauce – $18.98
Peppery Shrimp – with Lightly Spiced Spinach Noodles – $21.98
Kung Pao Chicken – A saucy Guest favorite – With Peanuts and Dried Chili Peppers – $17.98
Kung Pao Shrimps – A saucy favorite – With peanuts and dried chili peppers – $23.98
Fragrant Five-Spiced Fish – Light but flavorful – Sautéed Whitefish Fillet with our special Five-Flavor Sauce – $22.98
Sirloin Steak and Shrimps – Grilled Sirloin and Shrimps served with Bok Choy – $26.98
Nine Dragons Fried Rice – Stir-Fried with Chicken, Ham, Eggs, and Vegetables, topped with Grilled Shrimps – $15.98
Bejing Roast Duck Salad – Lettuce, Cucumbers, Tomatoes, Golden Raisins, Walnuts, Boneless Beijing Roast Duck Leg, Fried Egg Roll Skin, shredded Scallion, and served with our Hoisin Sauce Dressing – $15.98
Vegetable and Tofu Stir Fry – $16.98
Desserts
Coconut Rice Pudding – Nutty and Creamy – Sticky Red Rice Pudding infused with Coconut Milk and touch of Cinnamon served with Wonton Crisps – $7.98
Chinese Ginger Cake – $6.68
Ice Cream – Strawberry-Red Bean or Caramel-Ginger- $3.98
Hot Beverages
Coffee – Regular of Decaf – $2.95
Traditional Jasmine Tea – $1.68
Selection of Gourmets Teas – $3.68
Traditional Jasmine Tea – $1.68
Hot Chia Milk Tea – $2.98
Hot Chocolate – $2.95
Soft Drinks and More
Soda – Coca-Cola, Diet Coke, Caffeine-Free Diet Coke, Sprite, Lemonade – $2.95
Blackberry Jasmine Iced Tea – unsweetened $2.95
Raspberry Iced Tea – sweetened $2.95
Iced Coffee – Regular of Decaf – $2.95
Iced Chai Tea – $2.98
Milk – Low-fat or chocolate – $2.95
Dasani Still Bottle Water – $2.75
Perrier Sparkling Bottled Water – $3.68
Non-Alcoholic Specialties
Strawberry Smoothie – $4.68
Mango Smoothie – $4.68
Shangri-La Smoothie – Exotically fruity and tangy fusion of Strawberry and Mango – 4.68
Hainan Sunrise – Orange juice, seltzer with a hint of mango – $4.68
Specialty Cocktails
Ginger Zinger – ginger liqueur, light rum, ginger ale, lemon twist – $7.98
South Sea Breeze – coconut rum, grenadine, pineapple and orange juices – $7.98
Shanghai Fusion – light rum, cherry brandy, plum wine, grapefruit and pineapple juices – $7.98
Jade Beauty – vodka, honeydew melon liqueur, pineapple juice, lemon-lime soda – $7.98
Heavenly Clouds – coconut rum, honeydew melon liqueur, pineapple juice, cream float – $7.98
Beers
Tsingtao – $6.98
Nine Dragons Kids' Lunch and Dinner Menu
Menu Date: 03/2016
For Guests 9 and Under
Appetizer
Pot Stickers – Classic Sautéed Pork and Vegetable Dumplings – $3.68
Vegetable Spring Rolls – $4.98
Entrees
Honey Chicken – chicken nuggets with honey sauce, egg fried rice, carrot and broccoli – $7.98
Sweet and Sour Shrimp with Lo Mein – sweet and sour shrimp with stir fried egg noodles – $8.98
Kids Deluxe Entree – shrimp and chicken served with egg fried rice, carrots, broccoli and sweet and sour sauce – $10.98
Desserts
Ice Cream – Strawberry-Red Bean or Caramel-Ginger- $3.98
** Menu and Prices are Subject to Change Without Notice **