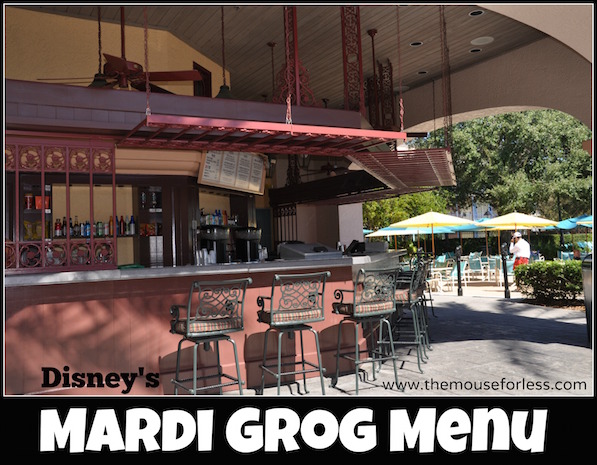 Every day's Fat Tuesday here at Mardi Grogs! Celebrate with specialty drinks frozen or on the rocks, along with wine, sangria, and draft beers. You can even get it to go and take a leisurely stroll along the Sassagoula River or take advantage of the poolside service.
Mardi Grogs is located in Disney's Port Orleans French Quarter Resort.  Find more Walt Disney World dining locations on our Walt Disney World menus page.
Restaurant Info: American, Beverages, $
Find out how you can save money on dining at Walt Disney World by using one of Disney's Dining Plans.

Planning a Walt Disney World Vacation?
For a Free no-obligation quote, contact our sponsor
The Magic For Less Travel
. The Magic For Less Travel is an Authorized Disney Vacation Planner and has been helping guests plan magical vacations since 2002. Receive the best prices and free travel planning services. Their fee-free services will help you save time, money, and stress while planning a vacation designed around you and your needs!
Mardi Grogs Pool Bar Menu
Menu Date: 12/2022
Sandwiches and Salads
Chicken Salad Sandwich
Served with Tomato, Lettuce, and a bag of Chips – $12.29
Ham and Cheese Sandwich
Served with a bag of Chips – $11.29
Caesar Salad with Grilled Chicken – $11.29
Pretzel with Cheese Sauce – $7.49
Non-Alcoholic Beverages
EARidescent Sip-a-bration
Minute Maid® Premium Lemonade and Fruity Strawberry Punch, served in a souvenir 50th Celebration Cup with a surprise Character and a little bit of magic! – $10.00
Bull Frog Brew
Minute Maid® Premium Lemonade, Green Apple, and Kiwi. – $5.49
Minute Maid® Premium Lemonade – $4.99
Minute Maid® Premium Strawberry Lemonade – $5.49
Minute Maid® Premium Raspberry Lemonade – $5.49
Lava Smoothie
Raspberry Purée blended with flavors of Coconut and Pineapple – $5.99
Strawberry Smoothie
Strawberry Purée blended with Nonfat Yogurt – $5.99
POWERADE® – $4.69
Fever-Tree Ginger Beer – $4.99
Featured Cocktails
Hurricane
Gosling's Black Seal Rum, Bayou Silver Rum, Tropical Juices and Grenadine topped with a float of Gosling's Black Seal Rum. Served in a souvenir Hurricane Glass – $19.50
Front Porch Freeze
Bayou Silver Rum, Pineapple Juice and Orange Juice blended with Mango Purée. Served in a souvenir Hurricane Glass – $19.50
Gata-Melon Juice
Midori Melon Liqueur, Pineapple Juice and Monin Banana blended with flavors of Coconut and Pineapple. Served in a souvenir Hurricane Glass – $19.50
Nola Cola
Captain Morgan Spiced Rum, Pineapple Juice and Desert Pear blended with Raspberry Purée served in a souvenir Hurricane Glass – $19.50
All That Jazz
A layered blend of the Gata-Melon Juice, Front Porch Freeze and the Nola Cola served in a souvenir Hurricane Glass – $20.50
Rocks
Magical Beacon Cocktail
Empress 1908 Gin, Bols Blue Curaçao, Minute Maid® Premium Lemonade, Orgeat (Almond), Lemon, Hibiscus Grenadine and a souvenir Glow Cube – $17.50
Sunshine Margarita
Lunazul Reposado Tequila, Cointreau and Sweet-and-Sour with Orange and Lime Juices – $16.50
Blueberry Lemonade
Three Olives Blueberry Vodka, Bols Blue Curaçao and Minute Maid® Premium Lemondae with Juices of Lemon and Pomegranate topped with Sprite® – $15.50
Bourbon Breeze
Old Forester Bourbon with Cranberry, Lime and Pomegranate juices topped with Fever-Tree Ginger Beer – $16.50
Cucumber & Mint Vojito
Ketel One Botanical Cucumber and Mint Vodka, Lime Juice and Pure Cane Sugar topped with Soda Water – $15.50
Banana Cabana
Cruzan Mango Rum, Parrot Bay Coconut Rum, Bols Crème de Banana, Orange Juice, and Pineapple Juice with a float of Grenadine – $15.50
Captain's Mai Tai
Captain Morgan Original Spiced Rum, Bols Amaretto and Tropical Juices topped with a float of Plantation Original Dark Rum – $14.50
Poolside Iced Tea
Absolut Vodka, Bacardi Superior Rum, Beefeater Gin, Corazón Blanco Tequila, Cointreau, and Sweet-and-Sour topped with Coca-Cola® – $16.50
Frozen
Frosé
featuring Meiomi Rosé and Tito's Handmade Vodka – $15.50
Piña Colava
Bacardi Raspberry Rum blended with flavors of Coconut, Pineapple, and Raspberry Purée – $15.50
Strawberry Margarita
Lunazul Reposado Tequila and Lime Juice blended with Strawberry Purée – $16.50
Beer
Assorted Beer – $8.50 – $12.75
Wine
Jackson Estate Chardonnay – $15.00
Meiomi Rosé – $14.00
Louis M. Martini Cabernet Sauvignon – $14.00
Copa Di Vino
Pinot Grigio, Chardonnay or Cabernet Sauvignon – $10.00
** Mardi Grogs Menu and Prices are Subject to Change Without Notice **