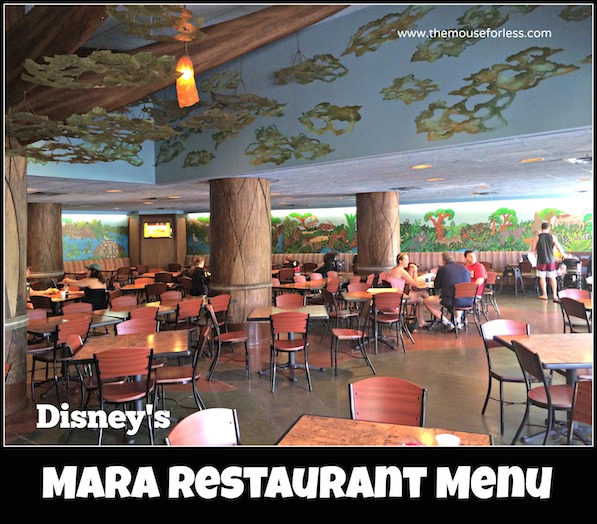 Named for a river flowing through Kenya and Tanzania, this savanna-like space serves African stew, pitas, half-chicken dinners and more. American favorites like burgers and flatbreads are also available at The Mara, as is breakfast until 11:00 a.m.
The Mara is located in Disney's Animal Kingdom Lodge Resort.  Find more Walt Disney World dining locations on our Walt Disney World menus page.
Restaurant Info: African/American, Breakfast/Snack, $ – $14.99 and under per adult
Find out how you can save money on dining at Walt Disney World by using one of Disney's Dining Plans.
Breakfast Menu  Lunch and Dinner Menu

Planning a Walt Disney World Vacation?
For a Free no-obligation quote, contact our sponsor
The Magic For Less Travel
. The Magic For Less Travel is an Authorized Disney Vacation Planner and has been helping guests plan magical vacations since 2002. Receive the best prices and free travel planning services. Their fee-free services will help you save time, money, and stress while planning a vacation designed around you and your needs!
The Mara Breakfast Menu
Menu Date: 2023
Entrées
Savanna Platter – $12.99
Scrambled Cage-free Eggs, Waffle, Potatoes, Bacon, and Sausage
Mickey-shaped Waffles – $10.49
Served with Mixed Berries, Whipped Cream, and choice of Bacon or Sausage
Bacon and Gruyère Quiche – $9.99
Freshly Baked with Smoked Bacon, Gruyère, and a savory Egg Custard served with crisp Potato Barrels
Croissant Breakfast Sandwich – $8.99
Ham, Egg, Cheddar, and Crispy Potato Barrels
French Toast Bread Pudding – $7.99
Brioche Bread Pudding served with Madagascar Vanilla Bean Sauce
Cereal with Milk – $4.99
Served with choice of Cereal and Milk
Steel-cut Oatmeal – $4.99
Served with choice of Toppings (Plant-based)
Kids' Meals
Breakfast Platter – $7.29
Served with choice of two Sides and choice of Small Lowfat Milk or Small DASANI® Bottled Water. Meets Disney Nutrition Guidelines for Complete Meals without substitutions
Yogurt Dipper Kids Pack – $6.49
Vanilla flavored Greek Yogurt with Blueberries and Whole Grain Graham Crackers
Waffle Platter – $7.59
Served with choice of two Sides and choice of Small Lowfat Milk or Small DASANI® Bottled Water
Sides
Bacon – $2.99
Potato Barrels – $3.19
Sausage – $2.99
Desserts
Nestlé® Mickey's Premium Ice Cream Bar – $5.99
Nestlé® Mickey's Premium Ice Cream Sandwich – $5.99
Carrot Cake Cheesecake Tart – $6.99
Tart filled with Carrot Cake and Pineapple Jam topped with Vanilla Cheesecake
Zebra Cupcake – $5.99
Chocolate Cake and Chocolate Custard Filling with Chocolate and Vanilla Buttercream
Flamingo Cake – $5.49
Chocolate Spice Cake with Coconut Ganache (Plant-based)
Nyala Brownie – $5.19
Brownie with Peanut Butter Buttercream and a Vanilla Buttercream Stripe
Zebra Domes – $4.59
Chocolate Mousse baked with Amarula Cream Liquor-coated White Chocolate drizzled with Chocolate Stripes and Chocolate Shavings
Chocolate-Chip Mickey Cookie – $3.99
Bakery
Cinnamon Roll – $4.49
Muffin Assortment – $3.99
Daily Assorted Muffins
Croissant – $3.79
Fresh Fruit
Cuties® Mandarins – $4.19
Package of three
Mixed Fruit Cup – $3.99
Apple Slices – $2.79
Sliced Green Apples
Grapes – $2.39
Orange – $2.29
Red Apple – $2.29
Snacks
Dannon® Oikos® Blueberry Greek Nonfat Yogurt – $3.19
Dannon® Oikos® Strawberry Greek Nonfat Yogurt – $3.19
Dannon® Oikos® Vanilla Greek Nonfat Yogurt – $3.19
Dannon® Vanilla Bean Dairy-Free Yogurt – $3.19
Hard-boiled Eggs – $2.99
Pack of two
Dannon® Danimals® Strawberry Smoothie – $2.39
Luna Bar: Chocolate Dipped Coconut – $2.49
Luna Bar: Nutz Over Chocolate – $1.99
Beverages
Resorts Refillable Mug – $21.99
Eligible for refills at Beverage Islands at Quick-service locations at any Disney Resort Hotel during the length of your stay
Assorted Fountain Beverages – $4.29
Monster Energy – $5.29
Simply Orange® – $4.99
Simply Smoothie® Orchard Berry – $4.99
Simply Smoothie® Strawberry-Banana – $4.99
Coca-Cola® Bottle – $4.69
20-oz Bottled Beverage
Diet Coke® Bottle – $4.69
20-oz Bottled Beverage
Gold Peak® Unsweetened Iced Tea Bottle – $4.49
18.5-oz Bottled Beverage
NESQUIK® Chocolate Milk – $4.19
Sprite® Bottle – 20-oz Bottled Beverage – $4.69
Minute Maid® Apple Juice – $3.99
Dasani® Bottled Water – $3.50
Assorted Hot Beverage
Hot Beverage with a choice of Freshly Brewed Joffrey's Coffee™, Twinings of London® Hot Tea, or Hot Cocoa – $3.49
Lowfat Milk – $1.99
Beer
Schöfferhofer Grapefruit Hefeweizen – Germany – $10.75
16 oz Can – Easy and refreshing with light notes of Citrus and Spice with low bitterness
Blue Point Imperial Sunshine Golden Ale – Long Island, NY  – $10.50
16-oz Can – Tangy Blonde Ale with Orange
Cigar City Jai Alai IPA – Tampa, FL – $10.50
16-oz Can – this bigger brother to the Pale Ale employs a significant amount of Hops with high bitterness and Citrus and Floral aroma
Goose Island IPA – Chicago, IL – $10.50
16-oz Can – This bigger brother to the Pale Ale employs a significant amount of Hops with high bitterness and Citrus and Floral aromas
New Belgium Fat Tire Amber Ale – Fort Collins, CO – $10.50
16-oz Can – Toasted caramel malts with a gentle sweetness and balanced addition of hops
Sierra Nevada Tropical Torpedo IPA – Chico, CA – $10.50
16-oz Can – Intense rush of hop flavors and the lush aromas of mango, papaya, and passion fruit
Concrete Beach Havana Lager – Miami, FL – $10.25
16-oz Can – Amber Lager with flavors of Toasted Malt which lends to a crisp finish
Casa Lager – Morocco – $9.75
16-oz Bottle – European-style Pale Lager with aromas of toasted grain
Heineken Lager – Netherlands – $9.25
16-oz Can – Golden-colored with flavors that are dry, clean, crisp, and refreshing with subtle bitterness
Yuengling Traditional Lager – Pottsville, PA – $9.00
16-oz Can – Fuller flavored with a higher malt presence than Pale Lagers
Coors Light Lager – Golden, CO – $8.50
16-oz Can – Golden-colored with Flavors that are Dry, Clean, Crisp, and Refreshing with Subtle Bitterness
Wine
Graham Beck Brut Sparkling Wine – South Africa – $38.00
750 mL Bottle – Light yeasty aromas, with limey fresh fruit on the nose
Jam Jar Sweet Shiraz – South Africa – $25.00
750 mL Bottle – Flavors of ripe berry, followed by dark chocolate undertones
Jam Jar Sweet White – South Africa – $25.00
750 mL Bottle – Flavors of peach, apricot, lychee, and orange blossom
Goats Do Roam Rosé – South Africa – $22.00
750 mL Bottle – Blush pink in color, with notes of rose water and strawberry
indaba Chardonnay, South Africa – $22.00
750 mL Bottle – Bright tropical fruit with flavors of apple, pear, honey, and pineapple with a hint of oak
indaba Chenin Blanc, South Africa – $22.00
750 mL Bottle – Crisp bright notes of pear, golden delicious apple, and tropical fruit
indaba Merlot, South Africa – $22.00
750 mL Bottle – Flavors of cherry, dark berry, and plum backed by subtle mocha and herbal nuances with a delicate minerality
indaba Mosaic Red Blend, South Africa – $22.00
750 mL Bottle – Mosaic Red Blend, a Bordeaux blend, displays flavors of blackcurrant, ripe brambly berry fruit, and dark chocolate with subtle spice notes
Cocktails
Cutwater Gin & Tonic – $11.00
12-oz Can – Old Grove Gin with natrual Cucumber and Grapfruit Flavors
Cutwater Spicy Bloody Mary – $11.00
12-oz Can – Ultra-premium Vodka, All-Natural Tomato Juice and a dash of Spice
Cutwater Vodka Mule – $11.00
12-oz Can – Vodka with natural Ginger, a splash of Bitters, and a hint of Lime
Truly Hard Seltzer Wild Berry – Boston, MA – $9.75
16-oz Can – Low Carb flavored Hard Seltzer, naturally sweet flavors of juicy California Strawberries, Raspberries and Marion Blackberries
The Mara Lunch/Dinner Menu
Entrées
Combination Bowl – $15.49
Chermoula-spiced Shrimp and Oak grilled Chicken with Pilau Rice, Kale Slaw, Cucumber-Tomato Salad, and Chermoula Sour Cream
Chermoula-spiced Shrimp Bowl – $14.49
Grilled Shrimp, Pliau Rice, Kale Slaw, Cucumber-Tomato Salad, and Chermoula Sour Cream
Signature-blend Bacon Cheeseburger – $13.49
Signature-blend Ground Beef, Bacon, Cheddar, Berber Spice, Lettuce, Onion, and Tomato on a Brioche Bun served with French Fries
Oak-grilled Chicken Bowl – $12.99
Marinated Chicken Thighs, Pilau Rice, Kale Slaw, Cucumber-Tomato Salad, and Chermoula Sour Cream
Signature-blend Cheddar Burger – $12.49
Signature-blend Ground Beef, Cheddar, Berber Spice, Lettuce, Onion, and Tomato on a Brioche Bun served with French Fries
Tamarind Barbecue Pork Sandwich – $11.29
Tamarind-seasoned Barbecue Pulled Pork on a Brioche Bun with Kool Slaai (Coleslaw) topping on the side and served with French Fries
Chicken Strips (4 pieces) – $10.49
Served with choice of Side
Flatbreads
Three Cheese Flatbread – $11.29
Tomato Sauce with Mozzarella, Provolone, and Parmesan
Fire-roasted Tomato and Herb Ricotta Flatbread – $11.79
Freshly prepared Flatbread topped with Tomato Sauce and Mozzarella
Pepperoni Flatbread – $11.79
Tomato Sauce, Pepperoni, and Cheese Blend
Cold Sandwiches
Ham and Cheddar Sandwich – $10.79
Creole Honey Mustard on Sunflower Multigrain Bread and served with Chips
Tuna Salad Wrap – $10.49
Romaine, Vine-ripened Tomatoes, and Cucumber with Citrus-marinated Olives
Salads
Grilled Chicken Caesar Salad – $11.29
House-grilled Chicken Breast sliced over a bed of Romaine Lettuce, Croutons and Shredded Parmesan served with Caesar Dressing on the side
Caesar Salad – $9.29
bed of Romaine Lettuce, Croutons and Shredded Parmesan served with Caesar Dressing on the side
Plant-Based
Marrakesh Falafel Platter – $11.99
Served with Tabbouleh, Cucumber-Tomato Salad, Hummus, Avocado Tahini Sauce, and Pita Bread
Chickpea Salad Sandwich – $10.29
Served with Tabbouleh and Cucumber-Tomato Salad
Mixed Greens Side Salad – $4.49
Kids' Meals
Green Salad with Chicken – $7.79
Half of a Sliced House-grilled Chicken Breast on a bed of Mixed Greens, Cucumber, and Tomato served with Strawberry-flavored Yogurt Smoothie, Grapes, and choice of Small Lowfat Milk or Small DASANI® Bottled Water. Meets Disney Nutrition Guidelines for Complete Meals without substitutions
Turkey Sandwich Kids Pack – $7.79
Sliced Turkey Roast Breast and Cheddar Cheese on Honey-wheat Bread with Apple Chips, Cucumber, and Grape Tomatoes
Cheese Pizza – $7.29
Served with a choice of 2 sides and small Lowfat Milk or small Dasani Water Bottle
Cheeseburger – $8.49
Small Grilled Angus Burger topped with American Cheese on a Bun served with Strawberry-flavored Yogurt Smoothie, Grapes, and choice of Small Lowfat Milk or Small DASANI® Bottled Water
Chicken Strips – $8,49
Served with Strawberry-flavored Yogurt Smoothie, Grapes and choice of Small DASANI® Bottled Water or Small Lowfat Milk
Sides
French Fries – $4.49
Butternut Squash Soup – $4.79
Desserts
Nestlé® Mickey's Premium Ice Cream Bar – $5.99
Nestlé® Mickey's Premium Ice Cream Sandwich – $5.99
Carrot Cake Cheesecake Tart – $6.99
Tart filled with Carrot Cake and Pineapple Jam topped with Vanilla Cheesecake
Zebra Cupcake – $5.99
Chocolate Cake and Chocolate Custard Filling with Chocolate and Vanilla Buttercream
Flamingo Cake – $5.49
Chocolate Spice Cake with Coconut Ganache (Plant-based)
Nyala Brownie – $5.19
Brownie with Peanut Butter Buttercream and a Vanilla Buttercream Stripe
Zebra Domes – $4.59
Chocolate Mousse baked with Amarula Cream Liquor-coated White Chocolate drizzled with Chocolate Stripes and Chocolate Shavings
Chocolate-Chip Mickey Cookie – $3.99
Bakery
Cinnamon Roll – $4.49
Muffin Assortment – $3.99
Daily Assorted Muffins
Croissant – $3.79
Fresh Fruit
Cuties® Mandarins – $4.19
Package of three
Mixed Fruit Cup – $3.99
Apple Slices – $2.79
Sliced Green Apples
Grapes – $2.39
Orange – $2.29
Red Apple – $2.29
Snacks
Dannon® Oikos® Blueberry Greek Nonfat Yogurt – $3.19
Dannon® Oikos® Strawberry Greek Nonfat Yogurt – $3.19
Dannon® Oikos® Vanilla Greek Nonfat Yogurt – $3.19
Dannon® Vanilla Bean Dairy-Free Yogurt – $3.19
Hard-boiled Eggs – $2.99
Pack of two
Dannon® Danimals® Strawberry Smoothie – $2.39
Luna Bar: Chocolate Dipped Coconut – $2.49
Luna Bar: Nutz Over Chocolate – $1.99
Beverages
Resorts Refillable Mug – $21.99
Eligible for refills at Beverage Islands at Quick-service locations at any Disney Resort Hotel during the length of your stay
Assorted Fountain Beverages – $4.29
Monster Energy – $5.29
Simply Orange® – $4.99
Simply Smoothie® Orchard Berry – $4.99
Simply Smoothie® Strawberry-Banana – $4.99
Coca-Cola® Bottle – $4.69
20-oz Bottled Beverage
Diet Coke® Bottle – $4.69
20-oz Bottled Beverage
Gold Peak® Unsweetened Iced Tea Bottle – $4.49
18.5-oz Bottled Beverage
NESQUIK® Chocolate Milk – $4.19
Sprite® Bottle – 20-oz Bottled Beverage – $4.69
Minute Maid® Apple Juice – $3.99
Dasani® Bottled Water – $3.50
Assorted Hot Beverage
Hot Beverage with a choice of Freshly Brewed Joffrey's Coffee™, Twinings of London® Hot Tea, or Hot Cocoa – $3.49
Lowfat Milk – $1.99
Beer
Schöfferhofer Grapefruit Hefeweizen – Germany – $10.75
16 oz Can – Easy and refreshing with light notes of Citrus and Spice with low bitterness
Blue Point Imperial Sunshine Golden Ale – Long Island, NY  – $10.50
16-oz Can – Tangy Blonde Ale with Orange
Cigar City Jai Alai IPA – Tampa, FL – $10.50
16-oz Can – this bigger brother to the Pale Ale employs a significant amount of Hops with high bitterness and Citrus and Floral aroma
Goose Island IPA – Chicago, IL – $10.50
16-oz Can – This bigger brother to the Pale Ale employs a significant amount of Hops with high bitterness and Citrus and Floral aromas
New Belgium Fat Tire Amber Ale – Fort Collins, CO – $10.50
16-oz Can – Toasted caramel malts with a gentle sweetness and balanced addition of hops
Sierra Nevada Tropical Torpedo IPA – Chico, CA – $10.50
16-oz Can – Intense rush of hop flavors and the lush aromas of mango, papaya, and passion fruit
Concrete Beach Havana Lager – Miami, FL – $10.25
16-oz Can – Amber Lager with flavors of Toasted Malt which lends to a crisp finish
Casa Lager – Morocco – $9.75
16-oz Bottle – European-style Pale Lager with aromas of toasted grain
Heineken Lager – Netherlands – $9.25
16-oz Can – Golden-colored with flavors that are dry, clean, crisp, and refreshing with subtle bitterness
Yuengling Traditional Lager – Pottsville, PA – $9.00
16-oz Can – Fuller flavored with a higher malt presence than Pale Lagers
Coors Light Lager – Golden, CO – $8.50
16-oz Can – Golden-colored with Flavors that are Dry, Clean, Crisp, and Refreshing with Subtle Bitterness
Wine
Graham Beck Brut Sparkling Wine – South Africa – $38.00
750 mL Bottle – Light yeasty aromas, with limey fresh fruit on the nose
Jam Jar Sweet Shiraz – South Africa – $25.00
750 mL Bottle – Flavors of ripe berry, followed by dark chocolate undertones
Jam Jar Sweet White – South Africa – $25.00
750 mL Bottle – Flavors of peach, apricot, lychee, and orange blossom
Goats Do Roam Rosé – South Africa – $22.00
750 mL Bottle – Blush pink in color, with notes of rose water and strawberry
indaba Chardonnay, South Africa – $22.00
750 mL Bottle – Bright tropical fruit with flavors of apple, pear, honey, and pineapple with a hint of oak
indaba Chenin Blanc, South Africa – $22.00
750 mL Bottle – Crisp bright notes of pear, golden delicious apple, and tropical fruit
indaba Merlot, South Africa – $22.00
750 mL Bottle – Flavors of cherry, dark berry, and plum backed by subtle mocha and herbal nuances with a delicate minerality
indaba Mosaic Red Blend, South Africa – $22.00
750 mL Bottle – Mosaic Red Blend, a Bordeaux blend, displays flavors of blackcurrant, ripe brambly berry fruit, and dark chocolate with subtle spice notes
Cocktails
Cutwater Gin & Tonic – $11.00
12-oz Can – Old Grove Gin with natrual Cucumber and Grapfruit Flavors
Cutwater Spicy Bloody Mary – $11.00
12-oz Can – Ultra-premium Vodka, All-Natural Tomato Juice and a dash of Spice
Cutwater Vodka Mule – $11.00
12-oz Can – Vodka with natural Ginger, a splash of Bitters, and a hint of Lime
Truly Hard Seltzer Wild Berry – Boston, MA – $9.75
16-oz Can – Low Carb flavored Hard Seltzer, naturally sweet flavors of juicy California Strawberries, Raspberries and Marion Blackberries
** The Mara Menu and Prices are Subject to Change Without Notice **