Magic Kingdom | Liberty Square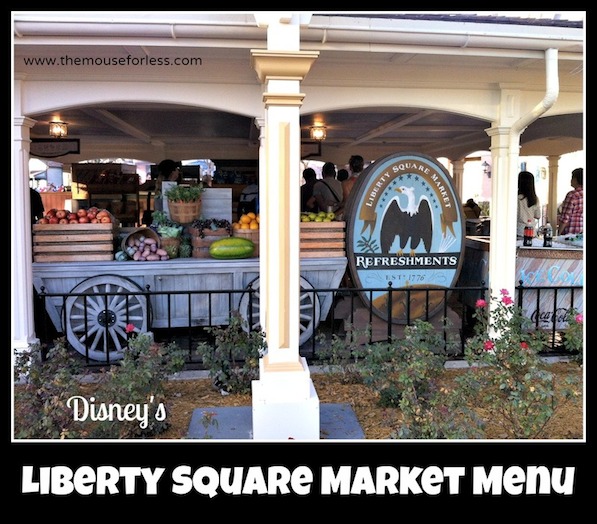 Reviews

Stop by Liberty Square Market for a baked potato, fresh fruit and other healthy snacks.
Restaurant Info: American, Snacks, $ – $14.99 and under per adult
Find out how you can save money on dining at Walt Disney World by using one of Disney's Dining Plans.
Liberty Square Market All-Day Menu
Menu Date: 04/2016
Feature Items
Hot Dog – with Sauerkraut – $5.49
Baked Potato – Served with sour cream, cheese & butter – $3.39

Baked Sweet Potato – $3.39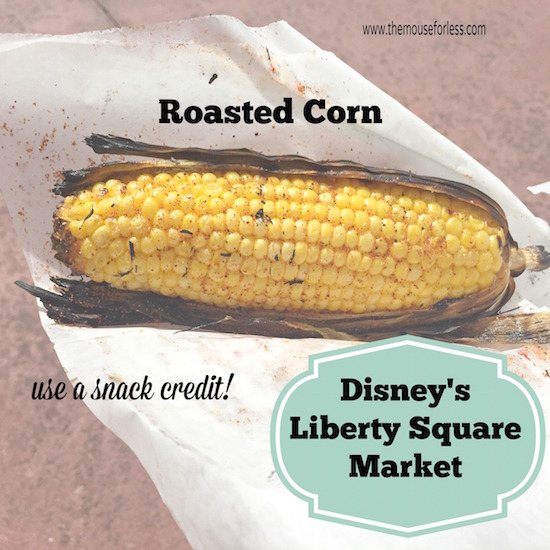 Roasted Corn (seasonal) – $4.29


Add a Flavored Seasoning: Barbecue Spice, Italian Seasoning Blend, Lemon Pepper Blend, Smoked Paprika and Salt Blend or Jamaican Jerk Spice.
Fresh Fruit & Veggies (varies seasonally)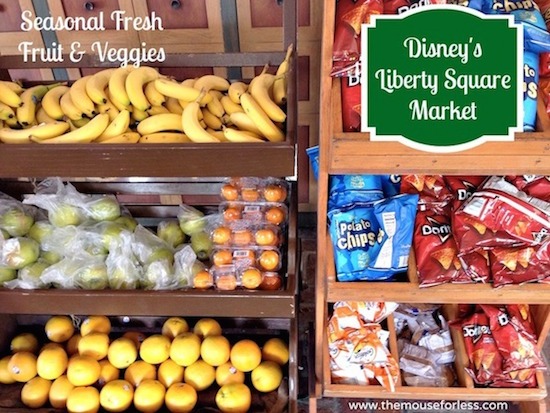 Apple Slices – $2.79

Whole Apple (waxed) – $1.99

Orange (waxed) – $1.99

Banana – $1.99

Grapes – $3.79

Mixed Fruit – $3.79

Pineapple Cup – $3.99

Pickle – $1.59

Watermelon (seasonal) – $3.39

Carrot and Celery Sticks – $3.99

Snack Items
Ocean Spray Craisins Dried Cranberries – $3.99

Ocean Spray Craisins Fruit and Nut Trail Mix – $3.99

Assorted Chips – $2.99

– $6.69
Chocolate-Chip Cookies – $2.99

Greek Yogurt – $3.19

A selection of grab & go items such as Goldfish crackers, Cracker Jacks, etc are also available, as well as a selection of gluten-free items such as Rice Chips, Caramel Popcorn, Chocolate Chip Cookies and more
Beverages
Minute Maid Frozen Slush – $3.99

Slush with Horseman's Stein Souvenir Cup – Coke, Blue Raspberry, Cherry, or Raspberry Lemonade – $9.99
Coca-Cola Bottled Beverage – $2.99

Honest Bottled Tea – Peach White Tea, Pomegranate Blue, or Honey Green Tea – $3.99

Not Too Sweet Tea – $3.99

Ruby Red Grapefruit Juice – $3.19

Cranberry Apple Raspberry – $3.19

POWERade – $4.00

Orange Mango Sparkling Water – $3.75

Seagram's Sparkling Water – $2.79

Dasani Bottled Water – $2.75

smartwater – $4.25


= Snack on the Disney Dining Plan
** Menu and Prices are Subject to Change Without Notice **