Epcot | World Showcase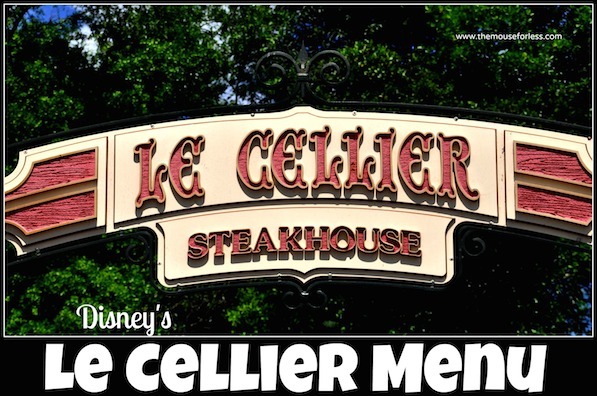 Lunch and Dinner Menu   Kids' Menu
Step down into the cozy confines of the cellar of a magnificent Canadian château for a sensational sizzling steakhouse experience. Le Cellier Steakhouse menu items change seasonally. Featuring Beer and Wine from Canada. Lunch and Dinner at Le Cellier requires 2 table service credits when using the Disney Dining Plan.
Restaurant Info: Steakhouse, Lunch/Dinner, A la carte, $$$ – $35.00 to $59.99 per adult
Find out how you can save money on dining at Walt Disney World by using one of Disney's Dining Plans.
Le Cellier Steakhouse Lunch and Dinner Menu
Menu Date: 03/2018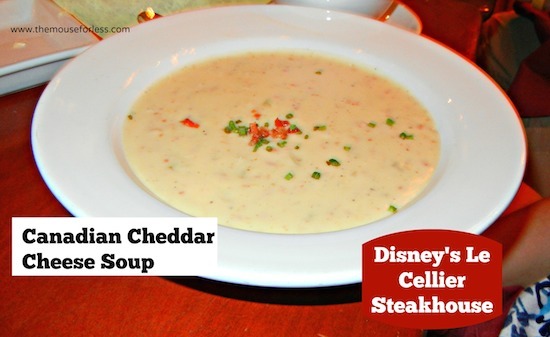 Appetizers
From the Larder – House-made Meats, Fish, Pickles, and Breads – $22.00
Canadian Cheddar Cheese Soup – Moosehead Beer and Nueske's Applewood-smoked Bacon – $11.00
Prince Edward Island Mussels – $15.00
Sweet and Spicy Pork Belly – Cider-braised Pork Belly, Parsnip Silk, Apple Kimchi, Cider-Maple Reduction – $15.00
Steak Tartare – USDA Prime Beef, Brandy, Truffle-scented 62C Poached Egg, Fingerling Potato Crisps, Pickled Vegetables, Bone Marrow Snow – $15.00
Iceberg Lettuce – Avocado Green Goddess, Lemon-Pepper Cucumbers, Toy Box Tomatoes, Edamame, Puffed Farro Wheat, Pecorino – $13.00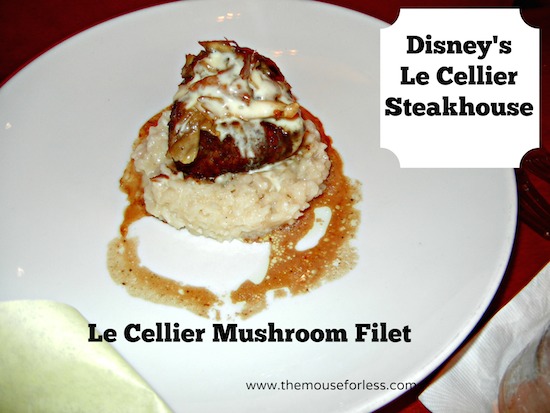 Entrees
Le Cellier Filet Mignon – AAA Canadian Beef Tenderloin, Mushroom Risotto, Heirloom Toy Box Tomatoes, Truffle-Butter Sauce – $54.00
Poulet Rouge – Andouille-stuffed Chicken Roulade, Autumn Hash, Acorn Squash Purée, and Ginger-spiced Cranberry Glaze – $36.00
Black Angus Rib-Eye – Crisp Fingerling Potatoes, Nueske's Bacon Vinaigrette, Frisée, Heirloom Carrots, Cabernet Butter – $54.00
Porterhouse Steak for Two – Loaded Mashed Potatoes, crispy Onions, Lobster Macaroni and Cheese, Béarnaise Sauce, blue Cheese Fondue – $119.00
USDA Prime New York Strip – Escargots à la Bourguignonne, Brioche Custard, Baby Rainbow Carrots, Bercy Butter – $50.00
Tomato Two-Ways – Ratatouille-stuffed Tomato Ravioli, Maple-Polenta-Tomato Tart, Red Pepper Sauce, Pecorino Romano – $29.00
Pan-roasted Wild King Salmon – Corn Three Ways, Micro Sunflower, Crown Maple-Whisky Glaze – $45.00
Enhancements
Creamed Spinach – $9.00
Lobster Mac & Cheese – $18.00
Loaded Mashed Potatoes – $9.00
Truffle Fries – $9.00
Smoke Macaroni & Cheese – $10.00
Seared Scallops – $16.00
Poutine Offerings
Le Cellier Signature Poutine – Fresh-cut French Fries, Canadian Cheddar, Truffles, Red Wine Reduction – $10.00
Montreal Poutine – Fresh-cut French Fries, Montreal-smoked Brisket, French Onion Gravy, Gruyère Cheese, Pickled Vegetable Slaw, Mustard-Beer Sauce – $13.00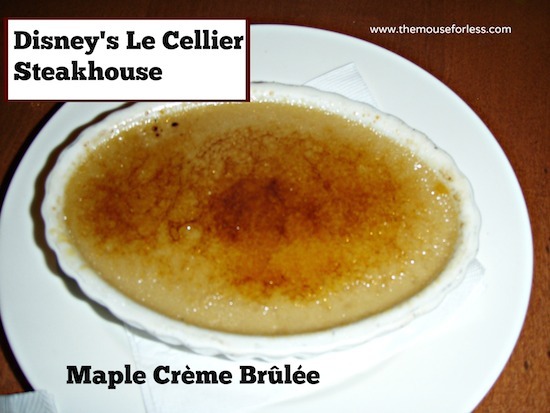 Desserts
Chocolate Whisky Trifle – Malted Milk Panna Cotta, Caramel Popcorn, Whisky-Caramel Sauce, Buttered Popcorn Gelato – $11.00
Nanaimo Pie – Chocolate-Hazelnut Crust, White Chocolate Bar, House-made Coconut Ice Cream – $11.00
Strawberry-Basil Float – Strawberry-Basil Sorbet, House-made Strawberry Syrup – $9.00
Camembert Cheesecake – Double-Cream Cheesecake, Cherry Gelée, Pistachio Cream Florentine – $11.00
Chocolate Mousse Maple Leaf (No Sugar Added) – Whipped Cream, Sesame Tuile – $11.00
Maple Crème Brûlée – $9.00
Featured Wines
Coudoulet de Beaucastel Grenache Blend, Côtes du Rhone – $16.00
Château Beau-Site Bordeaux Blend, Saint-Estephe – $19.00
Frank Family Vineyards Cabernet Sauvignon, Napa Valley – $19.00
Savary Chardonnay, Chablis – $16.00
Le Cellier Icewine Flight – Meeker FroZin, Inniskillin Vidal, Neige Apple – $20.00
Le Cellier Steakhouse Kids' Menu
Menu Date: 03/2018
Kids' Appetizers
Cheddar Cheese Soup – $4.00
House Green Salad – with Fat-free Ranch Dressing – $5.00
Kids' Mickey Check Meals
All Meals served with choice of Lowfat Milk or small Dasani Water

Grilled Chicken – served with Brown Rice, Green Beans, and Fresh Fruit Salad – $15.00

Seared Salmon – served with Brown Rice, Green Beans, and Fresh Fruit Salad – $17.00

 Mickey Pasta – with Marinara Sauce, Vegetables, and fresh Fruit Salad – $14.00

Meets Disney Nutrition Guidelines for Complete Meals without substitutions.
Kids' Meals
Meals served with choice of Small Lowfat Milk, Small Dasani Water, or Small Minute Maid Apple Juice
Mickey Macaroni & Cheese – with White Cheddar Cheese Sauce – $9.00
Grilled Cheese – with French Fries and Vegetables – $9.00
Grilled Sirloin – with French Fries and Vegetables – $12.00
Kid's Desserts
Ice Cream Sundae – $7.00
Fruit Salad – $5.00
Chocolate Mousse – $8.00
Kids' Specialty Drink
Toy Story 3 or Little Mermaid Punch – Minute Maid® Light Lemonade Punch served in a souvenir Toy Story 3 or Ariel cup with a glowing Buzz Lightyear or Ariel Clip-on Light – $7.00
** Le Cellier Steakhouse Menu and Prices are Subject to Change Without Notice **