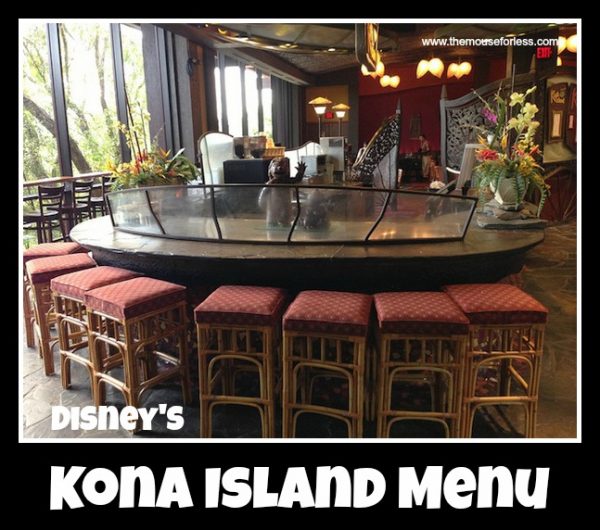 Coffee grown in Kona, Hawaii and roasted in Orlando, Florida – Kona Island at Disney's Polynesian Resort serves the perfect "morning" cup along with assorted pastries daily. In the evenings, say aloha to made-to-order sushi and sashimi at this quick service bar.
Kona Island is located in Disney's Polynesian Village Resort.  Find more Walt Disney World dining locations on our Walt Disney World menus page.
Restaurant Info: American, Beverage/Snack/Sushi, $
Find out how you can save money on dining at Walt Disney World by using one of Disney's Dining Plans.
Breakfast Menu  Lunch & Dinner Menu

Planning a Walt Disney World Vacation?
For a Free no-obligation quote, contact our sponsor
The Magic For Less Travel
. The Magic For Less Travel is an Authorized Disney Vacation Planner and has been helping guests plan magical vacations since 2002. Receive the best prices and free travel planning services. Their fee-free services will help you save time, money, and stress while planning a vacation designed around you and your needs!
Kona Island Breakfast Menu
Menu Date: 2023
Coffee Bar
Kona Blend Coffee Press Pot for Two – $9.50
Kona Blend Coffee – $3.99
regular and decaf freshly brewed
Café Americano – small – $3.69
large – $3.99
iced – $3.99
Espresso – single – $3.99
Espresso – double – $4.99
Café Latte – small – $4.79
large – $5.49
iced – $5.29
Café Mocha – small – $4.99
large – $5.49
iced – $5.49
Cappuccino – small – $4.99
large – $5.49
Caramel Macchiato – $5.19
Iced Caramel Macchiato – $5.69
Twinnings of London Tea – $3.79
Variety of flavors available in regular and decaf
Skinny Latte – small – $4.99
large – $5.49
iced – $5.49
Pastries
Bacon, Cheddar, and Egg Croissant – $6.99
Cinnamon Roll – $4.49
Mocha Kona, Blueberry, or Bran Muffin – $3.99
Seasonal Fruit Danish – $4.49
Chocolate-Hazelnut Croissant – $4.29
Coconut-Macadamia Nut Tartlet – $4.79
Cranberry Scone – $3.79
Banana Nut Muffin – $3.99
Cinnamon-Sugar Doughnut – Gluten-Friendly – $3.75
Alcoholic Beverages
Freshly Brewed Joffrey's Coffee™ – $12.00
Our Exclusive Kona Blend with Bailey's Irish Cream (Regular and Decaf)
Beverages
Minute Maid Apple Juice – $2.99
Simply Orange Orange Juice – $4.99
Milk – $3.69
2%, Skim or Chocolate
Nestle Hot Chocolate – small – $3.19
large – $3.50
Dasani Bottled Water – $3.75
Smartwater – $5.75
Assorted Bottled Beverages
Kona Island Lunch/Dinner Offerings
Sushi – To Go
Spicy Tuna Roll – $18.00
California Roll – $18.00
Coffee Bar
Coffee Bar
Kona Blend Coffee Press Pot for Two – $9.50
Kona Blend Coffee – $3.99
regular and decaf freshly brewed
Café Americano – small – $3.69
large – $3.99
iced – $3.99
Espresso – single – $3.99
Espresso – double – $4.99
Café Latte – small – $4.79
large – $5.49
iced – $5.29
Café Mocha – small – $4.99
large – $5.49
iced – $5.49
Cappuccino – small – $4.99
large – $5.49
Caramel Macchiato – $5.19
Iced Caramel Macchiato – $5.69
Twinnings of London Tea – $3.79
Variety of flavors available in regular and decaf
Skinny Latte – small – $4.99
large – $5.49
iced – $5.49
Beverages
Minute Maid Apple Juice – $2.99
Simply Orange Orange Juice – $4.99
Milk – $3.69
2%, Skim or Chocolate
Nestle Hot Chocolate – small – $3.19
large – $3.50
Dasani Bottled Water – $3.75
Smartwater – $5.75
Assorted Bottled Beverages
Miniature Desserts – To Go
Tiramisu – $5.00
Chocolate Dome – $6.29
White and Dark Chocolate Mousse Dome with Graham Cracker Crust and Blue Mickey Spirals
S'more – $5.00
Graham Cracker, Chocolate Pot de Crème, Marshmallow Fluff, Marshmallow
Key Lime – $5.00
Graham Cracker, Key Lime Curd, Passion Fruit Curd, Orange Marmalade, Passion Fruit Bulba, Chocolate Swirl
Coconut Tapioca – $5.00
Tapioca, Pineapple Compote, Fresh Fruit
Seasonally Themed Cupcake – $6.29
No Sugar Added Mango Cheesecake – $5.00
Moana Cupcake – $6.49
Mickey Chocolate and Vanilla Swirl Cupcake – $5.99
Assorted Chocolate-covered Strawberries – $4.25
Assorted Chocolate-covered Bacon – $4.25
** Kona Island Menu and Prices are Subject to Change Without Notice **