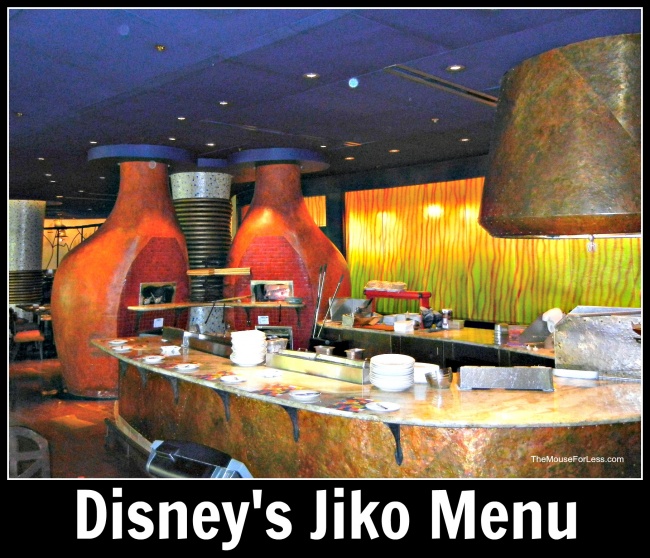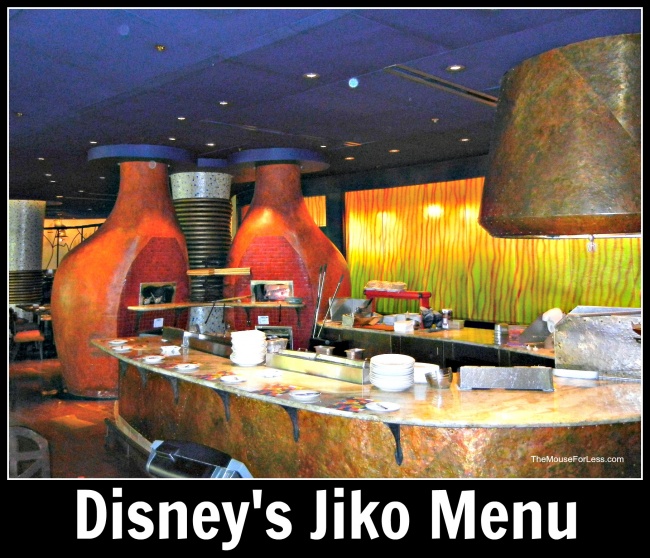 Relax and enjoy the warm, soothing colors of an African sunset in a beautiful setting as you savor a truly unique culinary experience with a modern African flair at Jiko.
Jiko is located in Disney's Animal Kingdom Lodge Resort.  Find more Walt Disney World dining locations on our Walt Disney World menus page.
Restaurant Info: African, Dinner A la carte, $$$ – $35 to $59.99 per adult
Find out how you can save money on dining at Walt Disney World by using one of Disney's Dining Plans.
With one of the finest collections of South African wines in the U.S., sommeliers at Jiko – The Cooking Place at Disney's Animal Kingdom Lodge love sharing tastes. Each Wednesday from 3-4 p.m., take a journey through the wine regions of South Africa and sample three delicious vintages paired with cheese and fruit. Cost is $25 plus tax and gratuity, and reservations can be made at 407-938-7149.
Dinner Menu Kids Menu Specialty Beverages

Planning a Walt Disney World Vacation?
For a Free no-obligation quote, contact our sponsor
The Magic For Less Travel
. The Magic For Less Travel is an Authorized Disney Vacation Planner and has been helping guests plan magical vacations since 2002. Receive the best prices and free travel planning services. Their fee-free services will help you save time, money, and stress while planning a vacation designed around you and your needs!
Jiko Dinner Menu
Menu Date: 08/2023
Appetizers
Jiko Salad
Gem Lettuce, Quinoa, Radish, Petite Vegetables, Market Fruit, Tangy Cashew Cream, and Lemon-Ginger Vinaigrette (Plant-based) – $16.00
Diver Scallop and Moraccan Snail
Seared Scallops with Confit Snails, Butternut Nhopi, Fennel Slaw, Fragrant Broth – $18.00
Braaied Wild Boar Tenderloin*
Creamy Pap, Chakalaka Tomatoes and Herb-smoked Oil – $19.00
Duck Confit and Honey-Raisin Flatbread
Preserved Duck, Rocket, Toasted Chickpeas, Mozzarella, Plump Raisins, Harissa and Spiced Honey – $17.00
Bevanda Tomato & Corn
Tomato Water with Corn Silk Cream, Roasted Corn, Seasonal Tomatoes, Green Apple Sorrel – $15.00
Entrées
Merguez-spiced Lamb Shank
Braised Lamb, Minted Peas, Lemon Potatoes, and Roasted Carrots – $49.00
Oak-grilled Filet Mignon*
Four-Cheese Macaroni, Seasonal Vegetables, Chocolate-Red Wine Demi-glace – $54.00
Cocoa-crusted Venison Loin
Parsnip Silk, Roasted Mushrooms, Asparagus, Cocoa Nibs, Red Wine Demi-glace – $52.00
Sorghum Chicken
Sumac Roasted Breast, Carolina Gold Rice infused with Grains of Paradise, Dukka-dusted Broccolini, Peach Gastrique – $38.00
Sustainable Fish
Pan-seared Sustainable Fish, Preserved Lemon Chermoula, Tomato Butter, Cape Gooseberries, Mustard Caviar – $48.00
Botswanan Seswaa Short Rib
Slow-cooked Beef Short Rib, Hominy, Sea Peas, and Carrots – $52.00
Injera Basket
Seasonal Plant-based Stews featuring House-made Injera (Plant-based) – $38.00
Seafood Tagine
Saffron-scented Couscous, Octopus, Scallops, Squid and Prince Edward Island Mussels – $51.00
Enhancements
Cote d'lvoire Octopus Salad
Confit Octopus Salad with Coconut, Mango Pearls, Green Tomatoes, Min – $22.00
Bobotie Mac & Cheese
Four Cheeses, Spiced Beef, Almonds, Raisins, Kachumbari and Red Wine Reduction – $17.00
Zulu Oxtail Samp and Beans
Cracked Hominy, Sea Peas, Fragrant Masala and Braised Oxtail – $14.00
Desserts
Dumela
Creamy Chocolate Sorbet, Hibiscus Cake, Passion Fruit sauce, Mango Salsa, Chocolate Lime Soil – $14.00
Potjie Pot
Chocolate Custard, Lemon Olive Oil Cake, Whipped Caramel, Cocoa Nib Crunch, Cherries – $15.00
Melktert
African Milk Custard Tart seasoned with Cinnamon and Cardamom accompanied by Fresh Fruit – $12.00
Chai Spiced Ice Cream, No Sugar Added
Almond Orange Crumble, Coconut Milk Whipped Cream – $12.00
Malva Pudding
Melktert Ice Cream, Kataifi, Kanu Tuile and Cabernet Gelée – $13.00

Jiko Kids' Menu
Menu Date: 08/2023
Appetizers
Fresh Fruit – $5.00
Seasonal Garden Salad – $5.00
Seasonal Vegetables and Dip – $5.00
Entrees – Choose 1
Entrees served with choice of 2 side selections as well as a choice of small Lowfat Milk, small Dasani Water Bottle, or small Minute Maid Apple Juice.
Market Fresh Fish – $18.00
Grilled Chicken Breast – $15.00
Shrimp with Kushari – $17.00
Steak Sosatie – $15.00
Macaroni & Cheese – $10.00
Cheese Pizza with Tomato Sauce – $10.00
Side Selections – Choose 2
Seasonal Vegetables
Ancient Grains
Fresh Fruit
Macaroni & Cheese
Not-So-Hidden-Mickey Fruit & Yogurt
Vanilla Ice Cream
African Shield
Pumbaa's Dessert Grub
Mickey Mouse Mousse 
Specialty Beverages
Loose Leaf Specialty Teas
Mountain Berry
Loose-leaf Mountain Berry Herbal Tea is a fruity super food blend of Saskatoon Berries, Currants, Hibiscus, and rosehips – $9.00
Organic Assam
Grown in the mountains of Assam this is a fine leaf tea with strong full bodied flavors – $9.00
Shanghai Rose
Fragrant Red Rose Petals and the sweet flavor of lychee in the rose petal Black Tea – $9.00
Masala Chai
Complex blend of top-quality, freshly hand-ground spices: cardamom, cinnamon, ginger, pepper, and cloves – and Indian black tea. – $9.00
Herbal Infusions
Nobo Whole Fruit
A superfood sensation, blend of wild strawberries, aromatic blackberries, and raspberries is rich and bright. Refined with a mélange of red and black currants. – $9.00
Harmony
Organic peppermint leaves, organic chamomile flowers, orange blossoms, and allspice. A fresh and minty herbal blended for complexity, balanced with the fragrant notes of allspice. – $9.00
Honey Vanilla Rooibos
Caffeine-free Rooibos is Hand-blended with flavors of honey and vanilla. – $9.00
Kenya AA Coffee
Large Kenyan Press Pot Coffee
Featuring Freshly Brewed Joffrey's Coffee™ – $9.00
Small Kenya Press Pot Coffee
Featuring Freshly Brewed Joffrey's Coffee™ – $6.00
Dessert Wines
Klein Constantia Vin de Constance Constantia '08 – Bottle $110.00; Glass – $24.00
Groot Constantia Grand Constance Constantia '10 – Bottle $85.00
After-Dinner Drinks
Nutty African
Amarula Liqueur, Frangelico Liqueur and Coffee topped with Whipped Cream – $15.50
Keoke Coffee
Brandy, Kahlúa Liqueur, Bols Dark Crème de Cacao and Coffee topped with Whipped Cream – $13.50
Zebratini
Captain Morgan Original Spiced Rum, Godiva White Chocolate Liqueur, Frangelico Liqueur, Amarula Liqueur and a shot of Espresso in a Chocolate Zebra-striped Martini Glass – $15.50
Cape Town Coffee
KWV Van der Hum Liqueur, Kahlúa Liqueur and Coffee topped with Whipped Cream – $14.50
Rémy Martin Louis XIII – 0.5 oz 90.00 | 1.0 oz 175.00 | 1.5 oz 250.00 | 2.0 oz 300.00
Assorted Brandies, Ports, Malts, and Liqueurs – 2 oz pours – $12.00 – $40.00
** Jiko Menu and Prices are Subject to Change Without Notice **