Resort Restaurants | Animal Kingdom Lodge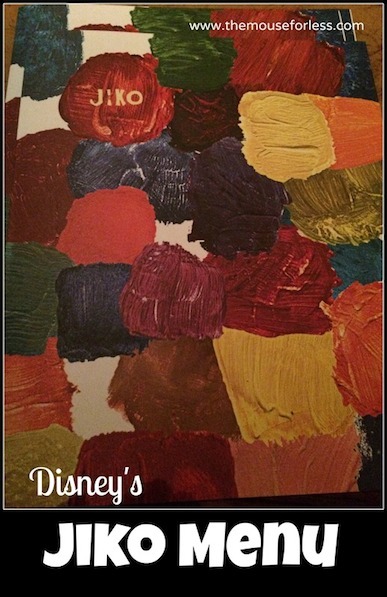 Dinner Menu   Kids' Menu  Reviews

Relax and enjoy the warm, soothing colors of an African sunset in a beautiful setting as you savor a truly unique culinary experience with a modern African flair at Jiko.
Restaurant Info: African, Dinner A la carte, $$$ – $35 to $59.99 per adult
Find out how you can save money on dining at Walt Disney World by using one of Disney's Dining Plans.
With one of the finest collections of South African wines in the U.S., sommeliers at Jiko – The Cooking Place at Disney's Animal Kingdom Lodge love sharing tastes. Each Wednesday from 3-4 p.m., take a journey through the wine regions of South Africa and sample three delicious vintages paired with cheese and fruit. Cost is $25 plus tax and gratuity, and reservations can be made at 407-938-7149.
Jiko Dinner Menu
Menu Date: 05/2016
Appetizers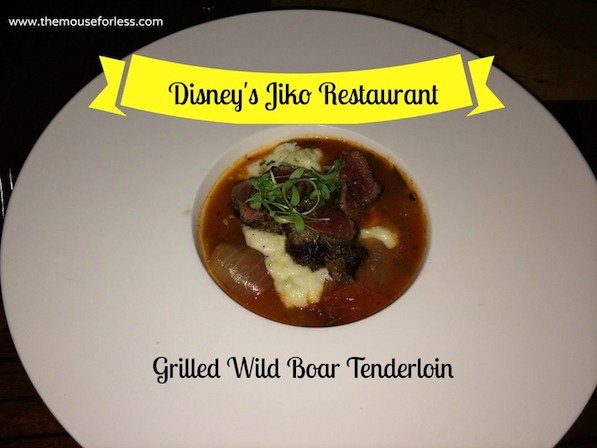 Grilled Wild Boar Tenderloin – Mealie Pap, Chakalaka, Truffle Oil, and Micro Cilantro – $19.00
Crispy Duck "Bobotie" Roll – Cucumber Raita and Green Mango Atjar – $12.00
Taste of Africa – African-inspired Dips with Khobz, Poppy Seed Lavash, and House-made Naan – $10.00
Inguday Tips in Brik – Mushroom, Spinach, and Cheese in Crispy Turisian Filo with Apples and Curry Vinaigrette – $10.00
Pink Pigeon Rum-cured Wild Salmon – Salmon Confit, Onion Caramel, Horseradish Crème, and Lavender Sea Salt – $17.00
Artisanal Cheese Selection – Three tasting portions with accompaniments from around the world – $16.00
Flatbreads
Peri Peri-roasted Chicken – Lime Chakalaka, Lamb Chopper Cheese, and Pickled Sweet Bell Peppers – $11.00
Roasted Cauliflower – Bhuna Masala, Roasted Cipolini Onions, Lamb Chopper Cheese, and Garlic Gremolata – $11.00
Soups and Salads
Jiko Salad – Heirloom Apples, Cape Gooseberries, Pomegranate, Point Reyes Bay Blue, Candied Walnuts, and Maple-Cider Vinaigrette – $15.00
Tomato Salad – Farmers Bounty Greens, Purple Haze Goat Cheese, Oryx Desert Salt, and Tunisian Olive Oil – $15.00
Winter Squash Soup – Pumpkin Seed Crème Fraîche, Apple-Cinnamon Koekie, and Maple-Sage Reduction – $12.00
Entrées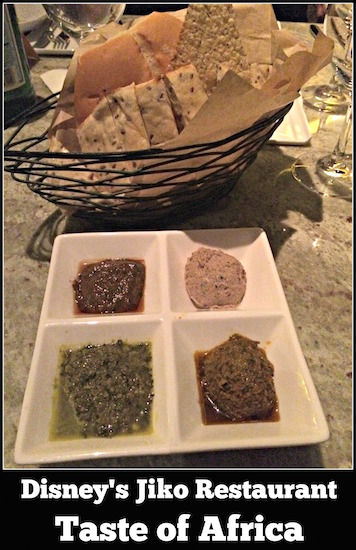 Oak-grilled Filet Mignon – Jumbo Asparagus, Spoon Bread, and South African Red Wine Sauce – $51.00
Harrisa Chicken – Joyce Farms Roast Chicken, Vegetable Medley, Cinnamon Couscous, and Saffron Broth – $34.00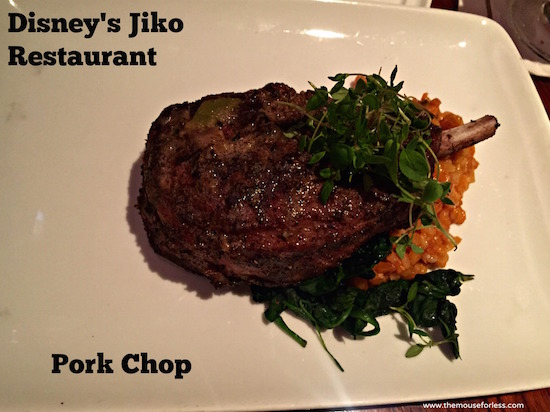 Nigerian-spiced Pork Shank – Confit Vegetables, Ancient Grains Risotto, and Apple Butter – $40.00
Garam Masala-spiced Sea Scallops – Warm Applewood Bacon and Spinach Salad, and Fennel-Carolina Gold Pilau – $41.00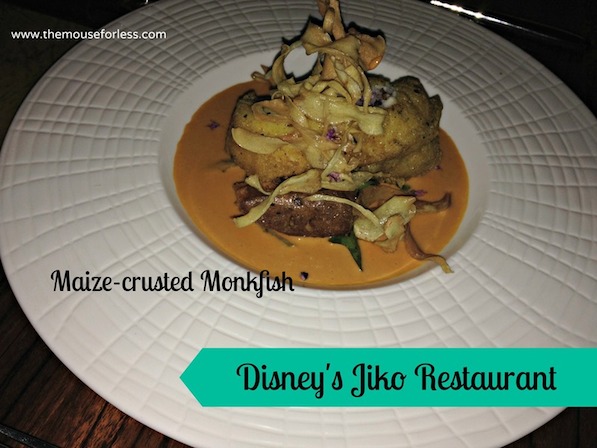 Maize-crusted Local Grouper – Vegetables of the Moment and Tomato-Butter Sauce – $45.00
Vegetable and Tofu Sambusas – Mint-Coconut Chutney, Coriander-Tarmarind Yogurt, and Saffron-Cashew Rice – $30.00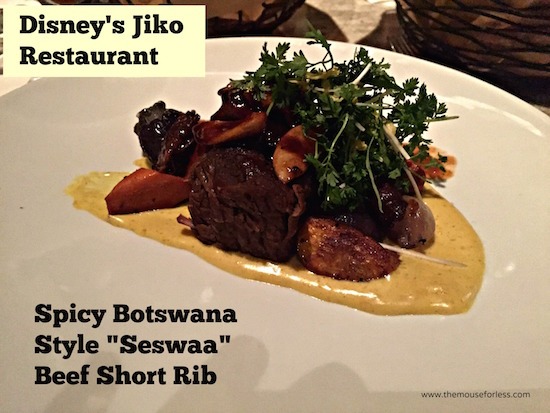 Botswana-style "Seswaa" Beef Short Rib – Cassava-Potato Purée, Sambal, and Mushrooms – $48.00
Chermoula-rubbed Colorado Lamb Chops – Chickpea-Cumin Dumplings, Wilted Baby Spinach, Roasted Tiny Vegetables, and Fig-Port Wine Reduction – $52.00
Enhancements
Cold Water Lobster Tail – Madagascar Vanilla Bean Butter-poached Lobster and Preserved Lemon – $17.00
Braai Macaroni & Cheese – Chakalaka, House-made Boerewors Sausage, Provolone, Fontina, Gruyère, Asiago – $14.00
Desserts
Valrhona Chocolate Mousse and Hazelnut Daquoise Cake – Ghana Chocolate Glaze, Plant City Strawberries, and Cahaba Clubs Basil – $12.00
Avocado Custard Cake – Blood Orange Kulfi, Honey-Sage Sauce, and Pumpkin Brittle – $11.00
Malva Pudding – Toasted Meringue, Lemon Curd, and Wild Strawberries – $12.00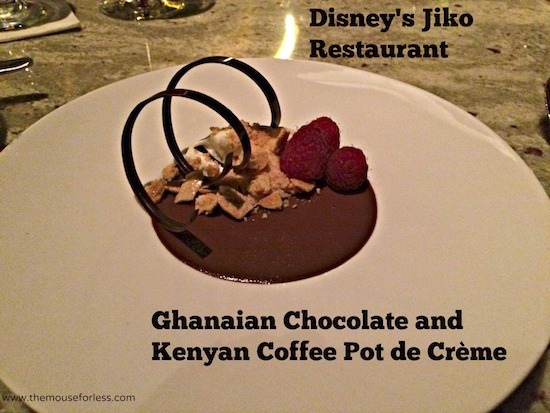 Ghanaian Chocolate and Kenyan Coffee Pot de Crème – Almond Crème with Almond Crunch and Raspberries – $11.00
Pistachio and Cherry Trifle – White Chocolate Crémeux, Pistachio Cake, and Cherry Compote. This item is produced with No Sugar Added – $10.00
Artisanal Cheese Selection
Cheeses will vary. Enjoy a selection of sheep and goat cheeses from around the world selected by our chefs and uniquely paired with fig toast, house-made jams, and marinated fruits. Our selection changes daily based on availability and levels of ripeness – $16.00
Cremont – This cheese is named for the "Cream of Vermont". It combines local fresh cow's milk and goat's milk, and a hint of Vermont cream. This cheese originally crafted in the bucolic Green Mountains of Vermont, combines nutty taste with a creamy texture. The fresh curd of Cremont is shaped by hand and then aged for two weeks to develop the unique cream-colored rind and luxurious, smooth interior
SeaHive – This cheese is produced by Beehive Cheese Company. Each round of cheese is rubbed with local wildflower honey and Redmond Sea Salt, harvested from an ancient seabed near Redmond, Utah. SeaHive is made from the milk of Jersey cows in northern Utah. This is a full-bodied cheese with a smooth, creamy texture. SeaHive gains its unique flecks of color from more than 50 natural trace minerals
Bayley Hazen Blue – This natural-rind blue cheese is named for the iconic Bayley Hazen Military Road that traverses the Northeast Corridor of the US and Canada. The usual peppery spice character associated with traditionally produced blue cheese takes a backseat to sweet, nutty, and grassy flavors. The breakdown of fats and proteins during ripening often show a distinct licorice flavor
Jiko Kids Dinner Menu
Menu Date: 11/2015
For Kids Ages 9 and Under
Appetizers and Sides
Seasonal Garden Salad – $5.00
Seasonal Fruit – $5.00
Seasonal Vegetable and Dip – $4.00
Mickey Check Meals
Served with choice of small Lowfat Milk or small Bottle Water
Grilled Chicken Breast – With Ancient Grains and Vegetables, and Seasonal Fruit – $14.00
Market-fresh Fish – With Ancient Grains and Vegetables, and Seasonal Fruit – $17.00
Pan-seared Scallops – With Ancient Grain and Vegetables, and Seasonal Fruit – $18.00

Meets Disney Nutrition Guidelines for Complete Meals without substitutions.
Kids' Choice Meals
Served with choice of Lowfat Milk, small Bottled Water or Juice
Cheese Pizza – With Tomato Sauce – $9.00
Macaroni & Cheese – With White Cheese Sauce – $9.00
Market-fresh Fish – With Ancient Grains and Vegetables – $13.00
Pan-seared Scallops – With Ancient Grains and Vegetables – $13.00
Grilled Chicken Breast – With Ancient Grains and Vegetables – $10.00
Grilled Steak – With Ancient Grains and Vegetables – $12.00
Soft drinks available upon request
Kids' Desserts
No So Hidden Mickey Fruit and Yogurt – Seasonal Fruit dipped in Chocolate, Kulfi, and Berry Yogurt – $5.00
Puff Puff Dippers – Nigerian Doughnuts with Caramel, Chocolate Mousse, and Strawberry Sauce for Dipping – $6.00
Tanzanian Chocolate Brownie – Safari Mickey Brownie with Madagascar Vanilla Bean Ice Cream – $6.00
Vanilla Ice Cream – $5.00
** Menu and Prices are Subject to Change Without Notice **