Disney's Animal Kingdom | Africa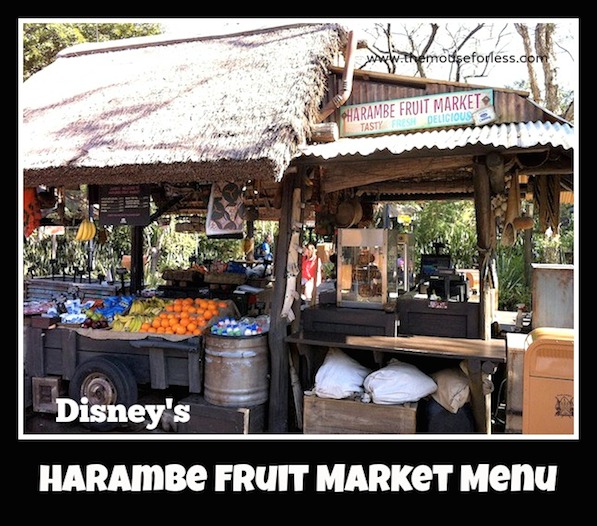 Offering assorted fruit, beverages and snacks, you'll find the Harambe Fruit Market located right in the middle of Harambe, Africa.
Restaurant Info: American, Snacks, $ – under $14.99 per adult
Find out how you can save money on dining at Walt Disney World by using one of Disney's Dining Plans.
Harambe Fruit Market Menu
Menu Date: 03/2016
Fresh Fruit
Fresh Fruit Cup – $3.79

Waxed Apple – $1.99

Orange – $1.99

Banana – $1.99

Pineapple Spears – $3.29

Watermelon – $3.39

Clementines – $3.99

Strawberries – $2.49

Prepackaged fruit, such as fresh-cut pineapple spears, watermelon, strawberries, and mango halves will vary with the season.
Snacks
Elephant Ear Pastry – $5.59

Apples and Caramel – $3.69

Fruit & Cheese – $5.69

Carrots & Celery with Ranch Dressing – $3.69

Mickey Pretzel – $4.69

Dannon Oikos Greek Yogurt – $3.19

Assorted Chips – $3.49

Ocean Spray Craisins Dried Cranberries – $1.99 small

Ocean Spray Craisins Dried Cranberries – $3.99 large

Ocean Spray Craisins Trail Mix – $3.99

Beverages
Coffee – $2.49

Nestlé Hot Cocoa – $2.49

Assorted Bottled Beverages – $2.99

PowerAde – $3.79

Apple Juice – $2.79

Simply Orange Juice – $3.99

Dasani Bottled Water – $2.75

Smart Water – $4.25

Vitamin Water – $3.59


= Snack on the Disney Dining Plan
** Menu and Prices are Subject to Change Without Notice **