Resort Restaurants | Boardwalk Resort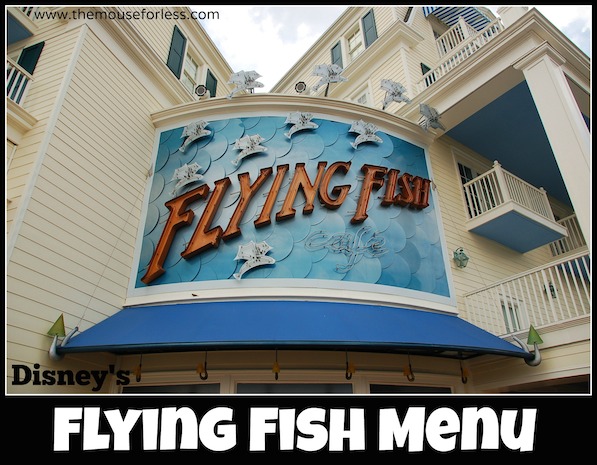 Dinner Menu   Kids' Dinner Menu  Reviews

Get hooked on the fabulous fish and sizzling steaks at this restaurant featuring creative cuisine. Elements of the Flying Fish menu change daily.
Restaurant Info: Seafood, Dinner $$-$$$
Find out how you can save money on dining at Walt Disney World by using one of Disney's Dining Plans.
Special Notice: January 31, 2016, will be the last day to dine at Flying Fish Café as the signature restaurant will close to be reimagine. When it reopens, guests can expect a whole new look and new menu (but no worries, the potato-wrapped snapper). The reimagined dining room will still have an onstage kitchen and an airier design, with more room for the popular Chef's Counter and wine dinners.
Flying Fish Café Dinner Menu
Menu Date: 07/2016
Appetizers
Flying Fish Café Signature Crab Cake – Vegetable Slaw, Red Pepper Coulis, and Ancho Chile Rémoulade – $17.00
Chardonnay-steamed Icy Blue Mussels – Fennel, Chiles, Pesto Crèma, Ciabatta Crostini – $19.00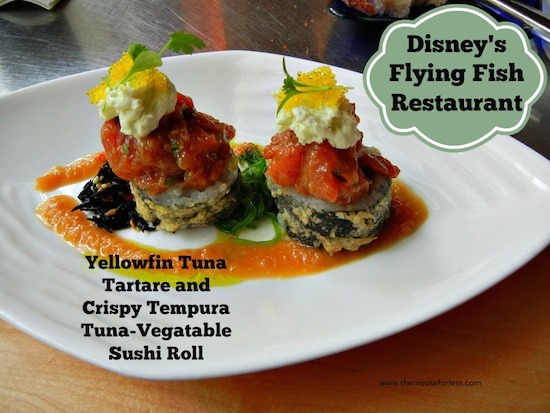 Yellowfin Tuna Tartare and Crispy Tempura Tuna-Vegetable Sushi Roll – Sweet-and-Spicy Umami Sauce – $19.00
Vegetarian Sushi Roll – Tofu, Avocado, Radish, Carrot, Cucumber-Seaweed Salad, Asian Chile Crema, Piquant Asian Ketchup – $12.00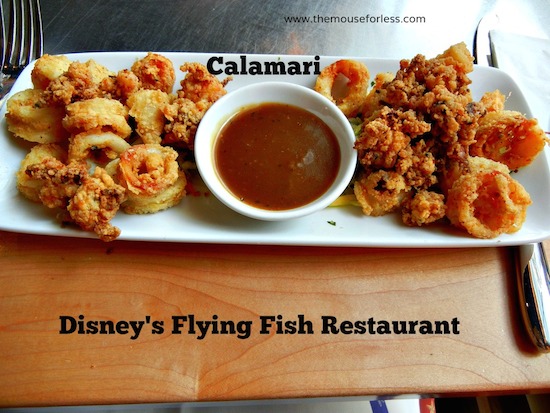 Crispy Togarashi-scented Calamari and Florida Rock Shrimp – Asian-inspired Dipping Sauce – $16.00
Tasting of Worldly Artisanal Cheeses – Fig-Almond Torta, Raisins on the Vine, and a Persimmon, Apple, Golden Raisin, Balsamico, Sweet Onion, Compote Agrodolce – $19.00
Artisanal Soup and Salads
Sweet Greens and Spicy Local Arugula Salad – Asian Pears, Rogue River Smokey Blue Cheese, Radishes, Candied Walnuts – $10.00
Brandy and She-Crab Roe Butter-laced Shellfish Bisque – Clams, Laughing Bird Shrimp, Bay Scallops, Fennel, and Tomatoes – $14.00
Caesar Salad – Romaine Leaves, Roasted Garlic Dressing, Parmigiana-Montegrappa Frico, Pesto-Ciabatta Croutons – $11.00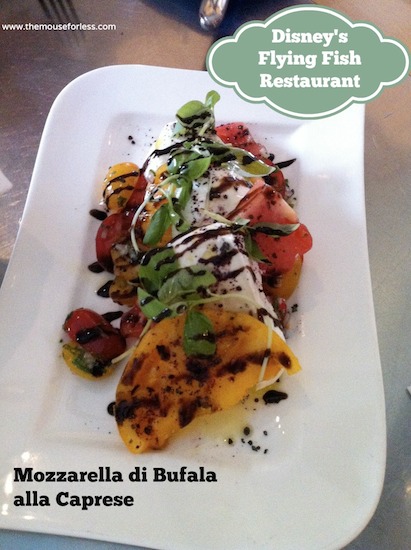 Fresh Mozzarella di Bufala – Yellow, Ugli Ripe, and Tiny Tomatoes, Aged Balsamico, Petite Basil, Sicilian Olio Verde – $15.00
Chef's Special Thunder Appetizer – Heirloom Beets, Fresh Goat Cheese, Spiced Pecans, Citrus Supremes, Pecan Vinaigrette – $14.00
Entrées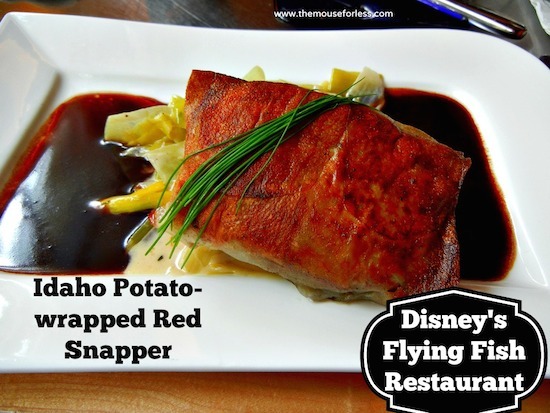 Idaho Potato-wrapped Red Snapper – Creamy Leek Fondue, Veal Glace de Viande-Red Wine-Cassis Butter – $40.00
Oak-grilled Day Boat Mahi Mahi – Pork Belly-laced creamy Rogue's Cheddar White Antebellum Grits, Wilted Epcot Land Pavilion Greens, crispy Garlic Chips, Caramelized Pearl Onion-smoked Tomato Jam – $32.00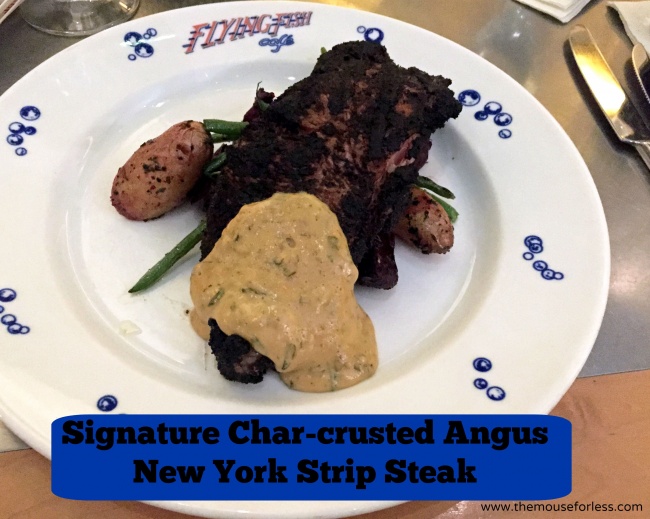 Signature Char-crusted Angus New York Strip Steak – Roasted Young Carrots, Fingerling Potatoes, Haricot Verts, Foyot Sauce – $48.00
Oak-grilled Snake River Farms Berkshire Pork Tenderloin – Wild Rice-Wild Mushroom-Leek-Game Sausage Cake, wilted Epcot Land Pavilion Greens, Mushroom-Shallot Ragoût, Pomegranate-Port Wine-Pork Jus Gastrique – $38.00
Oak-grilled Blacks Harbour Salmon – Epcot Cucumbers, Fragrant Dill, Heirloom Radishes, Vero Beach Watercress, Kissimmee River Oyster Mushroom Colors, Vermouth-Caper Butter Emulsion, Horseradish-Dill Oil – $36.00
Grilled Hokkaido Scallops – Pumpkin, Butternut Squash, Pecorino, and Mascarpone-laced Risotto di Carnaroli, Serrano Ham – $40.00
Mediterranean Char Spice-crusted Yellowfin Tuna Filet – Poached Lake Meadow Naturals Araucana Egg with Artichoke and Fennel-laced Epcot Land Pavilion Eggplant Caponata, crispy Eggplant, Smoked Blood Orange-Basil Oil – $40.00
Orecchiette di Abruzzo alla Bolognese – Rustic Four-Meat Ragù, fresh and Sun-dried Tomatoes, Slivered Spring Onions, Rapini, Pecorino Toscano, Stagionato – $32.00
Entrée Add-on Enhancements
Butter and Herb-laced Half – 1 1/2 lb Maine Lobster – $27.00
Jumbo Key West Pink Shrimp – $16.00
Grilled Sea Scallops – $15.00
Seasonal Sides
Grilled Fall Crop California Asparagus – with Sauce Foyot – $13.00
Wilted Spinach – Garlic, Lemon Mosto Oil – $7.00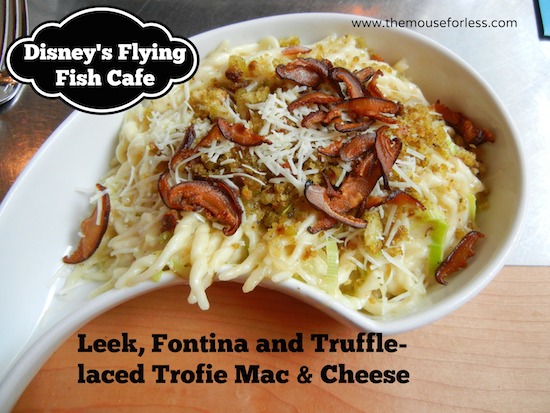 Macaroni & Cheese – Leek, Fontina, Truffle – $13.00
Creamy Risotto di Carnarolli – $8.00
Potato Gratin – Aged Gruyère, Parmigiano-Reggiano – $8.00
Roasted Cultivated Mushrooms – Herbs, Extra Virgin Oil – $9.00
Desserts
Berry-licious Sundae Deluxe – Slow-churned Vanilla Bean Gelato, Medley of Fresh Berries, Crispy White Chocolate-Pearl Crunch, Chocolate Cigarillos, Berries Coulis, and Crème Chantilly – $9.00
Caramelized Banana Napoleon – Crisp Phyllo, Banana Mousse, Crème Caramel, Exotic Fruit Coulis, and Bitter Chocolate – $9.00
Pistachio-crusted White Mascarpone Cheesecake, No Sugar Added – Fig-Asian Pear Compoté, Honey-Lemon Grass Coulis, Balsamic-roasted Tiger Fig, crisp Tuile – $9.00
Caramel Apple Crème Brûlée – Spiced-Honey-Almond Granola, Pink Lady Pearl Apples, Tahitian Vanilla Bean Biscotti – $7.00
Sinful Nutty Chocolate Délice Creation Dark Chocolate-Hazelnut Chiffon, Peanut Butter-White Chocolate Mousse, Raspberry Coulis, and Chocolate Sorbetto on Sea Salt-laced Raspberry Rocks – $9.00
Tropical Délice Fantasie – Exotic Fruits-Lime Panna Cotta-laced Coconut-Almond Torta, Poached Pineapple, Ruby Red Grapefruit-Vodka Coulis – $9.00
Seasonal House-made Sorbets – with fresh Berries and a crisp Tuile – $7.00
Flying Fish Cafe Kids' Dinner Menu
Menu Date: 07/2016
Appetizers
Romaine Hearts – Crisp Veggies, Ranch Dressing, with Little Croutons – $5.00
Seasonal Fruit Skewers and Honey Yogurt – $5.00
Mickey Check Meal
All meals served with choice of of Small Lowfat Milk or Small Dasani Water

Baked Florida Coast Fish Sticks – Breaded Daily Fish Selection with Wholesome Rice Pilaf, Seasonal Vegetables, and Seasonal Fruit Skewers – $17.00

Grilled Chicken – Grilled Chicken Skewers with Roasted Red Potatoes, Vegetables, and Seasonal Fruit Skewers – $15.00

Mickey Pasta – Mickey Pasta served with Tomato Sauce, Vegetables, and Seasonal Fruit Skewers – $14.00

Meets Disney Nutrition Guidelines for Complete Meals without substitutions
Kids' Meal
All meals served with choice of Small Lowfat Milk, Small Dasani Water, or Small Minute Maid Apple Juice
Grilled Beef Skewers – Roasted Red Potatoes and Vegetables – $12.00
Baked Florida Coast Fish "Sticks" – Roasted Red Potatoes and Vegetables – $12.00
Grilled Chicken Breast Skewers – Roasted Red Potatoes and Vegetables – $10.00
Grilled Cheddar Cheese – Roasted Red Potatoes and Vegetables – $7.00
Bowl of Mickey Pasta – with Tomato Sauce and Parmesan Or Creamy Alfredo or Creamy Cheddar Sauce – $9.00
Our very own Flying Fish Café Pizza-Bobs – Crisp Skewers of Cheesy Pepperoni Fritters and Pizza Dipping Sauce – $8.00
French Fries and Soft Drinks Available Upon Request
Desserts
Sorcerer Mickey's Milk Chocolate Cauldron – Fun "Skewer" of Fudge Brownie, Marshmallow, Strawberry, and Angel Food Cake – $6.00
Mickey's Chocolate Puzzle – White Chocolate Puzzle, Sugar "Paints", and Creamy-topped Chocolate Cupcake – $8.00
** Menu and Prices are Subject to Change Without Notice **