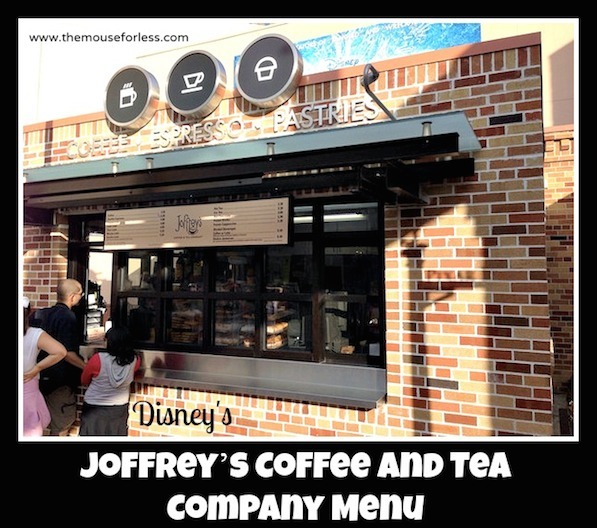 Joffrey's Coffee and Tea Company Kiosk is located at Pixar Place, serving the typical Espresso Coffee & Pastries menu.
Joffrey's Coffee and Tea Company is located in Disney's Hollywood Studios theme park.  Find more Walt Disney World dining locations on our Walt Disney World Resort menus page.
Restaurant Info: Beverage Kiosk, $ – under $14.99 per adult
Find out how you can save money on dining at Walt Disney World by using one of Disney's Dining Plans.
MouseForLess Tip: If you visit Joffrey's Kiosks at Walt Disney World often, ask for the unadvertised loyalty card that gives guests a free beverage for every seven purchased. Valid with any Joffrey's coffee, tea, espresso, smoothie, or alcoholic beverage purchase. Free drink excludes alcoholic beverages. Available at Joffrey's Kiosks Throughout Walt Disney World Resort.

Planning a Walt Disney World Vacation?
For a Free no-obligation quote, contact our sponsor
The Magic For Less Travel
. The Magic For Less Travel is an Authorized Disney Vacation Planner and has been helping guests plan magical vacations since 2002. Receive the best prices and free travel planning services. Their fee-free services will help you save time, money, and stress while planning a vacation designed around you and your needs!
Joffrey's Coffee and Tea Menu
Menu Date: 10/2019
Beverages
Dasani Bottled Water – $3.00

Hot Chocolate – $3.89

Hot Tea – $3.39

Peach Iced Tea – $3.99

Coffees
All Coffee Drinks Available Hot or Cold.
Coffee – $3.99

Double Espresso – $3.49

Cafe Latte – $4.89

Mocha Latte – $5.39

Vanilla Latte – $5.39

Iced Latte – Vanilla, Caramel, Hazelnut, or Irish Cream – $5.39

Specialty Beverages
Frozen Drinks – $8.49

Frozen Cappuccino – $5.39

Shakin' Jamaican – cappuccino topped with Bailey's – $9.49
Tea Breeze – freshly brewed tea and lemonade topped with vodka – $8.49
Make it Spirited – add Baileys Irish Creme, Grey Goose Vodka, Kahlua or Jameson Irish Whiskey – $8.49 / 8oz
Seasonal Beverages
Dreamsicle Iced Latte – espresso, white chocolate sauce, and candied orange syrup – $5.39

Dulce de Leche Iced Latte – espresso and creamy dulce de leche with whipped cream and dulce de leche drizzle – $5.39

Island Swizzle Iced Tea – iced tea with tropical fresh fruit flavors – $3.99

Dreamsicle Iced Latte with alcohol – espresso, white chocolate sauce, and candied orange syrup, with alcohol – $9.49
Island Swizzle Iced Tea with rum – iced tea with tropical fresh fruit flavors and Captain Morgan Spiced Rum – $9.49
Dulce de Leche Iced Latte with alcohol – espresso and creamy dulce de leche with whipped cream and dulce de leche drizzle, with alcohol – $9.49
Loose Leaf Tea
Assam –$3.99
Black Currant –$3.99
Ceylon – $3.99
Joffery's Breakfast Blend – $3.79
Orange Vanilla White Chocolate – $3.99
Masala Chai – $3.99
Orange Spice – $3.99
Pineapple Coconut – $4.49
Earl Grey – $3.79
Chocolate Pu Erh – $4.49
Lemon Ginger – $3.99
Sencha Traditional – $4.99
Coconut Almond – $3.99
Jasmine – $4.49
Morrocan Mint – $3.79
Citrus Sorbet – $4.49
Tahitian Vanilla Rose – $4.49
Huang Jin Gui – $3.99
Root Beer – $3.99
Raspberry Rose – $3.99
African Celebration – $3.99
Yerba Mate – $3.99
Honey Bush – $3.79
Chamomile Lemon – $3.99
Honeybell Orange – $4.99
Strawberry Seduction – $4.99
Tea Smith Reserve
Bai Hao Silver Needle – $5.99
Darjeeling First Flush – $5.99
Golden Monkey Superior – $5.49
Oriental Beauty – $5.49
** Joffrey's Coffee & Tea Company Kiosk Menu and Prices are Subject to Change Without Notice **