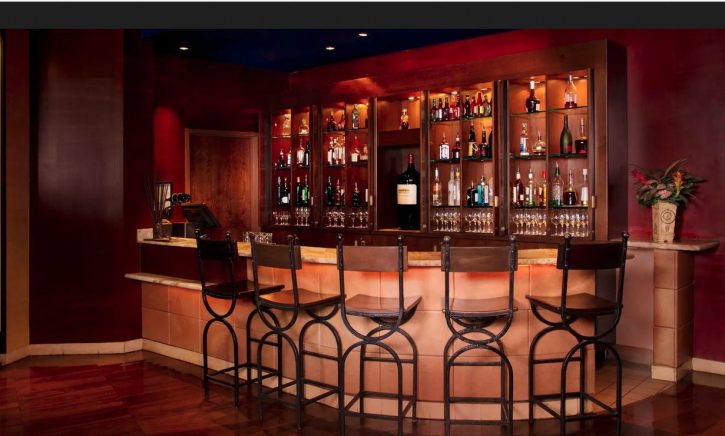 Image courtesy the Walt Disney Company
Located just outside Jiko, Cape Town Lounge and Wine Bar offers a variety of South African wines and appetizers to have before your meal, or as a nightcap.
Cape Town Lounge and Wine Bar is located in Disney's Animal Kingdom Lodge Resort.  Find more Walt Disney World dining locations on our Walt Disney World menus page.
Restaurant Info: African, Lounge A la carte, $$ – $15 to $34.99 per adult
Find out how you can save money on dining at Walt Disney World by using one of Disney's Dining Plans.

Planning a Walt Disney World Vacation?
For a Free no-obligation quote, contact our sponsor
The Magic For Less Travel
. The Magic For Less Travel is an Authorized Disney Vacation Planner and has been helping guests plan magical vacations since 2002. Receive the best prices and free travel planning services. Their fee-free services will help you save time, money, and stress while planning a vacation designed around you and your needs!
Cape Town Lounge and Wine Bar Menu
Menu Date: 06/2023
After-Dinner Drinks
Nutty African
Amarula Liqueur, Frangelico Liqueur and Coffee topped with Whipped Cream – $10.25
Keoke Coffee
Brandy, Kahlúa Liqueur, Bols Dark Crème de Cacao and Coffee topped with Whipped Cream – $9.25
Zebratini
Captain Morgan Original Spiced Rum, Godiva White Chocolate Liqueur, Frangelico Liqueur, Amarula Liqueur and a shot of Espresso in a Chocolate Zebra-striped Martini Glass
Cape Town Coffee
KWV Van der Hum Liqueur, Kahlúa Liqueur and Coffee topped with Whipped Cream – $10.25
Kenyan Press Pot Coffee – $6.29
Rémy Martin Louis XIII 
White Wine
the den, Paarl
Chenin Blanc
Graham Beck "The Game Reserve", Franschhoek
Chenin Blanc
Vinum, Stellenbosch
Chenin Blanc
Raats "Underwooded", Coastal Region
Chernin Blanc
Paul Cluver, Elgin
Sauvignon Blanc
Neil Ellis, Groenkloof
Sauvignon Blanc
Cederberg, Cederberg
Bukettraube
Jam Jar, Western Cape
Moscato
Paul Cluver, Elgin
Gewurztraminer
Hartenberg, Stellenbosch
Riesling
Eventide, Wellington
Viognier
The Ruins, Robertson
Blend of Chardonnay and Viognier
Rudera, Stellenbosch
Chenin Blanc
Spice Route, Swartland
Chernin Blanc
Rudera "Robusto", South Africa
Chernin Blanc
Delheim, Simonsberg
Chernin Blanc
Edgebaston, Stellenbosch
Sauvignon Blanc
Warwick "Professor Black", Stellenbosch
Sauvignon Blanc
Buitenverwachting, Constantia
Sauvignon Blanc
Delheim, Simonsberg
Gewurztraminer
Beryerskloof, Coastal Region
Blend of Chenin Blanc and Pinotage
Bouchard Finlayson "blanc de Mer", Western Cape
Blend of Viognier, Sauvignon Blanc, Rhine Riesling, Pinot Blanc, and Chardonnay
Edgebaston "The Honey Pot", Stellenbosch
Blend of Semillon, Sauvigon Blanc, and Viognier
de Trafford, Stellenbosch
Chenin Blanc
Reyneke, Stellenbosch
Sauvignon Blanc
Mulderbosch, Stellenbosch
Sauvignon Blanc
Ataraxia, South Africa
Sauvignon Blanc
Springfield Estate "Life from Stone", Robertson
Sauvignon Blanc
Cape Point, Cape Point
Sauvignon Blanc
Radford Dale, Stellenbosch
Chardonnay
Thelema, Stellenbosch
Chardonnay
Springfield Estate "Wild Yeast", Robertson
Chardonnay
Rustenberg "Five Soldiers", Stellenbosch
Chardonnay
Hampton Russell, Walker Bay
Chardonnay
Cape Point, Cape Point
Chardonnay
Glen Carlou, Paarl
Chardonnay
Fairview, Coastal Region
Viognier
Sequillo by Eben Sadie, Swartland
Blend of Chenin Blanc, Grenache, rousanne, and Viognier
Red Wine
Paul Cluver, Elgin
Pinot Noir
Hamilton Russel, Walker Bay
Pinot Noir
the den, Paarl
Pinotage
Fairvalley, Coastal Region
Pinotage
Warwick "Old Bush Vines", Stellenbosch
Pinotage
Jam Jar "Sweet" Shiraz, Stellenbosch
Shiraz
Graham Beck "The Game Reserve", Stellenbosch
Shiraz
Vinum, Stellenbosch
Cabernet Sauvignon
Onyx, Darling
Pinotage
Camberley, Stellenbosch
Pinotage
Fairview "Primo", Paarl
Pinotage
Kanonkop, Stellenbosch
Pinotage
Bouchard Finlayson "Galpin Peak", Walker Bay
Pinot Noir
Jardin, Stellenbosch
Merlot
Rust En Vrede, Stellenbosch
Merlot
Post House, Stellenbosch
Merlot
Rudera, Stellenbosch
Shiraz
Constitution Road, Robertson
Shiraz
Rust En Vrede, Stellenbosch
Shiraz
Raats, Stellenbosch
Cabernet Franc
Graham Beck "The Game Reserve", Robertson
Cabernet Sauvignon
Warwick "The First Lady", Stellenbosch
Cabernet Sauvignon
Cederberg, Cederberg
Cabernet Sauvignon
Springfield Estate "Wholeberry", Robertson
Cabernet Sauvignon
Radford Dale, Stellenbosch
Blend of Shiraz and Viognier
Edgebaston "The Pepper Pot", Stellenbosch
Blend of Syrah, Mourvedre, and Tannat
Reyneke "Capstone", Stellenbosch
Blend of Cabernet Sauvignon, Syrah, and Merlot
The Ruins, Robertson
Syrah and Cabernet Sauvignon
Black Pearl, Paarl
Blend of Shiraz and Carbenet Sauvignon
Spice Route "Chakalaka", Swartland
Blend of Syrah, Mourvedre, Carignan, Petite Syrah, Grenache, and Tannat
Beyersklook "Synergy", Stellenbosch
Blend of Pinotage, Cabernet Sauvignon, Merlot, and Shiraz
Post House "Missing Virgin", Stellenbosch
Blend of Pinotage and Petit Verdot
Boekenhoutskloof "The Chocolate Block", Franschhoek
Blend of Syrah, Grenache, Cinsault, Cabernet Sauvignon, and Viognier
Mulderbosch "Faithful Hound", Stellenbosch
Blend of Cabernet Sauvignon, Merlot, Malbec, and Cabernet Franc
Villafonte "Series M", Paarl
Blend of Cabernet Sauvignon, Merlot, Malbec, and Cabernet Franc
de Trafford, Stellenbosch
Merlot
Stark-Condé, Stellenbosch
Shiraz
Rudi Schultz, Stellenbosch
Shiraz
de Trafford "Blueprint", Stellenbosch
Shiraz
Rudera Estate, Suid-Afrika
Cabernet Sauvignon
Springfield Estate "Methode Ancienne", Robertson
Cabernet Sauvignon
Stark-Condé, Stellenbosch
Cabernet Sauvignon
de Trafford, Stellenbosch
Cabernet Sauvignon
Thelema "The Mint", Stellenbosch
Cabernet Sauvignon
Rudera "Platinum", Stellenbosch
Cabernet Sauvignon
Radford Dale "Gravity", Stellenbosch
Blend of Cabernety Sauvignon, Shiraz, and Merlot
Warwick "Three Cape Ladies", Stellenbosch
Blend of Cabernet Sauvignon, Pinotage, and Shiraz
Post House "Penny Black", Stellenbosch
Blend of Shiraz, Merlot, Cabernet Sauvignon, Petit Verdot, and Chenin Blanc
Sijnn Red, Swellendam
Blend of Shiraz, Mourvedre, Touriga Nacional, Trincadeira, and Cabernet Sauvignon
Jardin "Cobblers Hill", South Africa
Blend of Cabernet Sauvignon, Merlot, and Cabernet Franc
Rustenberg "John X Merriman", Stellenbosch
Blend of Cabernet Sauvignon, Merlot, Petit Verdot, Malbec, and Cabernet Franc
De Toren "Z", Stellenbosch
Blend of Merlot, Cabernet Sauvignon, Petit Verdot, Malbec, and Cabernet Franc
Dessert Wines
Fairview La Beryl Rouge, Paarl
de Trafford Vin de Paille, Stellenbosch
Klein Constantia Vin de Constance, Constantia
Fairview La Beryl Blanc
Hand Crafted Cocktails
Harmattan Cooler
Van-der-Hum Tangerine Liqueur, Cherry Brandy, and Nobo Whole Fruit Tisane
Mt. Kilimarita
Sauza Gold Tequila, Van-der-Hum Tangerine Liqueur, Citrus, and Cranberry Juice
Victoria Falls Mist
Van-der-Hum Tangerine Liqueur, Melon Liqueur, Banana Liqueur, Citrus, and Sprite
Sunriser
Parrot Bay, Banana Liqueur, Orange Juice, Pineapple Juice, and Cranberry Juice
Hanging out in Capetown
Van-der-Hum Tangerine Liqueur, Hangar 1 Mandarin, Peach Schnapps, and Cranberry Juice
Cap Classique
Graham Beck Brut Rose
Graham Beck Bliss Demi-Sec
Graham Beck Blanc de Blanc
Anura Méthod Cap Classique
Beers
Bottled Beers
Heineken, Casablanca, Tusker, Bud Light, St. George, Corona, Budweiser, Miller Lite
Draft Beers
Stella Artois, Yuengling Lager, Safari Amber, and Bass Ale
Specialty Non-Alcoholic
Non-Alcoholic Strawberry Lemonade
Minute Maid® Premium Lemonade, Wild Strawberry Monin, and FOMZ Lemon-lime
Non-Alcoholic Sunriser
Orange Juice, Pineapple Juice, and Cranberry Juice
Minnie Mouse
Sprite and Grenadine Syrup
** Cape Town Lounge and Wine Bar Menu and Prices are Subject to Change Without Notice **