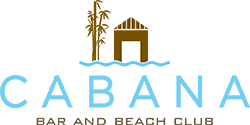 Enjoy a sophisticated variety of appetizers, salads, gourmet flatbreads, and other entrees at this chic restaurant and bar, located just steps from the Dolphin lap pool. Transition into the evening with signature cocktails and frozen drinks at our illuminated bar. Open daily for lunch and dinner. Reservations are not necessary.
Cabana Bar and Beach Club is located in the Walt Disney World Dolphin Hotel.  Find more Walt Disney World dining locations on our Walt Disney World menus page.
Restaurant Info: American, Fusion, Pool Bar, A la carte, $$
Cabana Food Menu  Cabana Drinks Menu

Planning a Walt Disney World Vacation?
For a Free no-obligation quote, contact our sponsor
The Magic For Less Travel
. The Magic For Less Travel is an Authorized Disney Vacation Planner and has been helping guests plan magical vacations since 2002. Receive the best prices and free travel planning services. Their fee-free services will help you save time, money, and stress while planning a vacation designed around you and your needs!
Cabana Bar and Beach Club Food Menu
Menu Date: 10/2022
Shareables
Crispy Calamari
Chili Lime Sauce, Queso Blanco Aioli, Cherry Peppers, Scallions – $13.00
Chicken Wings
Choice of Sauce: Buffalo or Korean Glaze with Cilantro Dipping Sauce, Celery and Carrot Sticks – $15.00
Roasted Red Pepper & Greek Feta "Relish"
Grilled Naan, Crushed Pistachios, and Chervil – $12.00
Margherita Flatbread
House Marinara, Heirloom Tomatoes, Mozzarella & Parmesan Cheese, Basil – $12.00
Roasted Mushroom Flatbread
Cultivated Mushrooms, Caramelized Onions, Porcini Cream, Bacon, Gruyère Cheese – $14.00
From the Garden
Grilled Watermelon & Spiced Ricotta
Grilled Watermelon, Spiced Ricotta Cheese, Early Girl Tomatoes, Frisée – $13.00
Caesar Salad
Romaine Lettuce, Garlic Parmesan Dressing, Polenta Croutons – With Chicken $20 or With Rock Shrimp $21 – $14.00
Bowls
Dynamite Shrimp Bowl
Tempura Rock Shrimp, Dynamite Sauce, Seasoned Sushi Rice, Smoked Eel Sauce, Scallion, Crispy Wonton, Lotus Chip – $21.00
Tuna Poke*
Fresh Grade "A" Sushi Tuna, Seasoned Sushi Rice, Avocado Relish, Red Onion, Tamari-Ginger Dressing and Crispy Wonton – $21.00
Handhelds
Grilled Chicken BLT
Grilled Chicken Breast, Applewood Smoked Bacon, Tomato Jam, Arugula, Toasted Sourdough Bread – $16.00
Fish Tacos
Red Cabbage, Siracha Aioli and Roasted Corn Avocado Relish – $18.00
Buttermilk-Battered Chicken Crisps
served with Honey-Mustard Sauce – $16.00
Shawarma Kebob
Grilled Lemon and Herb Marinated Chicken, Iceberg lettuce, Tomato, Red Onion, Tzatziki Sauce, Garlic Naan Bread – $15.00
Classic Burger*
8oz Burger, Choice of Cheese, Lettuce, Tomato, Onion, Pickle (All burgers are prepared well-done, unless otherwise requested) – $18.00
Plates
Charred Octopus
Crushed Fingerling Potatoes, Smoked Paprika Aioli, Pea Shoots, Lemon Gremolata – $15.00
Fresh Gulf Catch
Roasted Carrot, Sweet Peppers, Wild Mushrooms, Hearts of Palm, Spiced Coconut Broth – $20.00
Grilled Angus Hanger Steak
Idaho Potato Puffs, Fried Okra, Arugula, White Remoulade – $19.00
Pizza
Pepperoni Pizza – $16.00
Cheese Pizza – $15.00
Sides
Waffle-cut Fries -$6.00
Onion Rings – $5.00
Fresh Fruit Salad – $6.00
Kids' Meals
Cheese Pizza – $10.00
Pepperoni Pizza – $11.00
Quarter-Pound Cheeseburger
served with Seasoned Waffle-Cut Fries – $10.00
Grilled Cheese
served with Seasoned Waffle-Cut Fries – $9.00
Chicken Fingers
served with Seasoned Waffle-Cut Fries – $10.00
Hot Dog
served with Seasoned Waffle-Cut Fries – $9.00
Cabana Bar and Beach Club Drinks Menu
Menu Date: 10/2022
Non- Alcoholic Beverages
Assorted Fountain Beverages
Coke, Diet Coke, Sprite, Ginger Ale, Root Beer – $3.50
Lemonade – $3.50
Unsweetened Iced Tea – $3.50
Milk – $3.50
Chocolate Milk – $3.50
Specialty Cocktails
Original Mai Tai
Trader Vic's Dark Rum, Orange Curaçao, Fresh Lime and Orgeat Syrup – $15.00
Solstice Margarita
Jalapeno-Infused Maestro Dobel Tequila, Muddled Watermelon and Cucumber, Agave Nectar, Fresh Lime – $15.00
The Hibiscus Cooler
Absolut Vodka, Hibiscus Flowers, PAMA Liqueur, Thai Basil, Fresh Lime, Coconut Water, and Club Soda – $15.00
Mo-Tito
Tito's Handmade Vodka, St. Germain Elderflower Liqueur, Mint Syrup, Fresh Lime, Club Soda. Add Fresh Berries $1 – $15.00
Dominican Sneak Up
Brugal Dominican Rum, Fresh Kiwi and Hand-squeezed Lemonade – $15.00
Matador
Herradura Tequila, Fresh Lime, topped with choice of Watermelon or Tropical Red Bull – $15.00
Cucumber Collins
Hayman's Old Tom Gin, Fresh Cucumbers, Lemon Juice, Soda – $15.00
White Sangria
Chinola Passion Fruit Liqueur, Three Olives Mango Vodka, Prophecy Pinot Grigio, Fresh Fruit Juices, topped with La Marca Prosecco – $14.00
Strawberry Basil Lemonade Jar
Strawberry & Basil Infused Absolut Elyx Vodka, Hand-Squeezed Lemonade, Rock Candy Syrup. Refill for $12 – $16.00
Tangerine Sunrise
Served in a Keepsake Party Ball. Fresh Local Tangerine and Orange Juices, Jose Cuervo Tradicional, Triple Sec, Orange Blossom Honey Syrup, topped with Chambord and Soda. Refill for $12. – $16.00
Frozen Libations
Alcoholic for $15.00, Non-alcoholic for $8.00. Siesta Key Spiced Rum or Toasted Coconut Rum Floater for $5.00
Pina Colada
Strawberry Daiquiri
Mango Daiquiri
Raspberry Daiquiri
Rum Runner
Margarita
Frose – $14.00
Beachside Buckets
Island Time
Malibu Coconut Rum, Cream of Coconut, Pineapple Juice, Orange Juice, Myers Dark Rum Float – 32oz Tropical Cocktail in a Bucket – $25.00
Mangonada
Olmeca Altos Tequila, Triple Sec, Mango Nectar, Pineapple Juice, Chamoy Candy Syrup, Tajin Pineapple – 32oz Tropical Cocktail in a Bucket – $25.00
Kraken Pool Monster
Kraken Black Spiced Rum, Banana Liqueur, Pineapple Juice, Orange Juice and Grenadine Float – 32oz Tropical Cocktail in a Bucket – $25.00
Craft Beer
Phins & Feathers Swan & Dolphin Craft Brew – $8.50
Suncreek Brewery Sun Squishy IPA – Clermont, FL – $10.50
Big Storm Brewing Co. Sunny Key Lime Wheat – Orlando, FL – $10.50
Crooked Can Brewing Co. Florida Sunshine Lager – Winter Garden, FL – $10.50
White Claw Hard Seltzer – Chicago, IL – $7.75
Maui Brewing Co. Pineapple Mana – Kihei, Hawaii – $9.50
Founders Brewing Co. All Day IPA – Grand Rapids, MI – $9.50
Cigar City Brewing Margarita Gose – Tampa, FL – $9.50
Cinderboys First Press Cider – Stevens Point, WI – $9.50
Beer Bucket – Pick any 5 Craft, Domestic, or Import – $35.00
Draft Beer
Phins and Feathers, Pale Ale – $8.50
Bud Light – $8.50
Funky Buddha, Floridian, Hefeweizen – $9.50
Sailfish, Tag and Release, Amber Ale – $9.50
Cigar City, Jai Alai, IPA – $9.50
Orange Blossom, OBP, Honey Pilsner – $9.50
Kona, Big Wave, Golden Ale – $9.50
Big Storm, Bromosa, Tangerine IPA – $9.50
Budweiser – $8.50
Michelob Ultra – $8.50
Yuengling – $8.50
Coors Light – $8.50
Miller Lite – $8.50
Corona – $8.50
Corona Light – $8.50
Modelo Especial – $8.50
Heineken – $8.50
Beer
Domestics – Bud, Bud Light, Michelob Ultra, Yuengling, Coors Light, Miller Lite – $7.00
Imports – Corona Light, Corona, Modelo, Heineken – $7.25
Beer Bucket Special – 5 craft, domestic, or imported beers for $30.00
Wine
Assorted Wine – $10.00-$12.00 glass, $40.00-$48.00 bottle
Canned Cocktails
High Noon, Vodka Soda with Lime – $10.00
Ketel One Vodka, Grapefruit & Rose Spritz – $13.00
Ketel One Vodka, Cucumber & Mint – $13.00
Ketel One Vodka, Peach & Orange Blossom – $13.00
Miami Cocktails, Sangria Spritz – $13.00
Miami Cocktails, Bellini Spritz – $13.00
Jack Daniels, Whiskey & Cola – $13.00
Jack Daniels, Tennessee Honey Lemonade – $13.00
** Cabana Bar and Beach Club Menu and Prices are Subject to Change Without Notice **