Disney's Hollywood Studios | Hollywood Blvd. Area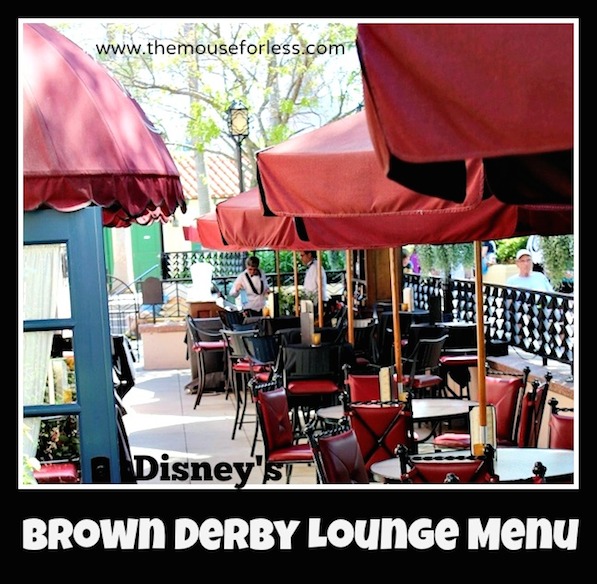 Reviews

The Hollywood Brown Derby Lounge is located on the patio of The Hollywood Brown Derby restaurant. This hot spot serves guests on a first come, first served basis with no reservations required. Hollywood Brown Derby Lounge menu items will include small bites, beers, wines, and specialty cocktails.
Restaurant Info: American, Lunch/Dinner/Small Bites, A la carte, $ – $14.99 and under per adult
Find out how you can save money on dining at Walt Disney World by using one of Disney's Dining Plans.
The Hollywood Brown Derby Lounge Menu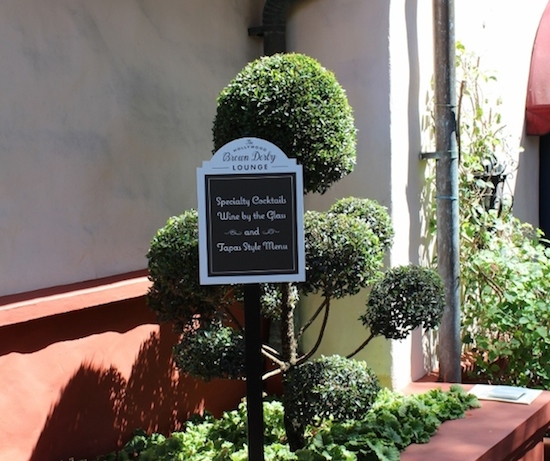 Menu Date: 02/2017
Small Plates
Brentwood Sweet Corn Bisque – Grilled Cheese on Brioche with Bacon, Heirloom Tomato, and Local Micro Green Salad – $11.00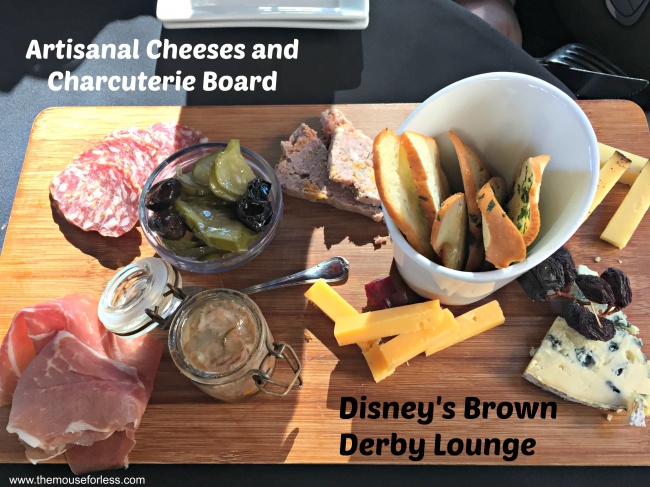 Artisanal Cheeses and Charcuterie Board – An assortment of Artisanal Cheeses and meats with House-made Pickles and assorted Breads – $20.00
Andouille-crusted Shrimp – Cotswold Cheddar Grits, Micro Salad with Lime, and Piment d'Espelette Oil – $15.00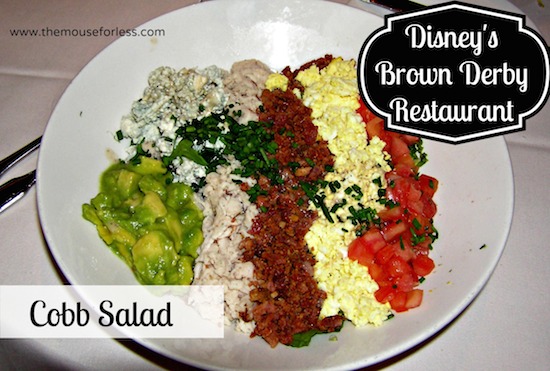 Famous Derby Cobb Salad – Finely Chopped Greens, Turkey Breast, Bacon, Egg, Tomatoes, Crumbled Blue Cheese, Avocado, Chives and Cobb dressing – $10.00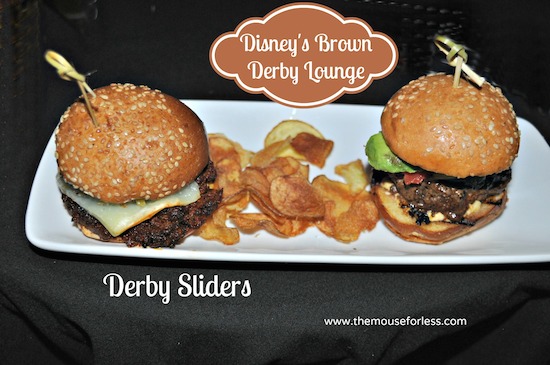 Derby Sliders – A Wagyu Beef with Cognac Mustard Aïoli, Smoked Gouda Cheese, Bacon and Avocado AND Duck Confit, Taleggio Cheese, Chipotle Vegetable Slaw, Sweet Onion and Orange Conserve and crispy Leeks – $17.00
Crispy Bites – Parmesan-Goat Cheese Risotto Sticks with Whole-Grain Dijon Mustard Aïoli; Brie Cheese with a Sweet Onion and Orange Jam; Bleu Affinée-Mushroom Arancini with Fig and Balsamic Dip – $14.00
Guests can also order from the full Brown Derby menu upon request.
Mini Dessert Trio – Select three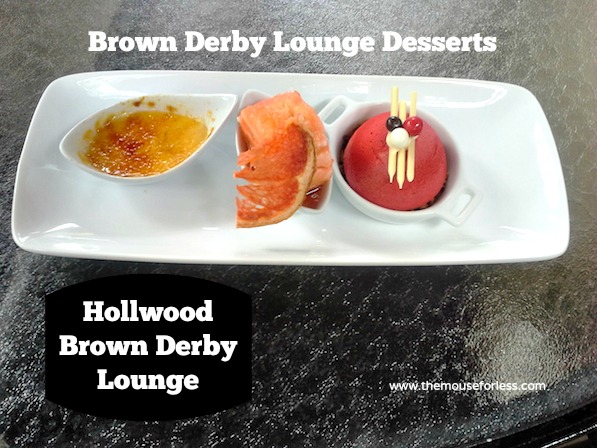 Select any 3 Mini-desserts for $9.00
Amaretto Flan – Opalus White Chocolate Whip with an Almond Cookie
Double Vanilla Bean Crème Brûlée
Warm Blueberry Cobbler – with Crème Fraîche and Orange Blossom Honey
Mini Grapefruit Cake – a Brown Derby original!
Chocolate Marscarpone Sphere – infused with Apricot-Orange Jam
Banana Toffee Cake – on Cocoa Crunch and Strawberry-Banana Pearls
Non-Alchohlic Cocktails
Shirley Temple – Non-alcoholic Cocktail created at the Original Hollywood Brown Derby featuring Sprite and Grenadine – $3.49
Pineapple No-jito – Mint, fresh Lime Juice, Agave Nectar-Pineapple Juice, and Soda Water – $5.75
Specialty Cocktails and Martinis
Grapefruit Cake Martini – Deep Eddy's Ruby Red Grapefruit Vodka, Stoli vanilla Vodka and a splash of Cream with a Vanilla Wafer Rim – $10.25
Bloody Mary – Aboslut Peppar Vodka and Bloody Mary Mix – $11.25
Side Car – Courvoisier VS Cognac, Cointreau, and a splash of Sweet-and-Sour with a Sugared Rim – $11.25
Manhattan – Maker's Mark Bourbon, Sweet Vermouth, and Bitters – $11.25
Whiskey Sour – Crown Royal Whiskey, Simple Syrup, and freshly squeezed Lemon Juice – $11.25
Mint Julep – Woodford Reserve Bourbon, fresh Mint Leaves, Simple Syrup, and a splash of Water – $13.25
Red Sangria – Red Wine blended with Grand Marnier, Stirrings Pomegranate Liqueur, Fruit Juices, and fresh Fruit topped with Sprite® – $10.75
White Sangria – White Wine blended with Hendrick's Gin, Peach Schnapps, Fruit Juices, and fresh Fruit, topped with Sprite® – $10.50
Champagne Cocktail – Iron Horse Fairy Tale Celebration Cuvée Sparkling Wine, St. Germain Elderflower Liqueur, and Angostura Bitters – $14.00
Gin-Gin Mule – Nolet's Silver Dry Gin, Gosling's Ginger Beer with fresh Lime Juice, Mint Leaves – $11.00
Grey Goose Vodka and Dry Vermouth – $11.25
Hendrick's Gin and Dry Vermouth Martini – $12.25
Specialty Flights
Martini Flight – Classic Gin, Citrus Vodka, and Derby Cosmo – order one (1) or a sampling of all three – $11.25
Margarita Flight – Classic, Mango, or Pomegranate Margarita (order one (1) or try a flight of all three) – $11.25
Flight of the Stars White Wine Flight (2-oz pour of each) – Fairy Tale by Iron Horse Celebration Cuvée Brut, Green Valley; Banfi Rosa Regale Brachetto d'Acqui, Piedmont, Italy; Taittinger Brut La Francaise Reims, France – $14.00
The Belle of Hollywood Pinot Noir Flight – Belle Glos Las Alturas Vineyard, Santa Lucia Highlands; Belle Glos Clark & Telephone Vineyard, Santa Maria Valley; Belle Glos Dairyman Vineyard, Russian River Valley – $20.00
Premium Ales and Beers
Corona – $6.75
La Fin de Monde – $9.25
Sierra Nevada – $7.50
Rekorderlig Strawberry-Lime Hard Cider – $7.50
Bud Light – $5.50
Samuel Adams Boston Lager – $8.00
Leinenkugal Summer Shandy – $7.75
White Wines by the Glass
Fairy Tale by Iron Horse Celebration Cuvée Brut, Green Valley – $15.00
Batasiolo Moscato d'Asti, Italy – $11.00
Conundrum, California – $14.00
Sartori Pinot Grigio, Italy – $11.00
St. Supéry Sauvignon Blanc, Napa Valley – $10.00
Sonoma-Cutrer Chardonnay, Russian River Valley – $13.00
Red Wines by the Glass
MacMurray Ranch Pinot Noir, Sonoma Coast – $14.00
Casa Lapostolle Cuvée Alexandre Merlot, Chile – $14.00
Freemark Abbey Cabernet Sauvignon, Napa Valley – $16.00
Le Poiane Valpolicella Ripasso, Italy – $10.00
Killka Malbec, Argentina – $11.00
Castello Banfi Chianti Classico Riserva, Tuscany, Italy – $13.00
Dessert Wines
Banfi Rosa Regale Brachetto d'Acqui, Piedmont, Italy (3-oz pour) – $12.00
Inniskillin Vidal Icewine, Okanagon Valley (3-oz pour) – $26.00
** Hollywood Brown Derby Lounge Menu and Prices are Subject to Change Without Notice **
Save