Resort Restaurants | Port Orleans Riverside Resort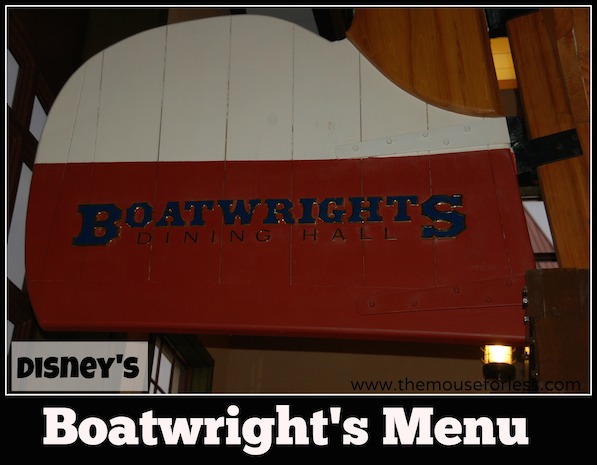 Dinner Menu   Kids Menu  Boatwrights Reviews
Enjoy American cuisine with flavors of the South in this shipbuilder's paradise along the Sassagoula River. The unique shipbuilding tools, fireplaces, and frame of an authentic Louisiana Lugger are the backdrop to this casual family dining hall. After your meal stop by River Roost Lounge next door for some lively entertainment by Yehaa Bob, beginning at 8 p.m.
Restaurant Info: Southern and American, Dinner, $$
Find out how you can save money on dining at Walt Disney World by using one of Disney's Dining Plans.
Boatwright's Dining Hall Menu
Menu Date: 12/2015
Served 5 p.m. – 10 p.m.
Appetizers
French Onion Soup Au Gratin – Provolone and Swiss, Onions, and Roasted Crouton in a rich Beef Broth reminiscent to Pierre D'Orr's home village – $7.49
Crescent City Gumbo – Chicken and Andouille Gumbo Slow-cooked in a Cajun-spiced Broth – $7.49
Amelia's Salad – Spinach Salad with Seasonal ingredients and House-made Vinaigrette – $6.99
Cajun Bayou Chopped Salad – Chopped Lettuce with Salami, Provolone, Tomatoes, Herbs, and crispy Black-Eyed Peas with our House Vinaigrette – $9.49
Mardi Gras Fritters – House-made Pimiento Cheese Fritters with Pepper Jelly – $8.99
Colonel's Peace's Pieces – Crawfish, Shrimp, Oysters, and Okra in a crispy Cornmeal Batter with House-made Rémoulade  – $12.49
Crescent City Gumbo – Chicken and Andouille Gumbo Slow-cooked in a Cajun-spiced Broth – $7.49
Pirogue Platter – Chef's Selection of Meats and Cheeses with House-made Accompaniments – $10.99
Entrées
General Fulton's Prime Rib – Carefully Seasoned with a hint of Coffee and Slow-roasted served with Mashed Potatoes, Seasonal Vegetables, and Red Wine Demi-glace – $33.99
The Big Easy – 10 oz Grilled New York Strip with Peppercorn Cream served with Crawfish Mac & Cheese  – $34.49
Cajun Bayou Catfish – Sustainable Andouille-crusted US Catfish with Louisiana Rice, Cayenne-Butter Sauce, and Chive Aïoli – $20.99
The Louisiana Lugger – Our Sweet Tea-brined Pork Chop with Savory Cornbread Pudding topped with Tomato Jam  – $23.99
Ponchatrain Pasta – Our version of the Classic Bolognese: Slow-cooked Beef in a rich Tomato Sauce over Pappardelle Pasta – $21.99
Boatwright's Vegetarian Jambalaya – $16.99
Voodoo Chicken – Crispy Battered Chicken Breast and Fluffy Golden Waffles topped with Maple-Bacon Gravy – $21.99
Deep South Shrimp and Grits – Sustainable Rock Shrimp prepared in your choice of Traditional or New Orleans Barbecue-style served over our creamy Charleston-style Grits – $21.49
Jackson Square Ètouffée – Crawfish simmered in a rich Seafood Sauce over Rice – $18.99
Boatwright's Jambalaya – A New Orleans Dinnertime favorite! Slow-cooked Shrimp, Andouille Sausage, and Chicken in a spicy Sauce served over Rice – $18.99
Sassagoula Short Ribs – Slow-cooked Boneless Beef Short Ribs with Celery Root Mash and Red Wine Reduction – $24.99
Add Crawfish Mac & Cheese or Crab Imperial to an Entrée – $10.00
Sides
Red Beans and Rice – $4.29
Louisiana Rice – $4.29
Seasonal Vegetables – $4.29
Southern Greens – $4.29
Desserts
Red Velvet Cheesecake – with Bourbon-Vanilla Cream – $6.49
No Sugar Added Crème Brûlée – with Seasonal Berries – $6.49
Doubloon Bread Pudding – House-made Bread Pudding with Ice Cream and Seasonal accompaniments and Chocolate Doubloon – $5.99
Banana Pudding – with Vanilla Wafers and Caramelized Bananas – $6.99
Sorbet – Seasonal Sorbet served with fresh Fruit – $5.49
Bourbon Street Pecan Pie – a traditional Southern favorite – $6.49
Joie de Vivre Peanut Butter Mousse Cake – Chocolate-Peanut Butter Mousse topped with a Warm Ganache – $6.99
Beverages
Tinker Bell and Friends or Buzz Lightyear Punch – Minute Maid Light Lemonade Punch served in a souvenir Fairies or Toy Story 3 Cup with a glowing Tinker Bell or Buzz Lightyear Clip-on Light – $6.99
Mega-Berry Smoothie – Raspberry Purée and Nonfat Yogurt blended with Odwalla Berries GoMega (an excellent source of Omega-3) – $5.29
Odwalla All-Natural Lemonade – topped with a Wildberry Foam – $4.49
Assorted Fountain Drinks – Coca-Cola , Coca-Cola Zero, Diet Coke, Sprite, Minute Maid Light Pomegranate Lemonade, Barq's Root Beer – $3.19
Freshly Brewed Joffrey's Coffee – $2.99
Espresso – $3.69
Cappuccino or Latte – $4.39
Café Moch – $4.99
Latte – $4.49
New Orleans Chicory Coffee – French Press Pot-Serves Two – $5.99
A selection of specialty cocktails, dessert cocktails and draft beers are also available.
Boatwright's Dining Hall Kids Menu
Menu Date: 12/2015
For Guests Ages 9 and Under
Appetizers
Chicken Noodle Soup – $2.39
Garden Salad – with Fat-free Ranch Dressing – $2.39
Celery and Carrot Sticks – $2.39
French Fries – $2.39
Mickey Check Meals
All meals served with choice of small Lowfat Milk or small Dasani Water

Oven-roasted Turkey – served with Brown Rice, Green Beans, and Strawberry Yogrut Parfait served – $8.99

Multigrain Pasta – served with Turkey Marinara, Green Beans, and Sliced Apples – $8.99

Grilled Fish – served with Roasted Yukon Gold Potatoes, Green Beans, and Fresh Strawberries – $8.99

Grilled Beef Skewers – served with Brown Rice, Green Beans, and Strawberry Yogrut Parfait – $10.99

Meets Disney Nutrition Guidelines for Complete Meals without substitutions.
Kids' Choice
All meals include choice of one (1) Entrée, one (1) Beverage and one (1) Dessert – $8.99
Beverage
Small Lowfat Milk
Small Bottled Water
Small Apple Juice
Entrées
Macaroni & Cheese
Cheeseburger
Cheese Pizza
Jambalaya – Slow-cooked Shrimp, Andouille Sausage, and Chicken served over Rice
French fries and Soft Drinks Available Upon Request
Dessert
Strawberry Yogurt Parfait
Fresh Strawberries
Ice-Cream Sundae
Sliced Apples
** Menu and Prices are Subject to Change Without Notice **