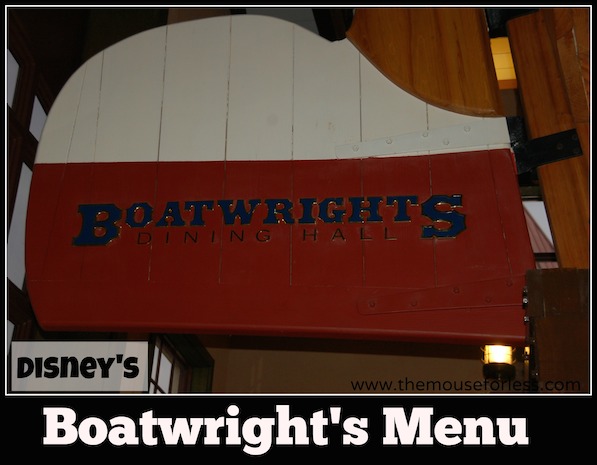 At Boatwright's Dining Hall, enjoy American cuisine with flavors of the South in this shipbuilder's paradise along the Sassagoula River. The unique shipbuilding tools, fireplaces, and frame of an authentic Louisiana Lugger are the backdrop to this casual family dining hall. After your meal at Boatwright's Dining Hall, stop by the River Roost Lounge next door for some lively entertainment by Yehaa Bob, beginning at 8:00 p.m.
Boatwright's Dining Hall is located in Disney's Port Orleans Riverside Resort.  Find more Walt Disney World dining locations on our Walt Disney World menus page.
Restaurant Info: Southern and American, Dinner, $$
Find out how you can save money on dining at Walt Disney World by using one of Disney's Dining Plans.

Planning a Walt Disney World Vacation?
For a Free no-obligation quote, contact our sponsor
The Magic For Less Travel
. The Magic For Less Travel is an Authorized Disney Vacation Planner and has been helping guests plan magical vacations since 2002. Receive the best prices and free travel planning services. Their fee-free services will help you save time, money, and stress while planning a vacation designed around you and your needs!
Boatwright's Dining Hall Menu
Menu Date: 10/2022
Appetizers
French Onion Soup Au Gratin
Gruyère Cheese, Onions, and a Toasted Crouton in a rich Beef Broth reminiscent to Pierre D'Orr's Home Village – $10.00
Mardi Gras Fritters
House-made Pimiento Cheese Fritters – $12.00
Boudin Balls
A mix of Andouille Sausage, Smoked Sausage, and Dirty Rice Breaded and Fried. Served with Remoulade, Creole Mustard, and Pickled Vegetables. – $13.00
Amelia's Salad
Romaine Heart with Rainbow Carrots, Watermelon Radish, Roasted Tomatoes, and Crispy Black-Eye Peas with an Avocado-Tarragon Dressing (Plant-based) – $10.00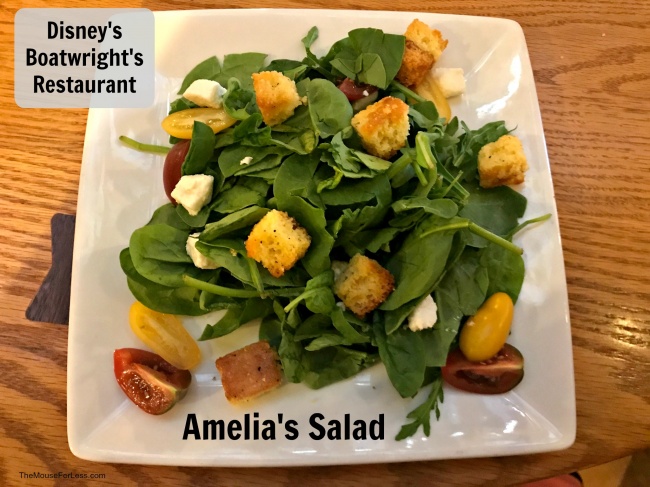 Entrées
Taste of the Bayou
Hickory-smoked Pork Ribs, Crispy Cajun Chicken, Smoked Sausage, Barbecued Beef Brisket, Mashed Potatoes, Mac & Cheese, Roasted Corn with Cajun Butter, and Seasonal Vegetables – $36.00
Boatwright's Jambalaya
A New Orleans Dinnertime favorite! A Slow-cooked Spicy Shrimp, Andouille Sausage, and Chicken served with Rice. – $26.00
Crispy Cajun Chicken
Spicy Battered Chicken Breast, Red Beans and Rice, and Collard Greens with House-made Pickles – $25.00
Blackened Prime Rib
Slow-roasted Blackened Prime Rib with Cajun Butter served with Mashed Potatoes and Seasonal Vegetables – $38.00
Blackened Salmon
with Dirty Rice, Seasonal Vegetables, Pickled Onions and Brown Butter Beurre Blanc – $28.00
Deep South Shrimp and Grits
Sustainable Shrimp and Andouille Sausage served with Spicy Cream Sauce over our Creamy Charleston-style Grits – $26.00
Lowcountry Seafood Boil
Shrimp, Mussels, Andouille Sausage with Corn on the Cob and Potatoes simmered in a Spicy Cajun broth served with Toasted Baguette – $32.00
Harvest Red Beans and Rice
Red Beans simmered with Plant-based 'Sausage', Peppers, Onions, and Celery served over Rice with Cornbread – $24.00
Enhancements
Louisiana Grilled Shrimp  – $10.00
Fried Okra – $5.00
Andouille Sausage – $7.00
A Finale From The D'Sert Sisters
Mississippi Mud Crème Brûlée
Milk Chocolate Crème Brulee with a Sable Breton Cookie and Fresh Fruit – $10.00
Southern Cheesecake
Classic Vanilla Cheesecake with a Bourbon-Caramel Sauce garnished with Pecan-Praline Brittle (Dessert contains alcohol) – $10.00
Bananas Foster Bread Pudding
Warm Bread Pudding with House-made Bananas Foster Sauce, Bourbon-soaked Raisins, and Vanilla Ice Cream (Dessert contains alcohol) – $9.00
Peach-Blackberry Cobbler
Classic Peach and Blackberry Cobbler topped with Blackberry Sorbet – $10.00
Non-Alcoholic Beverages
EARidescent Sip-a-bration
Minute Maid® Premium Lemonade and Fruity Strawberry Punch, served in a souvenir 50th Celebration Cup with a surprise Character and a little bit of magic! – $10.00
Agave Garden
Lyre's Agave Reserva Spirit, Cold-pressed Lime Juice, Passionfruit Papaya Green Tea, and Cucumber – $11.00
Pomegranate Lemonade
Minute Maid® Premium Lemonade with Pomegranate and Lime Juice – $5.49
Assorted Fountian Beverages
Coca-Cola®, Diet Coke®, Coca-Cola® Zero Sugar, Sprite®, Barq's® Root Beer, Minute Maid® Zero Sugar Lemonade
Freshly Brewed Joffrey's Coffee™
Regular or Decaf – $4.29
New Orleans Chicory Coffee (Serves Two)
French Press Pot – $9.00
Specialty Hot Beverages
New Orleans Chicory Coffee (Serves Two)
French Press Pot – $9.00
Espresso
Featuring Freshly Brewed Joffrey's Coffee™ – $3.99
Cappuccino
Featuring Freshly Brewed Joffrey's Coffee™ – $4.79
Latte
Featuring Freshly Brewed Joffrey's Coffee™ – $4.79
Café Mocha – $4.99
Freshly Brewed Joffrey's Coffee™
Regular or Decaf – $4.29
Specialty Cocktails
Sazerac
Knob Creek Rye, Agave Nectar and Peychaud's Bitters with a splash of Pernod – $14.50
Southern Hurricane
Plantation Original Dark Rum, Bayou Silver Rum, and Tropical Juices topped with a float of Southern Comfort – $14.50
Big Easy Whiskey Sour
Maker's Mark Bourbon, Lemon Juice, and Pure Cane Sugar with a float of Fess Parker Big Easy Red Blend – $15.50
Dessert Cocktails
Chocolate Martini
Mozart Chocolate Liqueur, Stoli Vanil Vodka, White Crème de Cacao, and Frangelico Liqueur – $15.50
Baileys and Coffee
Baileys Irish Cream mixed with Freshly Brewed Joffrey's Coffee™ – $13.30
Fonseca Bin 27 Character Port
3-oz Pour – $12.00
Draft Beer
Abita Amber
Munich-style lager brewed with crystal malt and Perle hops. It has a smooth, malty, slightly caramel flavor, and a rich amber color. – $9.75
Abita Purple Haze
Crisp, American-style wheat beer with raspberries, which provide the lager with a subtle purple coloration and haze, a fruity aroma, and a tartly sweet taste – $9.75
Abita Turbodog
Dark brown ale brewed with Willamette hops and a combination of British pale, crystal, and chocolate malts, giving it a rich body and a sweet chocolate-toffee-like flavor – $9.75
Abita Beer Flight
Sample all three – Ask about the current seasonal selection of bottled Abita Harvest Series – $10.75
Beer (available in Can, Bottle, or Draft)
Assorted – $8.50 – $12.75
Boatwright's Dining Hall Kids Menu
Menu Date: 10/2022
Kids' Appetizers (a la carte)
Garden Salad
with Fat-free Ranch Dressing – $3.00
Chicken Noodle Soup – $3.00
Kid's Create-Your-Own Entrée
All meals served with choice of two (2) Selections and choice of Small Lowfat Milk, Small Dasani® Bottled Water, or Small Minute Maid® Apple Juice
Grilled Chicken Breast – $11.00
Grilled Fish – $13.00
Cheeseburger – $11.00
Pasta with Marinara – $11.00
Macaroni and Cheese – $10.00
Kids' Create-Your-Own Selections (choose two)
Broccoli
Green Beans
House Salad
Roasted Potatoes
Mixed Fruit Cup
Mashed Potatoes
Milk and Cookies
Honey-Banana Yogurt Pop
Row Row Oar Your Boat Ice Cream Sundae
Vanilla Ice Cream with Sprinkles, Chocolate Sauce, and a Butter Cookie
Kids' Specialty Drink
Specialty Character Drink
Minute Maid® Zero Sugar Lemonade with flavors of Cotton Candy served in a souvenir Character Cup – $6.50
Kids' menu items for children ages 9 and younger.
Look for the Disney Check icon on printed menus to find options that meet Disney's nutrition guidelines.
** Boatwright's Dining Hall Menu and Prices are Subject to Change Without Notice **