Resort Restaurants | Boardwalk Resort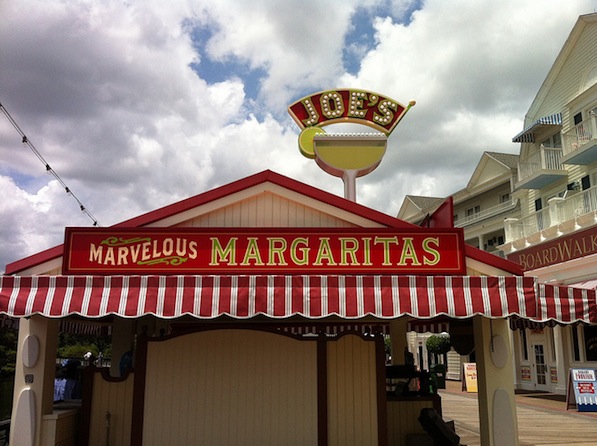 Reviews

Walk on the wild side at BoardWalk Joe's Marvelous Margaritas with a frozen concoction, including margaritas, piña coladas and the Captain's Seaside Sensation—a pineapple smoothie with a shot of Captain Morgan Spiced Rum! Mickey pretzels and roasted nuts are also available.
Restaurant Info: American and Mexican, Breakfast/Lunch/Dinner/Snack, $ – $14.99 and under per adult
Find out how you can save money on dining at Walt Disney World by using one of Disney's Dining Plans.
Boardwalk Joe's Marvelous Margaritas Menu
Menu Date: 08/2017
Snacks
Mickey Pretzel – with Cheese Sauce – $5.69
Roasted Almonds or Pecans – $4.99
Nachos with Cheese – $4.99
Beverages
Pineapple Smoothie – $5.49
Assorted Bottled Beverages – $3.29
Dasani Bottled Water – $3.00
Alcoholic Beverages
Patrón Añejo Margarita – Patrón Añejo Tequila, Cointreau and Sweet-and-Sour served on the rocks – $14.00
Marvelous Watermelon Margarita – Patrón Silver Tequila, Watermelon, fresh Lime Juice and Sweet-and-Sour – $11.75
Grand Margarita – Jose Cuervo Gold Tequila, Grand Marnier, Lime Juice and Sweet-and-Sour served on the rocks – $11.50
Magical Star Cocktail – X-Fusion Organic Mango and Passion Fruit Liqueur, Parrot Bay Coconut Rum, Pineapple Juice and Sweet-and-Sour served with a Souvenir multicolored Glow Cube – $12.50
Frozen Strawberry Margarita – Sauza Gold Tequila and Triple Sec blended with Strawberry Purée – $9.75
Frozen Grand Margarita – Jose Cuervo Gold Tequila, Grand Marnier, Lime Juice and Sweet-and-Sour – $12.50
Piña Colada – with Bacardi Superior Rum – $8.75
Captain's Seaside Sensation – Pineapple Smoothie with Captain Morgan Original Spiced Rum – $9.25
Assorted Bottled Beer
Assorted Draft Beer
** Boardwalk Joe's Marvelous Margaritas Menu and Prices are Subject to Change Without Notice **