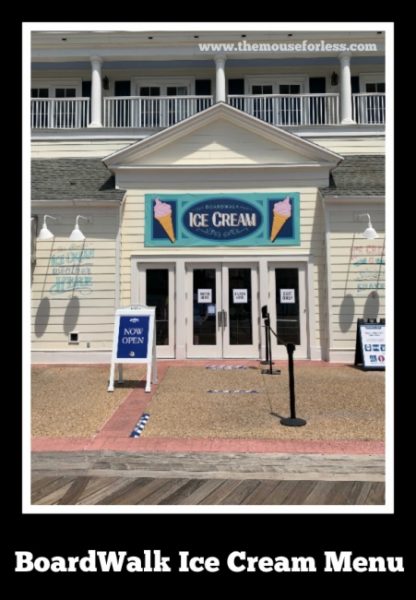 Bring your sweet tooth to this "cool" ice cream parlor located at Disney's BoardWalk, featuring ice cream and sundaes to go. Enjoy menu items such as the Shore-Side Sundae with SNICKERS®, Bay-Side Brownie a la Mode and the Strawberry Splash Shortcake—all inspired by Beaches & Cream Soda Shop.
BoardWalk Ice Cream is located at Disney's Boardwalk Inn Resort.  Find more Walt Disney World dining locations on our Walt Disney World menus page.
Restaurant Info: American, $ – under $14.99 per adult
Find out how you can save money on dining at Walt Disney World by using one of Disney's Dining Plans.

Planning a Walt Disney World Vacation?
For a Free no-obligation quote, contact our sponsor
The Magic For Less Travel
. The Magic For Less Travel is an Authorized Disney Vacation Planner and has been helping guests plan magical vacations since 2002. Receive the best prices and free travel planning services. Their fee-free services will help you save time, money, and stress while planning a vacation designed around you and your needs!
BoardWalk Ice Cream Menu
Menu Date: 10/2022
Ice Cream
Cones (Cake or Sugar) – $5.99 – $6.29
The Classic Wave of Double Scoop – Ice Cream Cup
Vanilla, Chocolate, Strawberry, Butter Pecan, Cookies 'n Cream, Mint Chocolate Chip, Rainbow Sherbet, Coffee, or Fat-free Chocolate or Vanilla – $6.29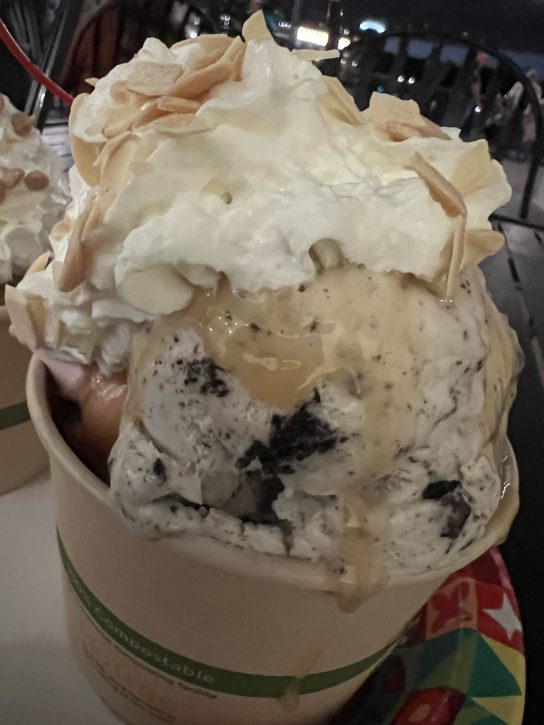 Ride the Wave Sundae – Three Scoops
Choice of one of the following toppings: Marshmallow, Strawberry, Pineapple, Peanut Butter, Hot Fudge, Caramel, or Chocolate Syrup topped with Whipped Cream, Toasted Almonds, and a Cherry. Additional Toppings 1 dollar each – $7.79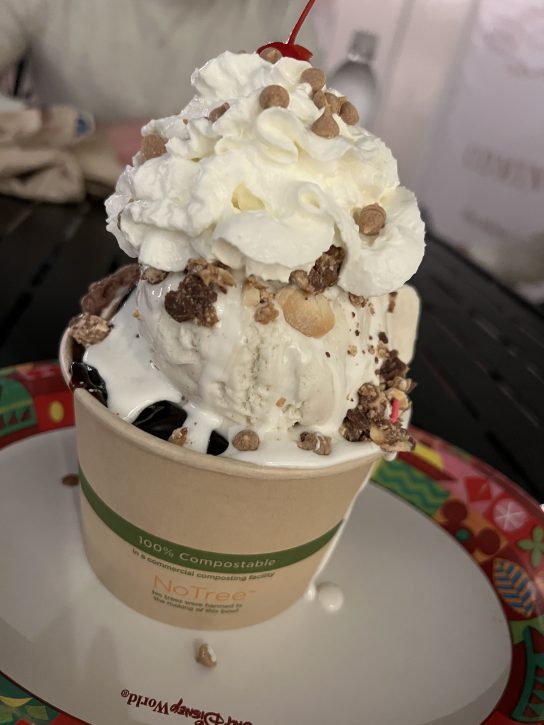 Surf's Up Sundae – Two Scoops
Choice of one of the following toppings: Marshmallow, Strawberry, Pineapple, Peanut Butter, Hot Fudge, Caramel, or Chocolate Syrup topped with Whipped Cream, Toasted Almonds, and a Cherry. Additional Toppings 1 dollar each – $6.79
Shoreside Sundae
Three Scoops of Vanilla Ice Cream smothered in Hot Fudge, Marshmallow Topping, and SNICKERS® bar pieces topped with Whipped Cream, Chopped Peanuts, and a Cherry – $8.29
Bayside Brownie À la Mode
A gooey, chewy Brownie, Hot Fudge, and Vanilla Ice Cream topped with Whipped Cream, Chocolate Sprinkles, and a Cherry – $6.99
Strawberry Splash Shortcake
Vanilla Shortcake, Strawberry Compote, Vanilla Ice Cream, and Whipped Cream – $6.99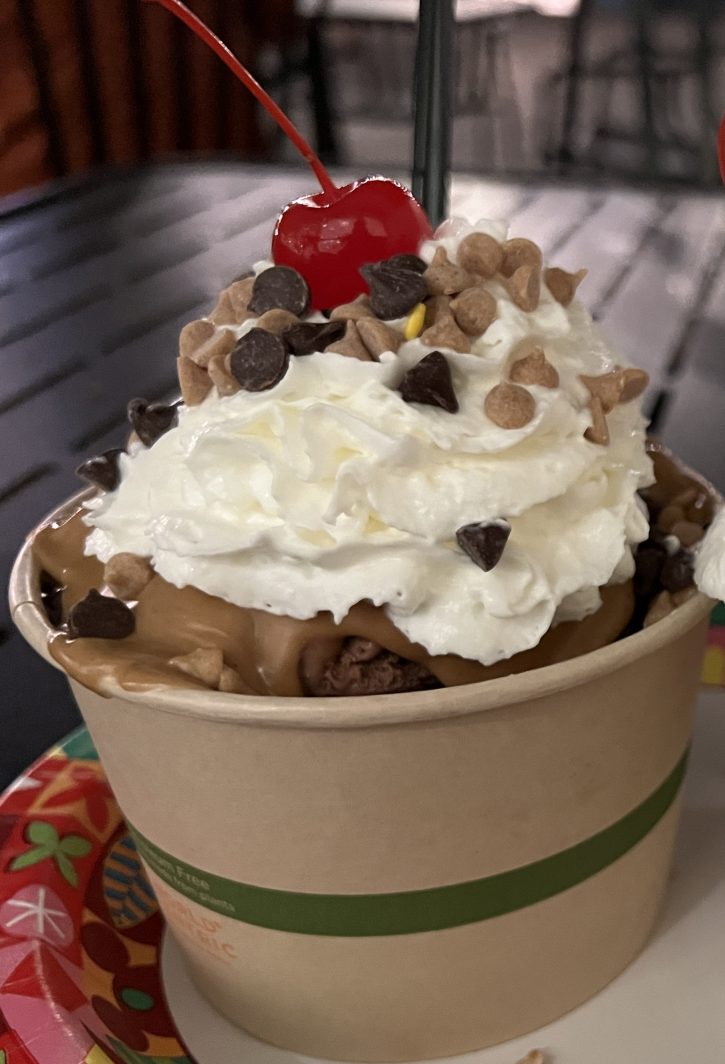 Thundering Surf Peanut Butter and Chocolate Sundae
A Peanut Butter and Hot Fudge delight featuring Chocolate and Vanilla Ice Cream, Peanut Butter and Chocolate Morsels, Whipped Cream, and a Cherry – $8.29
Shakes
Vacation Vanilla – $5.49
Strawberry Riptide – $5.49
Coastal Chocolate – $5.49
Cookies 'n Cream Currents – $5.49
Vanilla Cyclone – (Plant-based) – $5.49
Chocolate Cyclone – (Plant-based) – $5.49
Signature Sundaes
Mickey Kitchen Sink Sundae
Hand-scooped Vanilla and Chocolate Ice Cream topped with Hot Fudge, Caramel, Marshmallow Topping, an Ice Cream Cookie Sandwich with Sprinkles, Whipped Cream, White and Dark Chocolate Curls, and a Cherry. Served in a souvenir Mickey Kitchen Sink – $22.99
Kid's Ice Cream
Mickey Mouse Sundae – One Scoop of Ice Cream with Chocolate Cookies and a Cherry – $5.29
Ice Cream Flavors
Vanilla
Cookies 'n Cream
Rainbow Sherbert
Chocolate
Butter Pecan
Coffee
Strawberry
Mint Chocolate Chip
Chocolate-Vanilla Swirl – No Sugar Added
Vanilla Soy Milk Frozen Dessert (Plany Based)
Chocolate Soy Milk Frozen Dessert (Plany Based)
Non-Alcoholic Beverages
Dasani Bottled Water – $3.50
Soda – Coke products – $4.69
smartwater – $5.50
Vintage Beverages
Cherry Limeade
Amarena Cherry, Cold-pressed Lime Juice, Sparkling Water – $4.99
Tropical Orange Seltzer
Orange and Pineapple Juices, Sparkling Water – $4.99
Egg Cream
Chocolate Flavor, Milk, Sparkling Water – $5.29
** Menu and Prices are Subject to Change Without Notice **