Resort Restaurants | Boardwalk Resort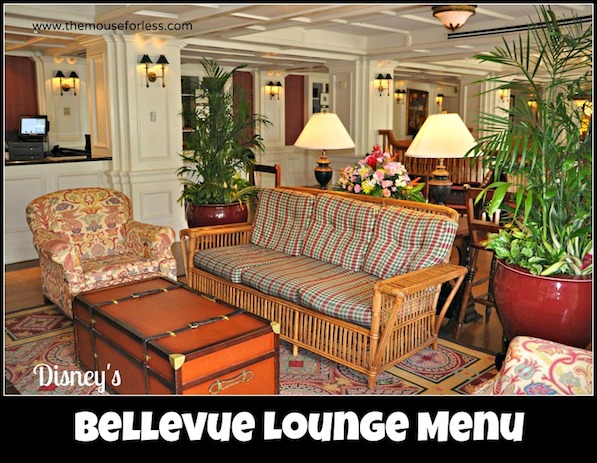 Reviews

Step into this quaint 1930s-style sitting room where radios play programs from the era at Bellevue Lounge. Or, relax and enjoy evening cocktail on the outdoor patio overlooking the Boardwalk's Village Green.
Restaurant Info: American, Breakfast/Snack, $ – $14.99 and under per adult)
Find out how you can save money on dining at Walt Disney World by using one of Disney's Dining Plans.
Bellevue Lounge Breakfast Menu
Menu Date: 06/2016
Open Daily for Continental Style Breakfast from 6:30 a.m. – 11:00 a.m.
Lounge Operating Hours are 5 p.m. – 12 a.m. daily; full bar available.
Continental-Style Offerings
Cereal with Milk – $3.69

Bagel – $2.99

Cinnamon-Raisin Bagel – $2.99

Everything Bagel – $2.99

Croissant – $2.99

Almond Croissant – $3.49

Chocolate Croissant – $3.59

Multigrain Croissant – $3.59

Chocolate Chip Mickey Muffin – $2.29

Orange-Cranberry Muffin – $3.29

Blueberry Muffin – $3.29

Raspberry Cheese – $3.59

Apple Danish – $3.59

Cinnamon Bun – $3.79

Sticky Bun – $3.79

Whole Fruit – $1.99

Fruit Cup – $3.99

Chai Yogurt Parfait – $5.79

Dannon Greek Yogurt – $2.59

Beverages
Coffee – regular or decaf – $2.49

Hot Tea – $2.49

Cappuccino – $4.19

Espresso – $3.69

Double Espresso – $4.69

Minute Maid Apple Juice – $2.39

Simply Orange Juice – $4.29

Low-fat Milk – $1.99

Nestle Nesquik Chocolate Milk – $3.29


= Snack on the Disney Dining Plan
** Menu and Prices are Subject to Change Without Notice **