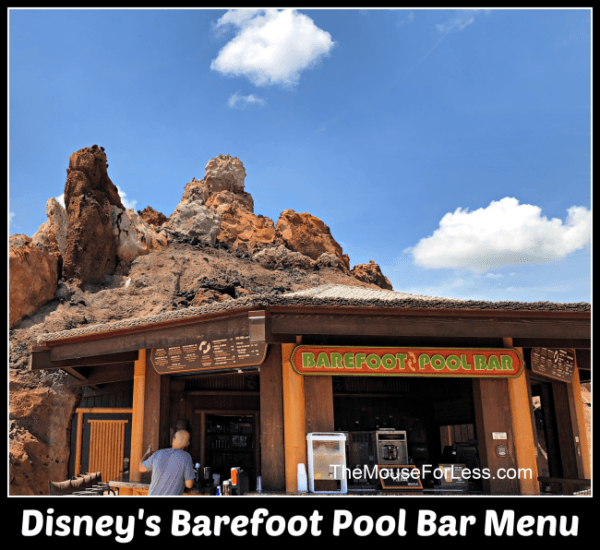 Kick off your shoes and enjoy the white sandy beach as you sip on Tiki drinks and take in views of Magic Kingdom park at Barefoot Pool Bar.
Barefoot Pool Bar is located in Disney's Polynesian Village Resort.  Find more Walt Disney World dining locations on our Walt Disney World menus page.
Restaurant Info: American, Beverages, $
Find out how you can save money on dining at Walt Disney World by using one of Disney's Dining Plans.

Planning a Walt Disney World Vacation?
For a Free no-obligation quote, contact our sponsor
The Magic For Less Travel
. The Magic For Less Travel is an Authorized Disney Vacation Planner and has been helping guests plan magical vacations since 2002. Receive the best prices and free travel planning services. Their fee-free services will help you save time, money, and stress while planning a vacation designed around you and your needs!
Barefoot Pool Bar – Bar Menu
Menu Date: 01/2023
Starters (served until 8pm)
Oasis Salad
with Edamame, Vegetables, Crispy Wontons and Citrus Vinaigrette – $10.29
Oasis Salad with Grilled Chicken
with Edamame, Vegetables, crispy Wontons and Citrus Vinaigrette – $12.29
Oasis Salad with Shrimp
with Edamame, Vegetables, crispy Wontons and Citrus Vinaigrette – $13.99
Fried Wonton Chips
served with Spicy Duck Sauce – $4.49
Black Pepper Parmesan Chicken Wings
with Fresh Garden Herb Dressing – $11.99
Entrées (served until 8pm)
Sashimi of Tuna, Salmon and Hamachi
served with Wakame Salad – $17.99
Angus Chuck Cheddar Cheeseburger
with Cheddar, Lettuce, Onion, Tomato, and Pickle – $12.29

Grilled Sustainable Fish Tacos
Cumin-spiced with crunchy Cabbage and Cilantro-Lime Crema – $12.99
Grilled Chicken Avocado Wrap
with Lettuce, Tomato, and Garlic Ranch Dressing – $11.29
Signature Sweet
Malasadas
Portuguese Doughnuts served with Passion Fruit Curd – $5.29
Kids' Disney Check Meals – For Children 9 and Under (served until 8pm)
Grilled Chicken Strips
served with Apple Slices, Carrot Sticks, and choice of Small Lowfat Milk or Small DASANI® Bottled Water – $8.49

Grilled Sustainable Fish Tacos
Cumin-spiced with Crunchy Cabbage and Cliantro-Lime Crema served with Apple Slices, Carrot Sticks, and choice of Small Lowfat Milk or Small DASANI® Bottled Water – $7.99
Kids' Meals – For Children 9 and Under (served until 8pm)
Cheeseburger
served with Apple Slices, Carrot Sticks, and choice of Small Lowfat Milk, Small DASANI® Bottled Water, or Small Minute Maid® Apple Juice – $8.49
Chicken Breast Nuggets
served with Apple Slices, Carrot Sticks, and choice of Small Lowfat Milk, Small DASANI® Bottled Water, or Small Minute Maid® Apple Juice – $8.49
Non-Alcoholic Specialties
EARidescent Sip-a-bration
Minute Maid® Premium Lemonade and Fruity Strawberry Punch, served in a souvenir 50th Celebration Cup with a surprise Character and a little bit of magic! – $10.00
Minute Maid® Premium Lemonade
also available in Strawberry or Raspberry for $5.49 – $4.99
Lava Smoothie
Raspberry Purée blended with flavors of Coconut and Pineapple – $5.99
Strawberry Smoothie
Strawberry Purée blended with Nonfat Yogurt – $5.99
DASANI® Bottled Water – $3.75
smartwater® – $5.75
Assorted Fountain Beverages – $3.99
POWERADE® Mountain Berry Blast – $4.69
Fever Tree Ginger Beer – $4.99
Cold Brew Coffee
Available in unsweetened French Roast and Shakin' Jamaican – $4.29
Beer, Wine & Sangria
Assorted Draft, Bottled or Canned Beer – $8.50 – $12.75
Assorted Wine and Sangria – $12.00 – $17.00
Barefoot Specialty Cocktails
Magical Beacon Cocktail
Empress 1908 Gin, Bols Blue Curaçao, Minute Maid® Premium Lemonade, Orgeat (Almond), Lemon, Hibiscus Grenadine and a souvenir Glow Cube – $17.50
Sunshine Margarita
Lunazul Reposado Tequila, Cointreau and Sweet-and-Sour with Orange and Lime Juices – $16.50
Blueberry Lemonade
Three Olives Blueberry Vodka, Bols Blue Curaçao, and Minute Maid® Premium Lemonade with Juices of Lemon and Pomegranate topped with Sprite® – $15.50
Bourbon Breeze
Old Forester Bourbon with Cranberry, Lime and Pomegranate juices topped with Fever-Tree Ginger Beer – $16.50
Cucumber and Mint Vojito
Ketel One Botanical Cucumber & Mint, Lime Juice, and Pure Cane Sugar topped with Soda Water – $15.50
Banana Cabana
Cruzan Mango Rum, Parrot Bay Coconut Rum, Bols Crème de Banana, Orange Juice, and Pineapple Juice with a float of Grenadine – $15.50
Captain's Mai Tai
Captain Morgan Original Spiced Rum, Bols Amaretto, and Tropical Juices topped with a float of Plantation Original Dark Rum – $14.50
Strawberry Margarita
Lunazul Reposado Tequila and Lime Juice blended with Strawberry Puree – $16.00
Frozen Margarita with DOLE Whip® Lime
Corazón Blanco Tequila blended with DOLE Whip® Lime and Chili-Lime Seasoning – $15.50
Frosé
Featuring Meiomi Rosé and Tito's Handmade Vodka – $15.50
Big Island Iced Tea
Pau Maui Handmade Vodka , Bacardi Superior Rum, Hendricks Gin, Cointreau, and Sweet-and-Sour with Coca-Cola® – $15.50
Lava Flow
Bacardi Superior Rum blended with Cream of Coconut, Pineapple Juice and Strawberry Purée – $15.50
Bloody Mele
Pau Maui Handmade Vodka with Spicy Bloody Mary Mix – $13.50
Frosty Pineapple
DOLE Whip® Pineapple with Captain Morgan Private Stock Rum – $14.50
Niue Rita
Jose Cuervo Gold Tequila with Cointreau and Lime, Orange, Guava, and Passion Fruit Juices – $15.50
Pago Pago Painkiller
Plantation Original Dark Rum, Orange Juice, Pineapple Juice, and Cream of Coconut – $14.50
Rose Gold Sunset Margarita
Lunazul Reposado Tequila and Cointreau with flavors of Mango, Guava and Ginger – $15.50
Luck of the Tahitian
Jameson Irish Whiskey and Baileys Irish Cream with Vanilla and Whipped Cream – $15.50
The Voyager
Parrot Bay Coconut Rum blended with Cream of Coconut and Pineapple Juice, layered with DOLE Whip Pineapple and Blue Curaçao – $14.50
** Barefoot Pool Bar Menu and Prices are Subject to Change Without Notice **