Resort Restaurants | Yacht Club Resort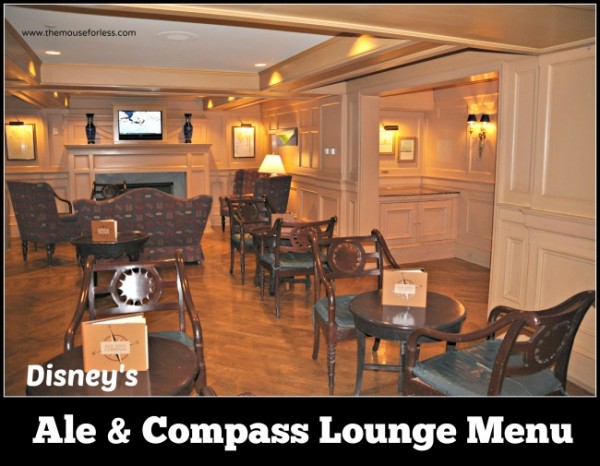 Ale and Compass Lounge Reviews
Both Beer and high-end liquors are poured at this nautical nook. Plus, you can enjoy light snacks like the fruit and cheese board and coffee and pastries in the morning.
Restaurant Info: American, Breakfast/Appetizers, $
Find out how you can save money on dining at Walt Disney World by using one of Disney's Dining Plans.
Ale and Compass Breakfast Menu
Menu Date: 01/2016
Breakfast Featured Items
A variety if items are offered a la carte in the morning, including: Fresh Pastries, Assorted Muffins, Croissants, Fresh Fruit, Granola Bars, Protein Bars, Yogurt Parfait, Baked Goods, Egg White Multigrain Croissant Sandwich, Steel-cut Oatmeal and Grits
Beverages
Fresh Brewed Coffee – $2.09
Espresso – $3.69
Latte – $4.19
Cappuccino – $4.19
Also Available: Hot Tea, Hot Cocoa, Apple Juice, Orange Juice, Smartwater, 1% Milk, Whole Milk, or Nesquik Chocolate Milk and Freshly Brewed Nestea Iced Tea
Ale and Compass Lounge Menu
Menu Date: 01/2016
Appetizers
Lump Crab Cake – with House-made Tartar Sauce – $14.49
Chilled Lobster Sliders – served chilled on a Butter-toasted Roll with a choice of Orzo Salad or Chips – $18.99
Angus Chuck Cheeseburger – Lettuce, Tomato, Onion, and Cheese served with French Fries – $13.99
Pot-braised Mussels and Clams – Chorizo, Fines Herbs, and Garlic-Herb Butter with Toasted Focaccia – $11.99
Buttermilk-fried Rock Shrimp – Chipotle Rémoulade, Citrus Cream, and Chilled Cucumber Salad – $14.99
Buffalo Chicken Wings – Celery and Carrot Shavings with Blue Cheese Dressing – $11.99
House-cut Truffle Fries – Roasted Shallot Mayonnaise and Shredded Parmesan Cheese – $5.49
A full bar offering beers, wines and cocktails is also available.
** Menu and Prices are Subject to Change Without Notice **