Dining Gluten Free at Walt Disney World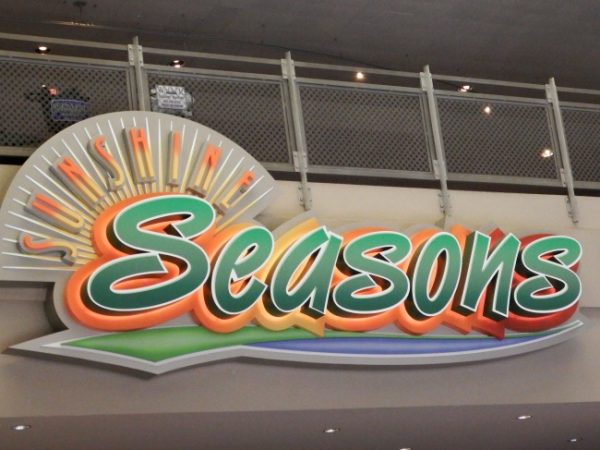 By Rhoda Smith
We were at WDW November 7-14, 2009. My husband had been diagnosed with Celiac Disease just a couple of months before this trip, so we suddenly had to jump into the world of gluten-free (GF) eating at WDW! I want to reassure GF eaters that it really was an easy process, even for beginners like us! The key is to do a lot of preparation and researching before you go. The more you know before, the better prepared you are for your GF dining experiences when you arrive! Planning is essential.
Some important phone numbers/email addresses to know:
General phone number for special dietary needs (call before trip): 407-824-5967
Magic Kingdom: 407-824-5967
Epcot: 407-560-7292
DHS: 407-560-1347
Animal Kingdom: 407-939-7536
specialdiets@disneyworld.com (email prior to trip)
Know that many restaurants in Epcot and all in Animal Kingdom are not Disney-owned, but still do provide GF options.
By either calling 407-824-5967 or emailing to the address above, WDW will send you an email full of information for GF dining. You want to do this as soon as possible to help with your meal planning, especially if you are using the Disney Dining Plan. There is a form to fill out with the name of the person who has the dietary restriction, contact info, restaurants with ADR's and confirmation numbers, etc. They make sure that your dietary need is connected with each reservation. I just needs to be returned to them prior to your visit. Then they also send several lists of info regarding GF dining, including:
Guest Dietary Letter/Guest Allergy Dietary Request Form
Information on allergy-free chicken tenders
Food Allergy Dietary Reference Sheet
No-Gluten-Added Products
OP Allergy Menus for Epcot
Water Parks Menu Items
WDW Resort Dietary Sheets
We printed these off and my husband carried them with him daily.
When making ADR's via phone, be sure to tell the Cast Member you are speaking with about your GF dietary need. They will note this on your reservation. When making online ADR's, there is a place to "click" for special dietary needs, and "wheat allergy" is one of them. You will have to notate this with each restaurant ADR, even if they are tied to your hotel reservation.
At every table-service restaurant, the server was aware of our dietary need and the chef came to our table to discuss food options. All of the chefs were knowledgeable, some more than others, but all left us comfortable in knowing our food would be prepared GF and would be tasty! All presented the possibilities of GF options from the menu, and then offered to make something totally different if nothing sounded good. For buffet table-service restaurants, the chef took my husband around the buffet and discussed every option, declaring it either GF or not GF. (I can assure you that at all buffets, he was able to load his plate several times over!). At a non-buffet restaurant, a separate server (or the chef himself) brings out the meal on its own tray, so there is no potential for cross-contamination with the meals for the rest of the family.
At counter-service restaurants, the manager must be notified and he will review GF options with you. Then he goes back and chooses one food-preparer to prepare the food and bring it to your table, again on its' own tray. (**know that this takes longer than the preparation of normal food, so you may want to put in your GF food order first, and then order regular food for the rest of the family, so that GF tray has a head start).
We ate at the following restaurants and had these experiences:
A quick summary: Here are the counter service restaurants throughout WDW which easily provide GF meals:
Magic Kingdom:
Epcot:
Disney Hollywood Studios:
Animal Kingdom:
THE ULTIMATE KEY is to be sure your server and chef (in table service restaurants) or the manager (at counter service restaurants) is made aware of your dietary need. You will get personalized service, one-on-one preparation and service of your meal. WDW is better about GF dining than any restaurant we have encountered outside of WDW!
***Since this article was published, Disney World has slightly modified their Gluten Free Dining policies. Now, each dining location around the parks can accommodate common allergies such as gluten intolerance. At a table service restaurant nothing is different, a chef will still come to the table and prepare a meal you will enjoy. At quick-service restaurants there is now an available list of what is served in the restaurant that is gluten free. Often this ends up being chicken tenders and a gluten free chocolate chip cookie. See also: Dining at WDW with Allergies