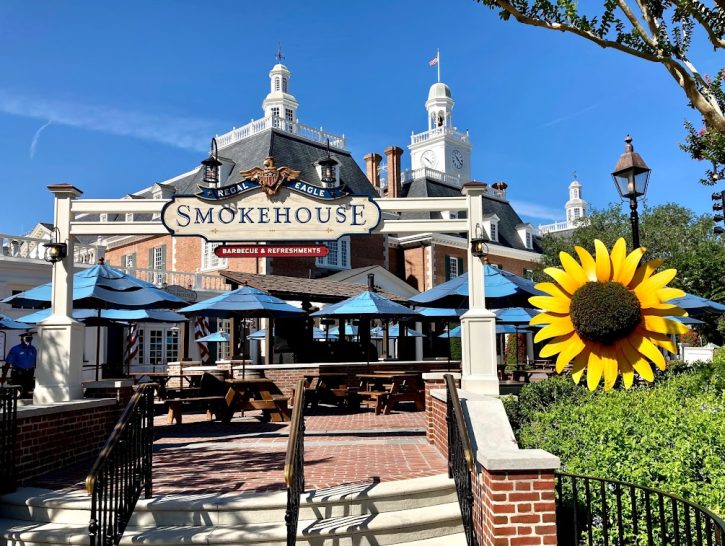 Table Service Dining Quick-Service Dining Tips
Dining Gluten Free at Walt Disney World – Table Service & Buffet Dining
Dining Gluten Free at table service restaurants around Walt Disney World is the easiest way to ensure there will be delicious food options that also meet your dietary needs. It is best to make an Advanced Dining Reservation (ADR) when eating at a table service restaurant at Disney. Many of the restaurants accept walk-ups, but you may have to wait a long time or they may be completely booked. This system makes gluten free dining much easier though, because you can note that you will require a gluten free meal, along with any other requests you may have. If you are unable to note your allergy when you make the reservation, you can indicate it when you check in using the app or in person.
Typically, table service restaurants will be prepared to accommodate the most common food allergies, one of which is gluten. Most restaurants will have several options for you to choose from so that you can have an enjoyable dining experience. Always verify with your server that they are aware of your allergy. You can request to have the chef come out to speak with the person who has special dietary needs to ensure that they are served a meal that they will enjoy and that will be safe for them to eat. At buffet-style dining locations, you can request a brochure indicating which items are safe for various common allergies. You can also request to speak with a chef at buffet locations.
To make an ADR call (407) WDW-DINE or use MyDisneyExperience online or in the app. When you make your reservation simply note that a member of your party has a gluten allergy and Disney will typically take care of the rest at table service and buffet restaurants.
The number to call for direct dietary assistance is 407-824-5967.  A cast member can answer your specific questions about offerings at various restaurants.
Dining Gluten Free at Walt Disney World – Quick Service Dining
Table Service dining may be the most accommodating to allergies, but it is also the most time consuming and expensive way to dine at Walt Disney World. Quick-service dining does not require a reservation. Guests simply walk in and order food or order ahead of time using Mobile Ordering in the MyDisneyExperience app.  The majority of quick-service dining locations around Walt Disney World offer at least one gluten free meal option. In the past few years, Disney has improved the quality of their allergy-friendly dining options, and many restaurants have several options to choose from that are of good quality.
If there is not a gluten-free food option listed on the menu of a quick-service dining location, go up to the counter and ask. There is often a special allergy-friendly menu that will provide a concise list of what the dining location can make for you. You can also request to speak with the chef, who may offer you options not found on the menu. Often, you can also modify a menu item to make it better suit your needs such as leaving off an ingredient or making substitutions such as a gluten free bun.
For snack foods, many locations will offer similar pre-packaged, gluten free items such as popcorn or cookies. There are also snacks that are naturally gluten-free like the delicious and extremely popular Dole Whip! Don't miss out on this tasty treat!
MouseForLess Tips
Note on any advanced reservations that you will require a gluten free meal.
Bring your own snacks to save some money and ensure you have something you will like. You can have a small soft-sided cooler, just don't bring any glass containers.
Try at least one Table Service restaurant. The chefs typically are extremely accommodating which adds to the Disney magic.
Try a Dole Whip! Naturally gluten free and extremely delicious!