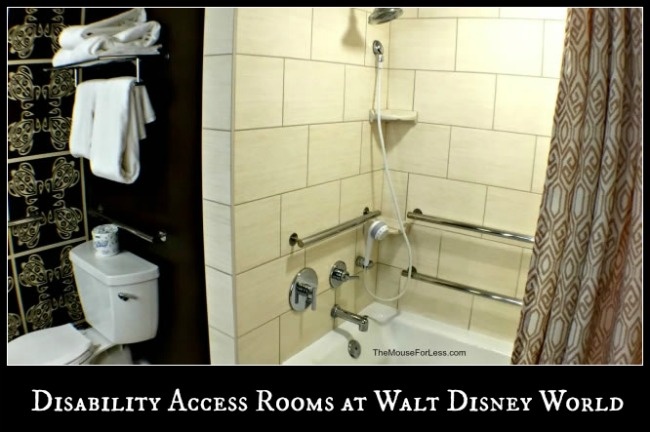 Disability Access Rooms at Walt Disney World
The Walt Disney World resort offers many options for those staying in a room on property. There are many variations of the standard resort room available for guests. Handicap accessible rooms can be requested and special features can be added on to make guests as comfortable as possible. If you have a request that is not mentioned in this article be sure to include this in your reservation, as a Cast Member may be able to help. Check out our Disney Resorts page to decide which resort best suits your needs.
Mobility Disability Accessible Rooms
These rooms vary widely across the Disney World resort hotels. All of the rooms will be fully accessible for guests in a wheelchair and have accessible showers. These rooms will be accessible without having to use any stairs. While not all resort areas are fully accessible, there is a clear, accessible path from handicap resort rooms to the main lobby areas of each resort. The accommodations vary across the Disney World resorts. Be sure to be very specific about your needs in order to have the best possible experience.  Features for the mobility disability accessible rooms include the following:
Bathrooms – these rooms will have wider bathroom doors, roll-in showers, shower benches, hand-held shower heads, accessible vanities, portable commodes, and bathroom rails
Bed Accessories – upon request the beds may have bed rails, adjustable beds, lower beds, and rubber bed pads, or open frame beds
Other Accommodations for Disability Access Rooms at Walt Disney World
For guests with needs other than accessibility, Disney has rooms that feature many tools to aid in guest comfort and safety. For guests with hearing needs, rooms can be equipped with visual fire alarms, talk to text phone systems (TTY), and visual door knock systems. There are accommodations available for guests with visual needs as well. Other accommodations can be provided at guest request. Be sure to be clear with what type of assistance you need, and Disney will likely be able to provide for your specific circumstances.