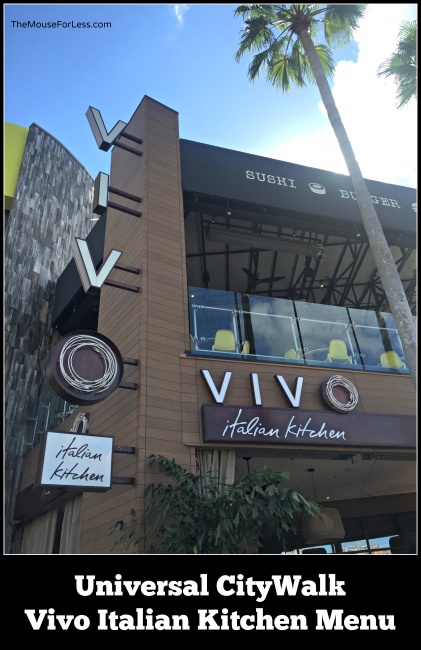 Celebrate modern Italian cuisine at Vivo Italian Kitchen featuring tried and true family recipes perfected over centuries, brought up to date with a reimagined touch.
Open daily: 4:00pm – 11:00pm
Restaurant Info: Italian/Dinner/$$
Vivo Italian Kitchen Dinner Menu
Menu Date: 6/2017
Primi
Mussels Marinara
white wine, garlic, basil, tomato, crostini – $12.00
Meatball
house-made meatballs in marinara – $10.00
Antipasto
salami, calabrese, prosciutto, fresh mozzarella, imported parmesan, grilled zucchini, caponata, olive tapenade, gorgonzola, provolone, roasted peppers, crostini – $12.00
Calamari
flash fried calamari, sweet peppers, lemon-garlic aioli, marinara – $12.00
Vivo Stuffed Flatbread
prosciutto, crescenza, olive oil, arugula, marinara – $8.00
Beef Carpaccio
shaved raw beef, arugula, grana padano, capers, lemon, mustard, olive oil – $9.50
Classic Caprese
marinated tomatoes, fresh mozzarella, basil, balsamic, sea salt – $11.00
Mushroom Sauté
sautéed mushrooms, sherry, cream, parmesan – $9.00
Wood Stove Pizza
Quattro Fromaggi
mozzarella, fontina, italico, ricotta, sage – $14.00
Margherita
tomato sauce, basil, extra virgin olive oil, buffalo mozzarella – $12.00
Zuppa & Insalate
Minestrone
An Italian favorite! – $5.00
Heirloom Tomato Salad
pistachio crusted burrata, prosciutto jam, olive oil croutons, kale – $14.00
Classic Caesar
romaine, croutons, grana padano, anchovy Caesar dressing – $7.00
Roasted Beet
beets, gorgonzola, spicy walnuts, baby greens, cherry tomato, red balsamic vinaigrette – $6.00
Pasta
Bolognese
classic meat sauce, spaghetti – $14.00
Lasagna
pasta layers, bolognese, parmesan, mozzarella, creamy white sauce – $15.00
Arrabiata
spicy tomato sauce, shallots, penne – $15.00
Puttanesca
olives, capers, tomato sauce, oregano, paccheri tubes – $15.00
Cacio e Pepe
shrimp, pancetta, black pepper, pecorino, bucatini – $16.00
Bucatini with Meatballs
house-made meatballs, marinara, mozzarella – $16.00
Lamb Ragu
traditional slow cooked, marinara, spaghetti – $16.00
Eggplant Alla Norma
tomato sauce, fresh mozzarella, basil, penne – $15.00
Chicken Fettuccine Alfredo
grilled chicken breast, parmesan cream sauce, pancetta, peas – $17.00
Cannelloni
spinach and tomato pasta, marinara, spinach ricotta, béchamel – $13.00
Linguine and Clams
seasonal clams, red chili flakes, garlic, white wine – $18.00
Squid Ink Seafood
shrimp, clams, mussels, calamari,  white wine, basil, black spaghetti – $19.00
Amatriciana
pancetta, pecorino, tomato sauce, bucatini – $15.00
Pomodoro
fresh tomatoes, white wine, garlic, basil – $13.00
Sausage Ragu
Italian sausage, marinara, penne – $14.00
Piatto Principale
Piccata
white wine, lemon capers, linguine
with Chicken – $16.00
with Veal – $21.00
Chicken Cacciatore
braised chicken, mushrooms, pancetta, cherry tomatoes, orzo pasta, parmesan – $26.00
Gnocchi Pasta
potato gnocchi with pistachio pesto, buffalo mozzarella, roasted tomato – $16.00
Short Rib
roasted garlic polenta, roasted carrots, red wine demi-glace, herbs – $25.00
Cbicken Mattone
brick chicken, crispy red potatoes, escarole, roasted garlic – $23.00
Seafood Risotto
shrimp, clams, mussels, calamari, tomato and English pea risotto, white wine – $22.00
Parmigiano
marinara, mozzarella, linguine
with Chicken –  $16.00
with Eggplant – $15.00
with Veal – $21.00
Marsala
sautéed mushrooms, marsala wine sauce, linguine
with Chicken – $17.00
with Veal – $21.00
Beef Medallions
grilled medallions, rapini, baby potatoes, red wine mustard glaze – $26.00
Salmon
fresh grilled salmon, orange-fennel, tomato and olive relish, baby potatoes – $24.00
Sword Fish Siciliana
grilled sword fish, pistachio pesto, caponata, roasted tomato, braised fennel – $24.00
Dolce
The Big Cannoli
Our signature dessert is a 14 inch cannoli shell filled with two pounds of cannoli cream and topped with white and dark chocolate shavings. Serves 4 or more – $12.50
Creme Brulee
Orange and rosemary custard, almond biscotti – $6.50
Cannoli
Sweet ricotta filling, chocolate chips, pistachios, Luxado cherries – $6.50
Panna Cotta
Vanilla custard with mixed berry coulis – $6.50
Tiramisu
Lady fingers soaked in espresso, creamy mascarpone, chocolate shavings – $6.50
Bread Pudding
Warmed, amaretto anglaise, topped with sour cream gelato – $6.25
Nonna (Grandmother's Cake)
Warm orange walnut cake with sweet sour cream gelato and fresh orange – $6.50
Kids' Menu
Menu Date: 6/2017
Ages 9 and under.
Spaghetti with Meatball
House made meatball, spaghetti, marinara – $6.99
Pepperoni Pizza
San Marzano tomato sauce, big eye pepperoni, mozzarella- $6.99
Shrimp Skewer
Grilled shrimp skewer, mixed vegetables – $6.99
Cheese Pizza
San Marzano tomato sauce, mozzarella – $6.99
Grilled Chicken Breast
Grilled chicken, choice of applesauce or grapes – $6.99
Meatball Sandwiches
Two mini meatball sandwiches, marinara sauce – $6.99
** Vivo Italian Kitchen Menu and Prices are Subject to Change Without Notice **