Islands of Adventure | Hogsmeade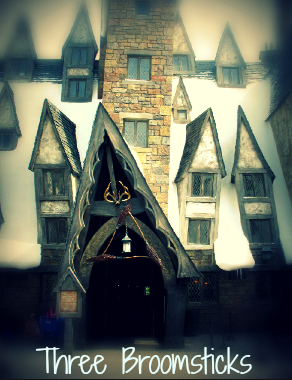 Entrées Sides Desserts Beverages Kid's Menu
This rustic tavern offers Hogsmeade guests delicious English fare. Step into the same venue where Harry Potter and his friends visited during their visits to Hogsmeade. Enjoy lunch, dinner or dessert in this restaurant located in Universal's Islands of Adventure.
Restaurant Info: Pub Food/Lunch and Dinner/$-$$
Three Broomsticks Menu – Lunch and Dinner
Menu Date: 08/2016
Entrées
Great Feast
Garden Salad, Rotisserie smoked chicken and spareribs, corn on the cob, roast potatoes.
Serves 4, additional servings $12.99 per person.
$49.99
Shepherd's Pie with Garden Salad
Ground beef and vegetables crowned with potatoes
$9.99
Fish and Chips
Fresh North Atlantic cod battered and fried with chips and tartar sauce
$11.99
Cornish Pasties with Garden Salad
3 small empanada-like potato crust pastries stuffed with seasoned ground beef and vegetables.
Served with a side garden salad and choice of packaged dressing.
$7.99
Rotisserie Smoked Chicken Platter
Served with Corn on the Cob and Roast Potatoes
$9.99
Spareribs Platter
Served with Corn on the Cob and Roast Potatoes
$13.49
Chicken and Ribs Platter
Served with Corn on the Cob and Roast Potatoes
$13.49
Smoked Turkey Leg
Served with Wedge Fries
$11.99
Soup and Salad Combo
Leek and Potato or Split Pea and Ham Soup. Side Salad and choice of dressing
$6.99
Rotisserie Smoked Chicken Salad
Served over a bed of fresh greens, with choice of dressing
$8.99
Sides
Garlic Herb Roast Potatoes $2.89
Baked Potato $2.89
Topped with Butter and Sour Cream $2.89
Garlic Herb Corn on the Cob $2.89
Seasoned Wedge Fries $2.89
Fresh garden Salad $3.49
Fruit Cup $2.99
Desserts
Cup of Ice Cream
Strawberry and Peanut Butter, Vanilla, or Chocolate
$3.99
Chocolate Triffle
Layered Chocolate Cake with Fresh Berries and Cream
$3.49
Freshly Baked Apple Pie
$3.49
Beverages
Non-Alcoholic
Butterbeer (regular) $4.99
Frozen Butterbeer $5.99
Hot Butterbeer $4.99
Pumpkin Juice $3.99
Pumpkin Fizz $3.99
Lemonade $3.29
Sparkling Water $2.75
Natural Spring Water $4.00
Iced Tea (Sweet, Unsweetened, Raspberry) $2.99
Alcoholic
Hog's Head Brew Draught Beer $7.99
Wizard's Brew $8.49
Dragon Scale $8.49
Wine By The Glass $7.00
Domestic Beer on Tap $6.49
Kid's Menu
Fish and Chips $4.99
Chicken legs $4.99
Chicken fingers $4.99
Mac and cheese $4.99
** Three Broomsticks Menu and Prices are Subject to Change Without Notice **