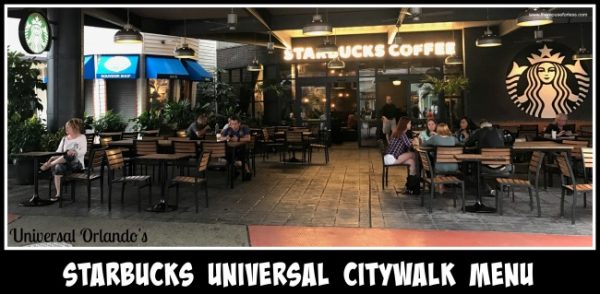 Start your day or take a break with the familiar taste of Starbucks at Starbucks Universal CityWalk.  Known worldwide for its coffees and pastries, you're sure to find something for everyone.  Pastries and sandwiches are also available at Starbucks Universal CityWalk.
Starbucks is located in Universal Orlando's Citywalk.  Find more Universal Orlando dining locations on our Universal Orlando Resort menus page.
Hours of Operation
Sunday – Thursday: 7:00 am – 11:00 pm
Friday – Saturday: 7:00 am – midnight
Starbucks Universal CityWalk Menu
Menu Date 10/2020
Some menu items may not be available at this time.
Teavana Handcrafted Iced Tea
Shaken Iced Tea
Caffeine-Free Passion Tango Herbal, Black or Green
tall 12 fl oz – $2.69
grande 16 fl oz – $3.29
venti 20/24 fl oz – $3.49
Shaken Iced Tea Lemonade
tall 12 fl oz – $3.79
grande 16 fl oz – $4.29
venti 20/24 fl oz – $4.49
Mango Black Tea Lemonade
tall 12 fl oz – $3.99
grande 16 fl oz – $4.49
venti 20/24 fl oz – $4.79
Peach Green Tea Lemonade
tall 12 fl oz – $3.99
grande 16 fl oz – $4.49
venti 20/24 fl oz – $4.79
Iced Chai Latte
tall 12 fl oz – $4.29
grande 16 fl oz – $4.69
venti 20/24 fl oz – $4.99
Iced Green Tea Latte
tall 12 fl oz – $4.29
grande 16 fl oz – $4.69
venti 20/24 fl oz – $5.19
Teavana – Handcrafted Hot Tea
Chai Tea Latte
tall 12 fl oz – $4.29
grande 16 fl oz – $4.69
venti 20/24 fl oz – $4.99
Green Tea Latte
tall 12 fl oz – $4.29
grande 16 fl oz – $4.69
venti 20/24 fl oz – $4.99
London Fog Tea Latte
tall 12 fl oz – $4.29
grande 16 fl oz – $4.69
venti 20/24 fl oz – $4.99
Full Leaf Brewed Tea
Royal English Breakfast, Emperor's Clouds & Mist or Mint Majesty
tall 12 fl oz – $2.49
grande 16 fl oz – $2.99
venti 20/24 fl oz – $3.29
Customize Any Drink
Flavor
Regular or Sugar-Free – $0.60
Espresso Shot – $0.99
Substitutions
Sumatra Coconut milk, Organic Soymilk or Almondmilk  – $0.75
Espresso & Cold Brew
Try it with Almondmilk + $0.75
Cascara Latte
tall 12 fl oz – $4.79
grande 16 fl oz – $5.29
venti 20/24 fl oz – $5.79
Smoked Butterscotch Latte
tall 12 fl oz – $4.79
grande 16 fl oz – $5.29
venti 20/24 fl oz – $5.79
Latte Macchiato
tall 12 fl oz – $4.79
Flat White
tall 12 fl oz – $4.79
Cappuccino
tall 12 fl oz – $3.99
grande 16 fl oz – $4.29
venti 20/24 fl oz – $4.79
Caffè Latte
tall 12 fl oz – $3.99
grande 16 fl oz – $4.29
venti 20/24 fl oz – $4.79
Caramel Macchiato
tall 12 fl oz – $4.79
grande 16 fl oz – $5.29
venti 20/24 fl oz – $5.79
White Chocolate Mocha
tall 12 fl oz – $4.79
grande 16 fl oz – $5.29
venti 20/24 fl oz – $5.99
Caffè Mocha
tall 12 fl oz – $4.29
grande 16 fl oz – $4.79
venti 20/24 fl oz – $5.29
Caffè Americano
tall 12 fl oz – $2.99
grande 16 fl oz – $3.29
venti 20/24 fl oz – $3.49
Freshly Brewed Coffee
tall 12 fl oz – $2.29
grande 16 fl oz – $2.79
venti 20/24 fl oz – $2.99
Narino 70 Cold Brew
tall 12 fl oz – $3.69
grande 16 fl oz – $4.29
venti 20/24 fl oz – $4.69
Vanilla Sweet Cream Cold Brew
tall 12 fl oz – $4.29
grande 16 fl oz – $4.79
venti 20/24 fl oz – $4.99
Iced Coffee
Vanilla or Caramel
tall 12 fl oz – $3.29
grande 16 fl oz – $3.49
venti 20/24 fl oz – $3.99
Hot Chocolate
tall 12 fl oz – $3.29
grande 16 fl oz – $3.69
venti 20/24 fl oz – $3.99
Frappuccino – Blended Beverages
Affogato-Style – Top it with a shot of espresso. +99¢
Smoked Butterscotch
tall 12 fl oz – $4.99
grande 16 fl oz – $5.49
venti 20/24 fl oz – $5.99
Caramel
tall 12 fl oz – $4.99
grande 16 fl oz – $5.49
venti 20/24 fl oz – $5.79
Mocha
tall 12 fl oz – $4.99
grande 16 fl oz – $5.49
venti 20/24 fl oz – $5.79
Java Chip
tall 12 fl oz – $4.99
grande 16 fl oz – $5.49
venti 20/24 fl oz – $5.79
Coffee
tall 12 fl oz – $4.49
grande 16 fl oz – $4.99
venti 20/24 fl oz – $5.49
Vanilla Bean Crème
tall 12 fl oz – $4.49
grande 16 fl oz – $4.99
venti 20/24 fl oz – $5.49
Double Chocolaty Chip
tall 12 fl oz – $4.99
grande 16 fl oz – $5.49
venti 20/24 fl oz – $5.79
Strawberries and Crème
tall 12 fl oz – $4.99
grande 16 fl oz – $5.49
venti 20/24 fl oz – $5.79
Smoothies
Blended with a whole banana and whey protein (contains dairy)
Strawberry or Chocolate – $4.99
Starbucks Refreshers – Iced Beverages
Contain caffeine
Strawberry Acaí
tall 12 fl oz – $3.99
grande 16 fl oz – $4.49
venti 20/24 fl oz – $4.99
Trenta 30 fl oz – $5.29
Very Berry Hibiscus
tall 12 fl oz – $3.99
grande 16 fl oz – $4.49
venti 20/24 fl oz – $4.99
Trenta 30 fl oz – $5.29
** Starbucks Universal CityWalk Menu Prices are Subject to Change Without Notice **