Universal Studios Florida | San Francisco/Amity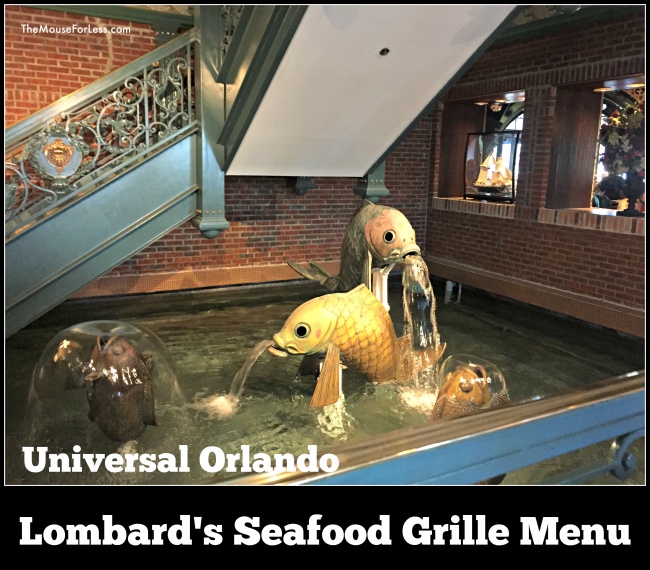 At Lombard's Seafood Grille seafood is the specialty with such dishes as clam chowder, lobster bisque, fish tacos, burgers and a variety of salads and seafood specialties.
But you'll find other items on the menu as well, including appetizers, sandwiches, salads, pasta and incredible desserts. There is a children's menu, and wine and cocktails are available.
Restaurant Info: Seafood/Lunch and Dinner/$$$-$$$$
Lombard's Seafood Grille Lunch and Dinner Menu
Menu Date: 03/2016
Appetizers
Lombard's Cheese Bites
Wisconsin white cheddar, fried and served with house made marinara – $6.99
Calamari
Lightly battered, crispy fried with pepperoncini and red peppers, served with remoulade sauce and grilled lemon – $7.99
Shrimp Cocktail GF
Ice-cold jumbo shrimp, served with classic cocktail sauce – $8.99
New England Clam Chowder
Cream style and full of tender ocean clams – $4.99
Lombard's Spinach & Artichoke Dip
Four cheeses blended with spinach and artichokes. Served with savory warm chips for dipping. – $6.99
Edamame Duo V
Steamed edamame beans, sea salt accompanied with fried edamame wontons and tomato jam – $8.99
Lobster & Corn Bisque Side by Side
Creamy and smooth lobster stock enriched with sweet sherry and herbs served side by side with corn bisque – $4.99
Salads
San Francisco Cobb Salad GF,V
Chopped mixed greens, tomato, cucumber, avocado, bacon, hard-boiled egg, blue cheese crumbles. With smoked turkey – $12.99; with Shrimp – $14.99
Steak & Blue Salad
Grilled beef medallions served on fresh greens with blue cheese crumbles, tomatoes, cucumbers all tossed in a mustard ale vinaigrette and topped with crispy fried onion strips – $12.99
Caesar GF
A bed of romaine lettuce with our famous Caesar dressing, homemade croutons, topped with Parmesan cheese and crispy fried onion strips – $8.99. With grilled chicken – $11.99; with shrimp or salmon – $14.99
Grilled Salmon Salad GF
Grilled salmon served with balsamic tossed fresh spinach, lentils, mushrooms, chopped egg, tomatoes, bacon, dried cranberries, and walnuts – $15.99
Entrees
Add a bowl of soup or dinner salad to any entree for $2.99
Seafood Pot Pie
Salmon, shrimp, cod, carrots & mushrooms in a lemon & herb white wine cream sauce, baked with a flaky pastry crust – $15.99
Mac and Cheese
Fusilli pasta, chicken, bacon, forest mushrooms, three cheeses, truffle oil with toasted bread crumbs – $15.99
Portobello Quinoa GF,V
Oven roasted Portobello mushroom stuffed with Monterey Jack cheese and topped with quinoa and vegetables over a green chili pepper sauce – $12.99
Fried Shrimp
Golden fried shrimp served with crispy French fries, vegetable slaw, and cocktail sauce – $14.99
Chinatown Chicken and Noodle Bowl V
Sliced chicken, Asian vegetables, udon noodles, mushrooms in a soy miso broth with bean sprouts – $13.99
Wharf Signature Beef Medallions GF
Grilled twin beef medallions served with roasted fingerling potatoes, seasonal vegetables. Topped with asparagus and port wine demi-glaze – $19.99
Fish & Fries
Fresh Bering Sea cod lightly tempura battered, served with crispy French fries, vegetable slaw, and creamy tartar sauce – $13.99
Fisherman's Basket
Fresh cod fish, shrimp, calamari and oysters lightly fried in a tempura batter served with French fries and creamy tartar sauce – $15.99
Lombard's Fresh Catch
North Atlantic Salmon or Caribbean Mahi Mahi – grilled, blackened, or baked with fingerling potatoes and fresh vegetables topped with a citrus buerre blanc and fresh tomatoes with basil – $19.99
Sandwiches
All sandwiches served with fries.
Traditional Burger GF
Fresh Kaiser roll, choice of cheese, bacon, lettuce, tomato, pickle – $11.99
Lombard's Signature Burger
All natural beef, braised short ribs, carmelized onions, buttermilk blue cheese, bacon, roasted tomatoes with fresh greens and fried crispy onions on a toasted bun – $13.99
Boursin Steak Sandwich GF
Grilled medallions of beef topped with herbed Boursin cheese and crispy fried onion strips. Served on a toasted bun – $11.99
Crab Cake Sandwich
Tender lump crab meat served with a zesty Dijon tartar sauce and topped with spring lettuce and tomatoes in a light citrus dressing – $12.99
Grilled Chicken Sandwich GF
Grilled chicken breast layered with Swiss cheese, smokehouse bacon, tomato, and lettuce. Served on a Kaiser roll – $10.99
Grilled Mahi Sandwich
With roasted tomatoes, fresh lettuce and gribiche sauce on a toasted bun – $13.99
Lombard's Lobster Roll
100% North Atlantic lobster cut into bite size chunks with Dijon mayonnaise and served on a buttered split bun with shredded lettuce. Served with homemade seasoned potato chips – $17.99
Fish Tacos
Sustainable fresh wild Alaskan cod on top of jasmine rice, fresh shredded cabbage and flour tortillas topped with Dragon Sauce. Served with homemade potato salad and salsa – $12.99
GF – can be prepared Gluten Free     V– can be prepared Vegan
** Menu and Prices are Subject to Change Without Notice **