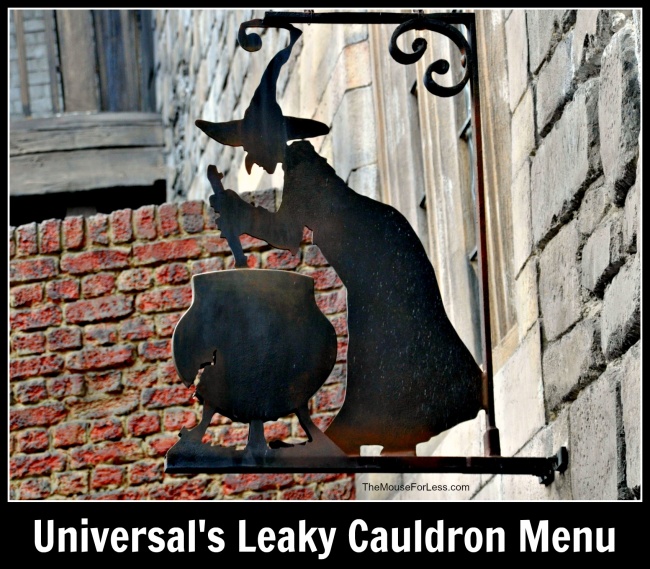 Leaky Cauldron is an English pub offering hearty meals for breakfast, lunch, and dinner for young and old witches and wizards alike. Located in Universal Studio's Diagon Alley, this famous Harry Potter destination will transport mere Muggles directly into the wizarding world.
Leaky Cauldron is located in the Universal Studios Florida theme park. Find more Universal Orlando dining locations on our Universal Orlando Resort menus page.
Open during park hours.
Leaky Cauldron Menu – Breakfast
Menu Date 01/2023
Entrees
Includes small beverage
Traditional Breakfast
Fresh scrambled eggs, sausage links, black pudding, English bacon, baked beans, grilled tomato, sautéed mushrooms and breakfast potatoes – $17.99
Pancake Breakfast
Three fluffy buttermilk pancakes, crisp bacon and link sausage with butter croissant – $17.99

American Breakfast
Fresh scrambled eggs, breakfast potatoes, crisp bacon, and link sausage with butter croissant – $17.99
Apple Oatmeal Flan with Yogurt & Fruit
Freshly baked flan of apples and oatmeal served with yogurt and fresh seasonal fruit – $17.99
Egg, Leek, & Mushroom Pasty
Pastry wrapped scrambled eggs, mushrooms and leeks served with breakfast potatoes and fresh fruit – $17.99
Kid's Breakfast
Choose traditional, pancake or American – $12.99
Side of Bacon – $2.19
Side of Blood Sausage – $5.49
Side of English Bacon – $4.99
Side of Scrambled Eggs – $2.49
Side of Roasted Potatoes – $4.49
Beverages
Pumpkin Juice™ – $4.99
Hot Tea – $3.49
Fresh Brewed Coffee – $3.49
Apple Juice – $2.99
Orange Juice – $2.99
Milk – $2.49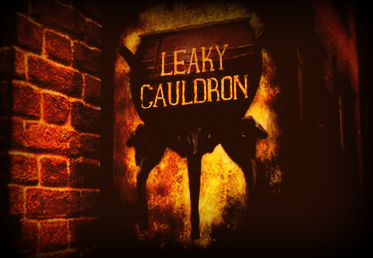 Leaky Cauldron Menu – Lunch & Dinner
Entrees
Fish & Chips
Fresh north Atlantic cod battered and fried with chips and tartar sauce – $16.99
Bangers & Mash
Roasted English sausage, creamy mashed potatoes, roasted tomatoes, sauteed onions and cabbage, minted peas & onion gravy – $14.49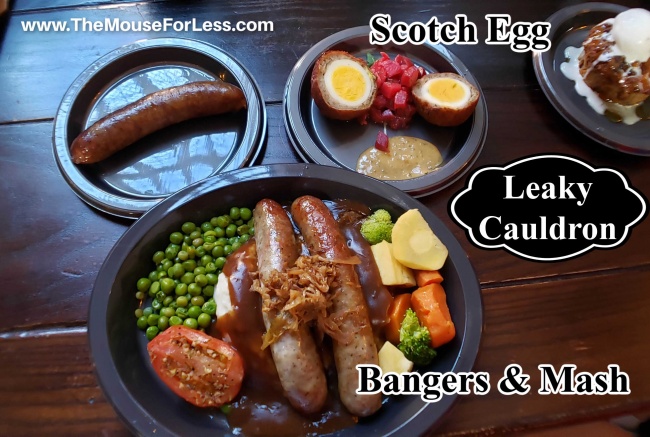 Toad in the Hole
A popular dish of English sausage baked into a Yorkshire pudding and served with onion gravy, minted peas, root vegetables and roasted tomato – $12.49
Beef, Lamb & Guinness Stew 
Served in a warm, crusty bread bowl- $16.49
Cottage Pie
Savory combination of beef and chunky vegetables in a potato crust served with a garden salad – $16.49
Fisherman's Pie
Salmon, shrimp and cod baked together under a potato crust served with garden salad – $17.49
Mini Pie Combination
Mini cottage pie and mini fisherman's pie served with garden salad – $16.99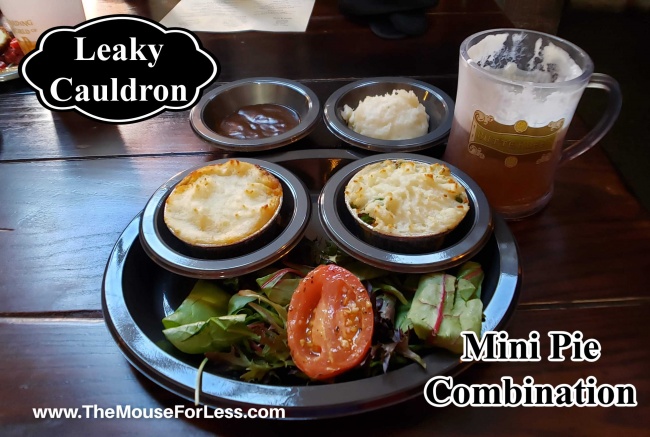 Scotch Eggs
Served warm with apple beet salad and mustard sauce – $11.49
Soup & Salad
Split pea and ham soup served with side garden salad – $11.99
Irish Stew
Vegan beef tip and potato stew; served with vegan crusty bread and side garden salad – $16.49
Shepherd's Pasty Pie
Meatless beef crumbles and vegetable stew hand pie; served with creamy stone ground mustard dipping sauce, apple beet salad, and wedge fries – $16.49
Ploughman's (serves 2)
A feast of English cheese, crusty bread, field green salad, roasted tomatoes, cornichon pickles, apple beet salad, Branston pickle & scotch eggs – $21.99

Side of Wedge Fries – $4.49
Side Scotch Egg – $4.99
Side Garden Salad – $6.99
Side of Mashed Potatoes with Gravy – $3.49
Add Banger (1 each) – $4.99
Sandwiches
Served with wedge fries
Banger
Roasted English sausage, mustard aioli, roasted tomatoes, sauteed cabbage and onions on a crusted baguette – $12.99
Specialty Chicken
Grilled chicken breast, apple butter mayo, Colby cheese, smoky apple bacon, roasted tomatoes on a housemade specialty bun – $14.49
Kid's Entrees
Desserts
Sticky Toffee Pudding – $7.49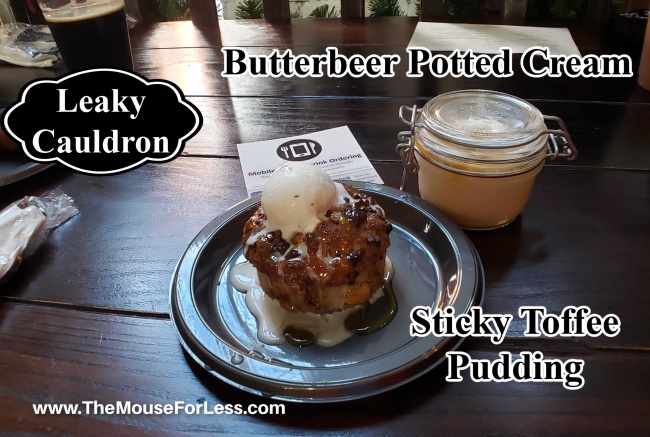 Cranachan – $6.99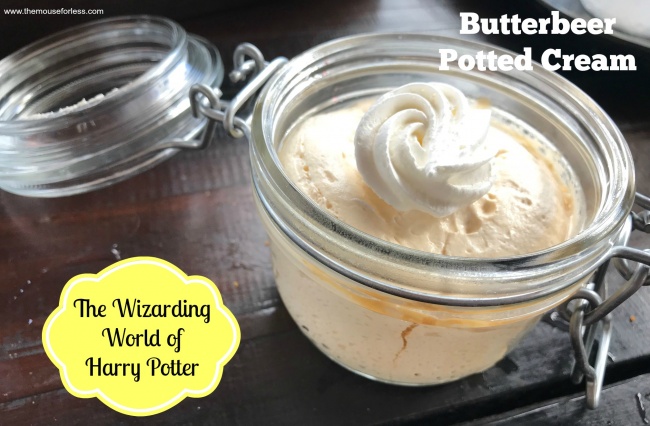 Butterbeer Potted Cream – $5.99
Chocolate Potted Cream – $4.99
Butterbeer Ice Cream – $5.99
Cup of Ice Cream 
Strawberry and Peanut Butter, Vanilla or Chocolate – $5.99
Beverages
Butterbeer™
A non-alcoholic sweet drink reminiscent of shortbread and butterscotch – $7.99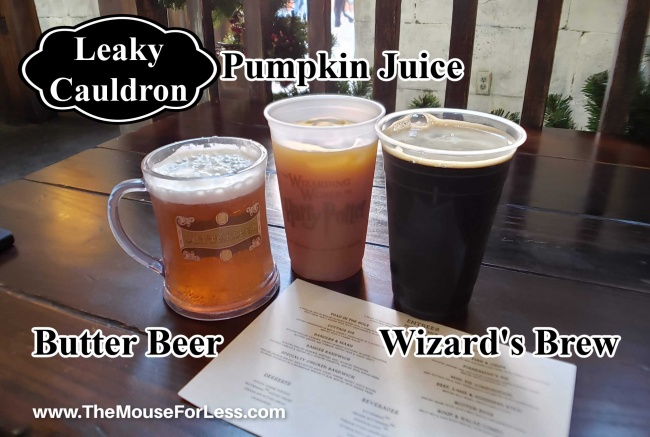 Frozen Butterbeer™
A non-alcoholic sweet drink reminiscent of shortbread and butterscotch – $7.99
Hot Butterbeer™
A non-alcoholic sweet drink reminiscent of shortbread and butterscotch – $7.99
Pumpkin Juice™ – $4.99
Tongue Tying Lemon Squash
Sweet and tart lemon flavored beverage served with squashed lemon – $5.49
Otter's Fizzy Orange Juice
Effervescent fresh orange beverage with notes of vanilla and cinnamon – $5.49
Fishy Green Ale
Smooth and creamy with notes of mint and cinnamon and popping blueberry fish eggs – $5.49
Peachtree Fizzing Tea
Fizzy but smooth with flavors of fresh peach nectar and ginger – $5.49
Fountain Beverages
Iced Tea, Lemonade, Cider – $4.29
Gillywater – $5.50
Hot Beverages
Coffee, Decaf, Hot Tea – $3.49
Milk
choice of 2% or chocolate – $2.49
Juice
choice of orange or apple – $2.99
Draught Beer
Draught Beer
Wizard's Brew, Dragon Scale – $12.00
Amstel Light, Heineken, Newcastle Brown Ale, Stella Artois, Strongbow, Yuengling – $10.50
Wine by the Glass
Wine by the Glass
Chardonnay, Merlot, Cabernet Sauvignon – $9.00
Whiskey
Fire Whisky – $11.50
** Leaky Cauldron Menu and Prices are Subject to Change Without Notice **