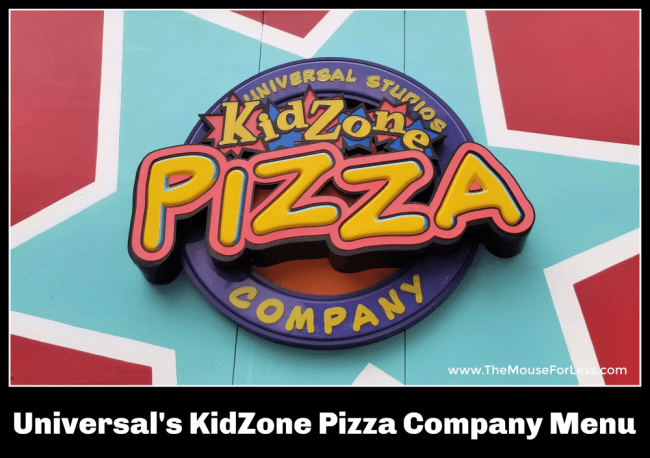 If you and your preschoolers have finished playing in the Woody Woodpecker KidZone area and need to eat now, the KidZone Pizza Company menu offers family-friendly food for everyone in a bright and colorful quick service location. The restaurant offers pizza, chicken fingers, and salads to satisfy parents and kids. On those hot, Florida days you can cool down with a sundae or smoothie.  If you want a sweet, sugary, fried treat, then go for a funnel cake.  Fruit cups are also available at KidZone Pizza Company for a healthier snack.
KidZone Pizza Company is located in the Universal Studios Florida theme park. Find more Universal Orlando dining locations on our Universal Orlando Resort menus page.
Open daily 11:30 am – 4:00 pm

Planning a Universal Vacation?
KidZone Pizza Company Menu
Menu Date 01/2023
Combos served with a regular milkshake
Cheese Pizza Slice Combo – $13.99
Whole Cheese Pizza – $38.99
Pepperoni Pizza Slice Combo – $14.99
Whole Pepperoni Pizza – $42.99
Veggie Pizza Slice Combo -$15.99
Whole Veggie Pizza – $43.99
Beverages
Milkshakes
Chocolate or vanilla  – $3.99
Icee – $6.00
Single Serve Coca-Cola Freestyle® cup – $4.49

Icee – $5.00
Premium Bottled Water – $5.50
Coca-Cola Freestyle Souvenir Cups
Enjoy more than 100 drink choices and refills thru the day* with the Coca-Cola Freestyle® souvenir cup. Get 3–6 souvenir cups for $12.99 each, 2 for $15.99 each, or 1 for $17.99 at participating Coca-Cola Freestyle® locations. Add an additional day to your previously purchased Coca-Cola Freestyle® souvenir cup for $10.99. – $17.99
*Valid Coca-Cola Freestyle® Souvenir Cup required to dispense Coca-Cola Freestyle®. Refills are limited to no more than one (1) pour from the Coca-Cola Freestyle® machine per 10 minutes and valid day of purchase only. Sharing is not permitted. Additional restrictions may apply which are subject to change without notice.
Beer
Bud Light – $9.50
***KidZone Pizza Company Menu Items and Pricing are Subject to Change***